WSOP Circuit Event, Tunica, MS — Hyvonen Leads Day 1, Shorr Chases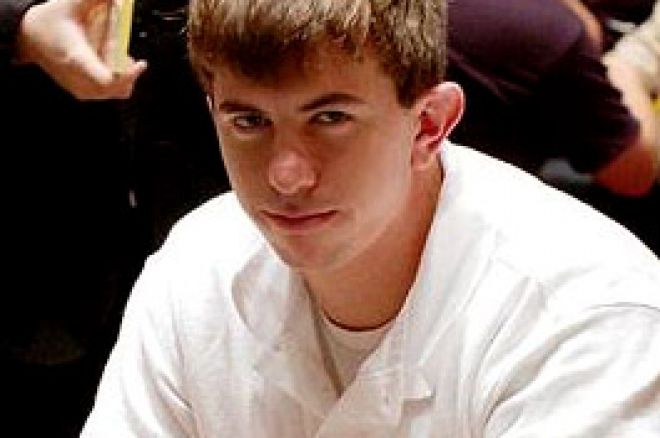 With the hubbub surrounding the inaugural World Series of Poker (WSOP) Europe, it's easy to forget about Tunica, Mississippi and the WSOP Circuit event currently underway at the Grand Casino Resort. Still, despite the scheduling conflict, some of the world's top tournament talent opted to play in the $5,150 buy-in Main Event, which kicked off on Tuesday.
A balanced field of amateurs and pros, 138 of them in all, took to the felt for Day One play, creating a prize pool of just over $650,000. The group was headlined by perhaps the hottest player on the tournament circuit, Bill Edler, who is less than one week removed from a first-place finish at the Gulf Coast Poker Championship in nearby Biloxi, a score worth nearly $750,000. Thus far in 2007, Edler has racked up six six-figure paydays, including a gold bracelet win in the $5,000 short-handed no-limit Hold'em event at the WSOP, his first-ever bracelet victory.
Edler was accompanied by fellow 2007 WSOP bracelet winner Michael Spegal, who took down a $1,500 pot-limit Hold'em event in June to earn his own first bracelet. Also in attendance was fan favorite Gavin Smith, who finished second to Spegal in the same pot-limit event, which was televised on ESPN earlier this year. Other notable players in the field included top pros Allen Kessler, Peter Feldman, Surinder Sunar, Josh Arieh, Doug "Rico" Carli, Nani Dollison and young phenoms Shannon Shorr, Jordan Morgan, and Tim Frazin.
Cards were in the air by 12:05 p.m. local time, following a brief opening ceremony which consisted of a moment of silence to honor those lost on September 11th and the singing of "The Star Spangled Banner." Several players were late to take their seats including Jordan Morgan, who garnered a mock exclamation of dismay from Gavin Smith as he walked past the feature table where Gavin was sitting. A few minutes later, Bill Edler took his seat across from Smith, who yelled "Ship it!" with a smile at the site of Bill sitting down at his table.
Edler went to work early, nearly tripling up after flopping top set against two opponents with very strong hands. The board read
, a perfect flop for Edler, who held pocket kings. The big blind did all the betting; 1,000 on the flop, 2,000 on the turn
, and 5,000 on the river
– both Edler and the other player in the hand called on every street. At the showdown, Bill revealed his kings, much to the dismay of his opponents who showed pocket aces (big blind) and a set of nines before mucking their hands. The early pot hoisted Edler into the chip lead with right around 26,000 in chips; players started the day with 10,000.
Jordan Morgan also got off to a good start, more than doubling up before the first break. Both Gavin Smith and Josh Arieh lost significant portions of their stacks during the first level of play and discussed plans for a golf match in the event that they were both eliminated early. Play progressed rather slowly over the first couple of hours, as only one table broke.
Josh Arieh was the first well-known pro to be eliminated from the tournament. He was crippled in a hand against Terry Lake Garner, who sported the gold ring he won for his first-place finish at the Sixth Annual Jack Binion World Poker Open in 2005. Josh got his money in holding A-Q on a board of
against Garner's
. "Heart!" was Garner's plea, as the dealer knuckled the table and dealt the river . . . the
. Garner bolted to life as Josh sat motionless in defeat. "That's why I can make a living off this game," Arieh said after the hand. Shortly afterwards, Quentin Battle took the last of Josh's chips with an ace-high straight; Josh could produce nothing but a busted flush draw.
After a slow start, Gavin Smith got things going when he doubled up through Tony Burton in a hand that would come back to haunt him later in the tournament. On a board showing
, Gavin shoved all-in and was called by Burton who shook his head in silence as Gavin revealed pocket jacks for a full house. Burton showed his hand, pocket nines, face up before tossing them into the muck; Burton had hit a set of nines on the flop and slow-played them, allowing Gavin to make a better hand on the turn.
Just a few feet away, amateur poker player Larry Clark sat scooping a pot, wearing a WSOP baseball hat signed by Smith, Arieh and Kessler. When asked about the autographs, Clark offered, "I'm just living the dream." Clark made a deep run in the tournament, outlasting two of the three pros on his hat (Arieh and Smith), but his luck ran out about midway through the day when his
failed to improve against Gil George's pocket jacks.
The next pro to bust was Peter Feldman, who was eliminated about 45 minutes before the dinner break. Steve Hyvonen of Cleveland, Ohio made it 1,200 to go from the big blind, with the board showing
; Feldman called and the turn brought the
. Hyvonen then open-shoved all-in, having Feldman well covered. After some thought, Peter made the call and showed
for a pair of sevens and an open-ended straight draw; Hyvonen revealed
for two pair. The
fell on the river, filling Hyvonen's full house and sealing Feldman's fate. More on Hyvonen later.
Not long after Feldman's elimination, Gavin Smith found himself in another heads-up confrontation with Tony Burton, only this time Gavin held pocket nines and Burton had the jacks. All of the money went in on the flop, which came
and Burton's jacks held up – the turn and river blanked out,
. Same two hands, same two players, different tables, and jacks topped nines again. Burton had Gavin covered and the loss meant tee-time for Mr. Smith.
Back to Steve Hyvonen. Steve owned the largest chip stack going into the dinner break with just under 60,000 in chips. Close behind him was Terry Hawkins from Cordova, TN, who had right around 45,000. From the end of the dinner break until the last hand was dealt on day one, Hyvonen devoured many a small stack and never once relinquished the chip lead, eventually building a mound of chips that seemed to dwarf the next closest competitor. A combination of good luck and aggressive, big-stack poker had Hyvonen running so well that one opponent jokingly asked a nearby tournament reporter to take Steve away from the table for a lengthy interview.
The next pro to fall was Surinder Sunar, who was eliminated by Glyn Banks, a resident of Smithville, Tennessee; Glyn finished third in the same Circuit event last year. On a flop that came jack-high, Banks put Surinder all-in holding just A-Q high and Surinder made the call with top pair, holding J-10. Surinder's hold on the hand was short-lived, however, as the
fell on the turn, giving Banks a pair of aces and the lead. The river brought an irrelevant
, leaving Sunar with no more outs and a long trip home.
Allen Kessler would be the next big name to join the railbirds after his pocket jacks slammed straight into a wall fortified by the pocket kings of Dale Hinson and the pocket aces of Thomas Hover. Hover's aces held up, killing Kessler's hopes for a Day One resurgence. While the jacks were no good to Kessler, they worked like magic for Michael Spegal, who made a late run after winning two monster pots with the hand. The first came against Hinson's pocket nines; Spegal moved all-in on the turn, with the board showing
. Hinson made the call and the river blanked out, giving Spegal the pot and 36,000 new chips. Less than an hour later, Spegal was dealt jacks again and survived a race against an opponent's A-K to improve to 50,000 in chips. Spegal would finish the day just above the tournament average with 52,000.
Late in the evening, Jordan Morgan survived near disaster, spiking a two-outer to collect a 40,000 pot; without it, he would've been relegated to short-stack status. Jordan's opponent had moved all-in on a board showing
and after some considerable thought, Morgan made the call with
; his opponent had him in bad shape, holding
. Amazingly, the
, one of Morgan's two outs, fell on the turn, shifting the momentum the other way. A neutral
fell on the river and Morgan scooped the tournament-saving pot. "I thought he had diamonds, but I didn't think he had a queen with it," Morgan said after the hand.
Bill Edler's run at a Tiger Woods-like back-to-back performance fell short after he lost a race to "Maniac" Mike Haney. Haney refused to watch as his pocket nines battled Edler's
. The board came
and Haney's nines held up, sending Edler on his way. As always, Bill was extremely gracious in defeat, offering his congratulations to Haney and wishing the rest of the table good luck as he exited the tournament area.
Shannon Shorr made his biggest gains after dinner, doubling up at least three times en route to building an end of day stack of 92,000 chips, good for fourth overall. The last hand of the day saw Shorr eliminate Fred Ullrich in 28th place, setting the stage for a three-table Day Two, with a handful of big names still alive in the field. Among them is Nani Dollison, who is the lone woman still standing of the four who started the day. Nani has amassed over $750,000 in career tournament earnings and has three WSOP bracelets to her name. Expect Nani to get active early, as she enters Day Two with the shortest stack in the field (10,300). Hyvonen continued his strong play to take the overnight lead, with Gil George in second. Shannon Shorr lurks in fourth, not far off the lead.
The 27 remaining players will reconvene at 12:00 p.m. local time, Wednesday afternoon for Day Two action. The event is scheduled for three days, but with only 27 players returning for Day Two there's always the possibility that they could request to play it out in one day. Whatever the case, PokerNews will be there to catch all of the highlights as the fight for a gold Circuit ring and the $213,288 first-place prize money continues.
The complete list of players still in the running:
Steve Hyvonen — 146,500
Gil George — 100,300
Richard Damian Gum — 93,500
Shannon Shorr — 92,000
Tony Burton — 90,000
Brian Rutland — 83,200
Terry Hawkins — 78,400
Jerry Saucier — 76,100
Pat Atchison — 68,100
Samuel Chun — 65,800
Michael Spegal — 52,000
Mike Haney — 49,200
Jordan Morgan — 44,200
Yoon Kim — 41,600
Jeff Cohen — 37,600
Steve Williams — 36,300
James Lindsay — 30,700
Jerry Matlock — 30,100
Mack Khan — 26,200
Giovanni Marcacci — 24,200
Glyn Banks — 23,500
Thomas Hover — 23,000
Frank Kassela — 22,900
William McMahan — 18,900
John Barnes — 15,500
Mark Garner — 14,500
Nani Dollison — 10,300
Prize pool information:
Players: 138
Prize Pool: $658,300
Payouts:
1st: $213,288
2nd: $111,911
3rd: $65,830
4th: $52,664
5th: $39,498
6th: $32,915
7th: $26,322
8th: $19,749
9th: $13,166
10th – 12th: $10,533
13th – 15th: $9,216
16th – 18th: $7,900