WSOPE, Event 1 - £2,500 HORSE: Jennifer Harman Heads Final Table
John Hartness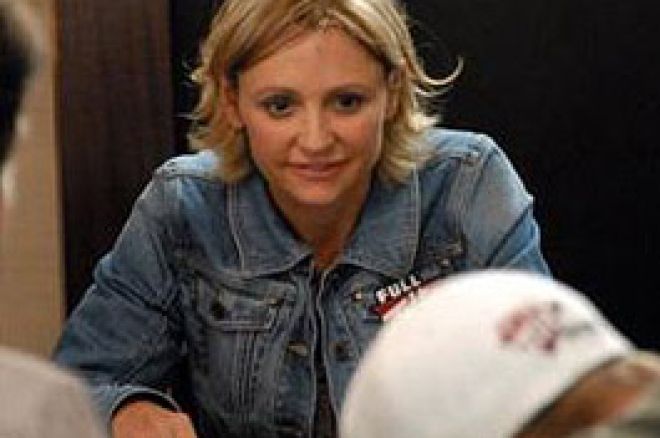 51 players returned for Day 2 of the World Series of Poker Europe £2,500 HORSE tournament, with plenty of star power among the returning players. One table alone had 15 WSOP bracelets, with Jeff Madsen, Erik Seidel and Chris Ferguson all seated together to start the day. Other returning players included Annie Duke, Eli Elezra, Lee Watkinson, Gus Hansen and Kirk Morrison, who started the day atop the leader board.
Among the earliest eliminations were Gus Hansen, Eli Elezra, Mel Judah and Jeffrey Lisandro. Nearly half the field was eliminated before the dinner break, as players went to the rail in droves. Annie Duke busted in Stud Hi when her pair of fives was no good against Vegard Nygaard's pair of kings. David Williams and Pascal Perrault also went out in Stud Hi, and Mark Tenner got it all in with a full house in Stud Hi/Lo against Scott Fischman and Barny Boatman. By sixth street, Tenner was showing
to Boatman's
and Fischman's
. Fischman checked seventh street, Tenner led out and Boatman raised. Fischman went into the tank before finally folding, Tenner moved all-in for less than a full re-raise, and Boatman called. Tenner flipped over
, giving him threes full, but Boatman's jacks in the hole made quads on sixth and Tenner was eliminated.
The rush of eliminations continued leading up to the dinner break, as Max Pescatori barely got his seat warm after a redraw to three tables before being eliminated in 24th. Pescatori exited during Hold'em on a flop of
when he led out with
and Brandon Adams raised him all-in. Pescatori called and was well behind Adams'
. No help on the turn or river and the Italian Pirate was eliminated. Adams was eliminated shortly after Pescatori, and Jeff Madsen went to the rail in 22nd as play neared the dinner break.
When players came back from dinner, they were only a few eliminations away from the money, as payouts started at 16th place. Unfortunately for Stephen Ladowsky, 17th place paid nothing, as he went out on the bubble in a Stud Hi hand with Chris 'Jesus' Ferguson. Ladowsky raised all-in with an ace in the door, and Ferguson and Gary Jones both called. Ferguson got Jones out of the way and got heads-up with Ladowsky in good position, holding (
)
to Ladowsky's (
)
. Ladowsky picked up a fourth club on fifth street, but no more help as Ferguson made trip kings on fourth to eliminate Ladowsky and burst the money bubble. The hands looked like this at the end of the day for Ladowsky.
Players redrew for the final two tables. Jennifer Harman and Kirk Morrison, two of the Day 1 chip leaders, were still near the top of the narrowing field, as Jan Sorensen held a slight chip advantage over the field with about 130,000 in chips. Morrison added chips to his scalp and a notch to his gunbelt early in two-table play, eliminating Jimmy 'gobboboy' Fricke in 16th place. Fricke nursed a short stack for much of Day 2, but during Hold'em, his pocket deuces were outflopped by Morrison's
on a board of
. Fricke picked up £5,250 for his finish.
After Marc Goodwin was eliminated in 15th (£5,250), John Juanda lost a tough Razz hand for all his chips against Mark Vos. Juanda got the last of his chips in with a seven low holding
, but Vos' seven low was better, with
. Juanda picked up £5,775 for his 14th-place finish. The last of the extreme short stacks, Tom Nightingale, got it all in on third street in Stud Hi against Barny Boatman and Alex Kravchenko. Nightingale's (
)
(
) was no good against Kravchenko's aces and threes, and Nightingale departed in 13th (£5,775). Boatman was the next elimination when he bricked out in Razz against Yuval Bronshtein, leaving in 12th place for £6,562.
Mark Vos went to the rail in 11th almost immediately after Boatman, but his bustout at the hands of Chris 'Jesus' Ferguson was only a coup de grace after a tough hand against Eric Dalby. One hand after showing down a stone bluff against Voc, Dalby raised pre-flop, and the betting was capped by Vos, Kirk Morrison and Dalby to see a flop of
. Vos and Morrison checked, and Dalby moved all-in for a minimum bet. Vos raised into the side pot and Morrison called. Vos lead out on the turn of
, and Morrison eventually folded. Vos tabled
, and Dalby showed
for turned quads to cripple Vos.
Dalby didn't last much longer, eliminated in tenth by Kirk Morrison when Stud-8 rolled around. With a final hand of (
)
(
), Dalby had an eight-low but lost to Morrison's better eight low, on (
)
(
), and Dalby took home £7,219 for his efforts. Jen Harman eliminated Jan Sorensen in Omaha Hi/Lo to set the final table, sending Sorensen home with £7,219 for his ninth-place finish and locking up the chip lead going into Day 3.
The final eight chip counts and table assignments looked like this as play ended on Day 2:
Seat 1: Jennifer Harman — 204,000
Seat 2: Gary Jones — 30,000
Seat 3: Joe Beevers — 74,500
Seat 4: Kirk Morrison — 172,500
Seat 5: Thomas Bihl — 130,500
Seat 6: Yuval Bronshtein — 185,500
Seat 7: Alex Kravchenko — 114,500
Seat 8: Chris Ferguson — 142,500
Join PokerNews for all the interviews and live updates today as these eight players vie for the first-ever WSOP Europe bracelet.