WSOPE, Event 2 - £5,000 Omaha: Alioto Claims Bracelet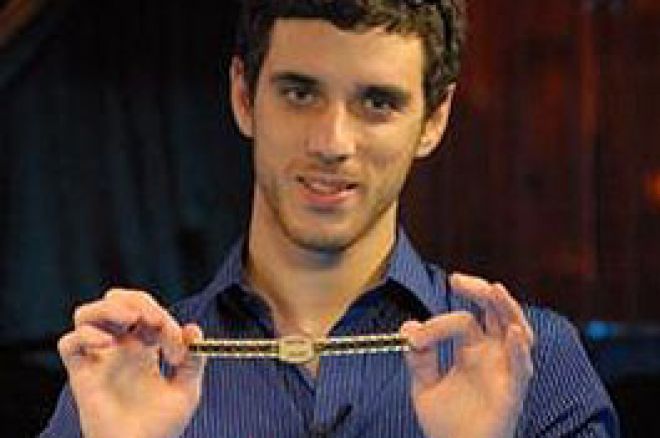 Dario 'Ryu' Alioto won the £5,000 Pot Limit Omaha event at the WSOPE, scoring his first bracelet and becoming the third Italian ever to claim WSOP gold. Alioto just missed his first bracelet earlier this year when he made the final table of the 2007 WSOP $1,500 Omaha hi/lo event, finishing in sixth place. He also cashed in the 2007 WSOP $10,000 Pot Limit Omaha event. Alioto started Day Two second in chips, nipping at chip leader Jon Persson's heels. But Alioto would have to play a long night, and into the next day, before the bracelet was his.
Day Two started with 48 players remaining. They would still have to lose a majority of the field before they made the money, let alone the final table. The start of play gave the false illusion that the day might play quickly when four players were lost within the first 20 minutes. Bruno Fitoussi had two second-place finishes in prior WSOP events, including the 2007 $50,000 HORSE event. But the bridesmaid wasn't even going to make the wedding party in this event, as he was in that first wave of departures to the rail.
The second wave to depart claimed well-known players Allen Cunningham, Chris Bjorin, Eli Elizra and Brandon Adams. David "Devilfish" Ulliott was in danger of joining them, but managed to double up his short stack twice in the first hour and a half of play. Tony G was another player that was able to improve his chances in the early going. Starting with a decent stack, Tony G scored a double up against Rafi Amit, placing him among the chip leaders.
The Devilfish's luck finally ran out. Jesse Jones, Kenny Tran and Jani Sointula also lost the race to the money. Will Hayden became the designated bubble boy, after only three hours of play. It would take another four hours before the final table was set. Martin Vallo, Ted Forrest, Rafi Amit, Rupert Houston, Andreas Hagen, John Duthie, Ted Lawson, and Roland de Wolfe all fell in succession. Jon Persson had started Day Two as chip leader, but was down to a single chip with the final table bubble yet to be determined. Persson temporarily quadrupled up on quad aces, but in the very next hand, the bloom was off the rose and Persson was the event's tenth-place finisher.
The chip counts going into the final table were:
Sherkhan Farnood – 651,000
Istvan Novak - 480,000
Dario Alioto – 397,000
Antoine Arnault – 391,000
Andy Bloch – 376,000
Tony G – 281, 000
Dave Callaghan – 271,000
Sampo Lopponen – 247,000
M H Razaghi – 153,000
Razaghi was the short stack going into the final table and couldn't beat the odds. He finished in ninth place when his two pair couldn't improve against Alioto's turned flush. A flopped two pair was also Andy Bloch's undoing as he ran into Farnood's flopped set. Bloch finished in eighth place. Tony G was the short stack and a likely candidate for next out. But Tony got it all in against Farnood and Tony's A-A-x-x held up against Farnoo's K-K-x-x to score the double up. Instead it would be Sampo Lopponen that would take seventh, falling at the hands of Dario Alioto.
Sherkhan Farnood entered the final table as chip leader and demonstrated from the outset that he was willing to tangle. Unfortunately for Farnood, he tangled with Alioto holding a flopped top pair of jacks, when Alioto was sitting with an overpair of aces. Sherkhan Farnood finished in sixth place and Alioto had the chip lead. Alioto also was responsible for Antoine Arnault's fifth-place finish. David Callaghan looked like he picked a good hand to go up against Alioto. It was Callaghan's A-K-K-5 vs. Alioto's A-K-J-5. But when the board of A-10-10-3-Q played out, Alioto had a Broadway straight and Callaghan had a fourth-place finish. After a long three-way battle, Tony G finally succumbed to Alioto, finishing in third place.
It had been a long, long day to reach heads-up, but Dario Alioto's daunting 7-to-1 chip advantage over Istvan Novak indicated it might soon come to an end. After six hands of play, Novak had to settle for second place and £137,280. Dario Alioto had prevailed after 15 hours of play, scoring his first WSOP bracelet and £234,390.