WSOPE, Event 3 - $10,000 NLHE, Day 4: McCullough Narrow Leader as Final Table Set
John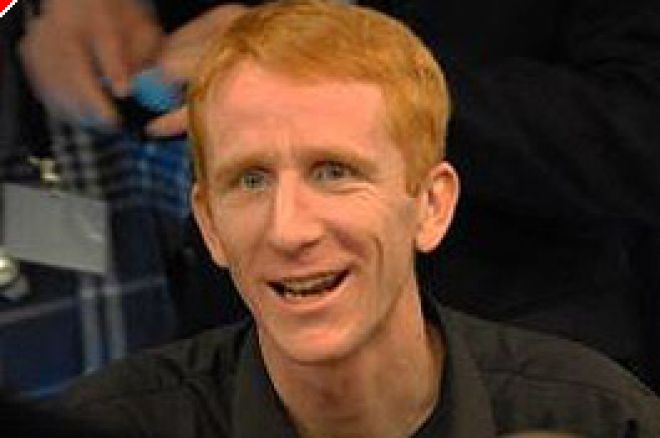 32 players returned to the Empire Casino in London on Saturday to continue their pursuit of the World Series of Poker Europe £10,000 Main Event Championship. Starting the day on top of the chip stacks was Theo Jorgensen, but with a field including Gus Hansen, Patrik Antonius and Annie Duke, no lead was safe.
The day started off with a flurry of eliminations, as the short stacks shoved early and often. Patrick Jouven was eliminated almost immediately when he got all his chips in the middle against chipleader Jorgensen with pocket aces. Jorgensen's
caught a big piece of the flop, making top two on the flop of
. No help on the turn or river for Jouven, and he was eliminated in 32nd for £27,150. Marcello Marigliano and Julius Colman were next to be eliminated, heading to the rail within moments of each other. Marigliano ran
into James Keys'
, and the board blanked for Marigliano. Colman pushed with
and was called by Jorgensen's
. Colman picked up a straight draw on the
flop, but the
on the turn left him drawing dead. Both men took home £27,150 for their tournament.
After a dominating performance on Day 2, Patrik Antonius came into Day 4 with a medium-sized stack. He put it all in the middle against Magnus Persson with
, and lost the race against Persson's
when the flop brought a king in the door. No three showed on the turn or river for Antonius and he was eliminated in 29th (£27,150).
Tino Lechich picked up a monster pot when he joined a three-way all in with Shaun Needham and Aleksander Vathne. Needham pushed early, Lechich called, then called again for the rest of his stack when Vathne pushed over the top. Lechich tabled
, well ahead of Needham's
, and a coin flip with Vathne's
. Lechich pulled far ahead on the flop of
, and had his opponents both drawing dead after making a full house on the
turn. Needham was eliminated in 28th (£27,150).
Before the redraw could commence for three-table play, Nicolas Levi found himself drawing then after pushing all in with
into John Tabatabai's
. No help on the board for Levi, and he picked up £30,770 for his 27th-place finish. Erick Lindgren busted on the first hand of three-table play, getting all in with
on a board of
. Pat Scanlon flipped over
and Lindgren went to the rail.
Moments later, Henrik Waltersson was outdrawn by Gus Hansen to end his tournament when he caught top pair, top kicker on a flop of
. Hansen called Waltersson's flop bet, and called Waltersson's all in on the
turn with no hesitation, revealing the
for the turned straight with a flush redraw. Waltersson was drawing dead with
, and he picked up £30,770 for his 25th-place finish.
In a flurry of mid-day bustouts, Andreas Berggren (24th), Janne Lamsa (23rd) and Marco Traniello (22nd) all exited within a few minutes of each other. They were followed soon after by another bevy of bustouts, this group including Annie Duke (21st), Aleksander Vathne (20th) and Terry Cook (19th). Cook was eliminated in a three-way monster hand with Matthew McCullough and James Keys. McCullough raised preflop and Cook reraised all in from the button. Keys shoved over the top from the small blind, and McCullough made the call. Keys was dominating pre-flop with
against McCullough's
and Cook's
, but the flop of
put McCullough ahead. McCullough dodged a spade on the turn and river to send Cook to the rail and take a monster pot from Keys.
Before the players could redraw for two tables, Jakob Paulsen shoved all in with
and was called by John Tabatabai with
. Tabatabai's kings held up on a board of
, and Paulsen picked up £34,390 for his 18th-place finish. Less than 30 minutes of two-table play passed before chip leader Magnus Persson claimed another scalp, this time Abishek Khaitan's. Persson raised pre-flop from the button, and Khaitan defended his small blind with
. Persson led out at the flop of
, and Khaitan called. Khaitan fired when the turn brought the
and Persson raised. Khaitan moved all in and Persson quickly called with his
. The river was the
and Persson's set held up to eliminate Khaitan in 17th place (£34,390).
Kenny Tran was the next player to lose a big coin flip, when his
was run down on the turn by Annette Obrestad's
. Tran leapt into the lead on the flop of
, but Obrestad's set hit on the turn with the
. The
on the river didn't help Tran, and he was eliminated in 16th for £34,390. Karl Mahrenholz was next to bust when his
fell to Oyvind Riisem's
when Riisem caught the
on the turn. Mahrenholz headed to the cashier's cage to pick up his £38,010 for finishing 15th.
Pat Scanlon spent most of Day 3 and 4 playing push-or-fold poker, but the player dubbed 'The All-In Guy' by his tablemates ran his
into Gus Hansen's pocket aces, and the All-In Guy was all out in 14th (£38,101). 2007 bracelet winner William Durkee went to the rail next when his
was no good against Johannes Korsar's pocket jacks. Durkee hit a king on the flop, but Korsar flopped a set, and that sent Durkee home in 13th (£38,101).
Players came back from dinner break with a new appetite for action, and Tino Lechich wasted no time getting all his chips in the middle with
against Oyvind Riisem. Riisem quickly called and tabled pocket kings, and when the board came
, Lechich went to the rail in 12th for £41,630. Steve van Zadelhoff went out in 11th shortly afterwards, when his
lost a coin flip to Magnus Persson's
. Van Zadelhoff picked up £41,630 for his tournament.
After leading his flight of Day 2, and hovering near the top of the chip counts all tournament long, Gus Hansen became the final-table bubble boy when he ran his queens into Matthew McCullough's kings. No help arrived for Hansen, and the Great Dane went to the rail in 10th (£41,630). McCullough closed out Day 4's play as the chip leader after busting Hansen, and the final table was set.
Out of 362 players who started the WSOP Europe Main Event on Monday, only nine lasted through Day 4. The final-table chip counts and seat assignments are as follows:
Seat 1: Johannes Korsar (Uppsala, Sweden) - 1,134,000
Seat 2: Oyvind Riisem (Bergen, Norway) - 664,000
Seat 3: John Tabatabai (London, UK) - 982,000
Seat 4: Annette "Annette_15" Obrestad (Sandnes, Norway) - 697,000
Seat 5: Dominic Kay (London, UK) - 490,000
Seat 6: Matthew McCullough (Cherry Hill, NJ, USA) - 1,278,000
Seat 7: Theo Jorgensen (Copenhagen, Denmark) - 605,000
Seat 8: Magnus Persson (Gothenburg, Sweden) - 1,231,000
Seat 9: James Keys (Bury St. Edmunds, UK) - 172,000
Join PokerNews on Sunday at 2PM London time (9AM ET) for all the final-table action from the WSOP Europe Main Event.
Get a free Party Poker Sign Up Bonus from PokerNews.com