College Poker Life: University of Michigan, Ann Arbor, MI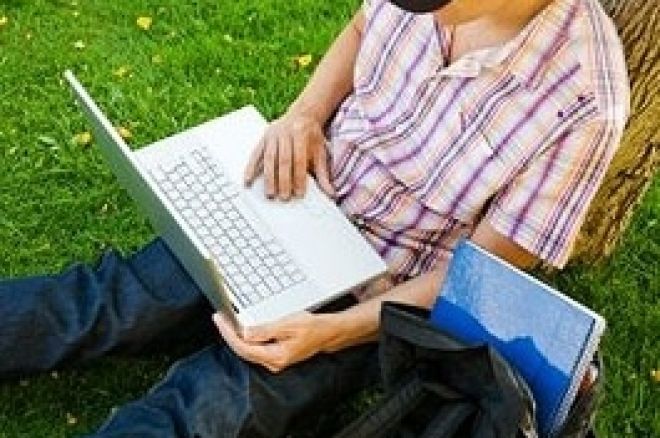 At the University of Michigan, midterms and exams tend to load students schedules around this time of year, keeping them busy studying while their free time dwindles down to just a small percentage of the average day. Students looking for that little speck of relaxation turn to their favorite pastimes, among them poker. If you're a student looking for poker action, whether it's a break from your tough schedule, a regular weekly event, or looking at going pro, the University of Michigan certainly has the right game for you.
Many students at the University of Michigan are spending their time developing their poker skills by participating in as many poker outlets they can find around campus. The school has plenty of poker options this year, thanks in large part to the help of the Michigan Poker League, a school-sponsored organization. The club was created just a year ago, and yet has already built its membership to well over 300 members. Meetings for the club are held in the form of poker tournaments, where members discuss poker strategy as well as club ideas. James Egerer, president of the MPL, is even looking into holding what he calls a "No-Fold'em Hold'em" event, in which members would play a regular tournament; however, after each hand is completed the table would redeal the exact hands to each player and play with the cards face-up, so players at the table can see and discuss how well, or poorly, each hand was played. The MPL also has its own website, located at www.mplcore.com, where members can go to get club information, event schedules, and more.
The MPL really sets a standard when it comes to campus poker clubs. Not only do they run weekly tournaments, but they've also tried reaching out into the community for other poker opportunities. They are currently looking at collaborating with the Ann Arbor Poker Club, and have even been offered other venues to hold their meetings and tournaments off campus. However, the club has decided to put its members first, holding most of their events on campus at The Michigan League and the Michigan Union, as members without transportation would otherwise not be able to attend. The MPL even saw some of its members perform well in major poker tournaments this year, including the World Series of Poker and Pokerstars' World Championship of Online Poker.
Not only do students have the MPL to help explore their available poker options, they also have the website www.pokerinmichigan.com. The website aims at offering "a comprehensive list of Michigan poker clubs, Michigan poker groups, Michigan poker tournaments, Michigan poker home games and Michigan poker rooms," and succeeds! The website also lists casino tournament schedules, poker surplus items and poker strategy. If you're looking for poker information and live in Michigan, this website is a must. The website isn't connected to the school or to students, and events listed there are all off-campus events; some could be many miles outside of Ann Arbor. So whether you're interested in an inexpensive home game, or a regular cash tournament, the Poker in Michigan website has just what you're looking for.
U of M students looking for casino action also have plenty of options, although most are a bit of a drive from the campus. The Motor City Casino and MGM Grand Detroit can be found less than an hour's drive from Ann Arbor, while the Harrah's Casino Windsor in Canada is perfect for any student, as they allow anyone over the age of eighteen to play in their poker room. That casino's poker room houses 15 poker tables and is open 24 hours a day. Poker games generally vary from low-limit Hold'em to Omaha, plus 7-Card Stud. The Casino Windsor also holds daily tournaments with buy-ins varying from as low as $50 to on up to $1,000. While the hour's drive may detour some students, those looking to put their bankroll to good use should undeniably check it out.
University of Michigan students are fortunate to have so many viable poker options within the Ann Arbor area. While many campuses across the nation have started poker organizations for students, few have exploded like the Michigan Poker League. The MPL is perfect for college students, whether one is just looking for a weekly campus freeroll or for other players with whom to discuss and learn poker. With several high-quality casinos to pick from, all within a small drive from the campus, U of M students are never without a viable poker game. Another cold, Michigan winter is on the horizon, but poker options for students at the University of Michigan have just begun to heat up.