PokerStars EPT Baden Day 4: Thew Triumphs in Fast-Paced Finale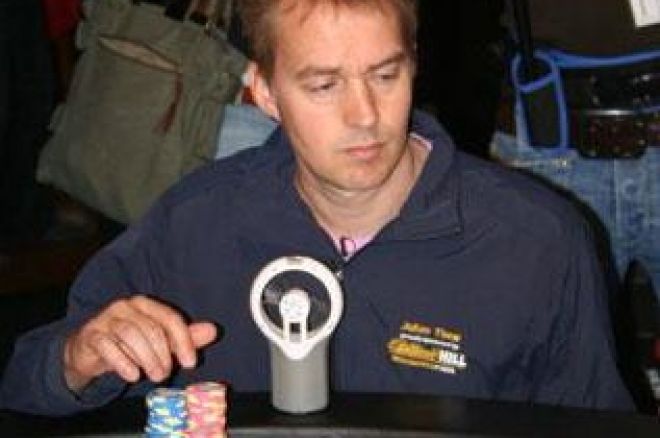 39-year-old Julian Thew defeated a field of 282 players to claim the PokerStars European Poker Tour Baden title and €670,800 in first-place prize money. The poker pro from Nottingham, England claimed his first title in his third trip to an EPT final table. Thew defeated Denes Kalo heads-up after a brief but exciting final table.
Vladimir Poleshchuk started the day with the chip lead, and kicked off the final table with aggressive style, eliminating a player in each of the first two hands. First to fall was Anton Allemann, who found himself outflopped with
on a board of
. Allemann led out on the flop, Poleshchuk raised all in, and Allemann called. Poleshchuk tabled
for two pair, and the turn brought the
, sealing Allemann's fate. Allemann picked up €60,000 for his eighth-place finish.
On the very next hand, short-stacked Ted Lawson pushed all in pre-flop with
, and Poleshchuk called with
. The flop of
gave Poleshchuk the nut flush and left Lawson drawing dead. The American was eliminated in seventh place and earned €83,600 for his finish. Manfred Hammer was next to feel the fury of Poleshchuk when he pushed all in pre-flop with
and Poleshchuk called with
. An ace on the flop sent Hammer to the rail in sixth place (€105,000) and raised the number of scalps on Poleshchuk's belt to three, all in the first level of play.
Play slowed down considerably after the first orbit, as a whopping half hour passed before the next elimination. Thierry van den Berg pushed his short stack into the middle with
and Thomas Fuller called with
. The board missed both players, and Thierry van den Berg was eliminated in fifth place for €132,900. Van den Berg's elimination brought the four remaining chip stacks close in size, as the remaining chip counts were as follows:
Vladimir Poleshchuk — 988,000
Julian Thew — 693,000
Thomas Fuller — 690,000
Denes Kalo — 469,000
Julian Thew came back from dinner break to take over the chip lead, and he immediately put it to use in a hand that left Thomas Fuller crippled. Fuller raised pre-flop and Thew and Poleshchuk both called. The flop came down
, and Thew raised Fuller's opening bet. Poleshchuk folded and Fuller moved all in. Thew called and tabled
for second pair with a flush draw, and Fuller showed
for the set. The
on the turn made Thew's flush, and the
on the river gave Thew a massive chip lead and left Fuller crippled. Fuller was eliminated in fourth place on the next hand when he got all his chips in pre-flop with
against Denes Kalo's
. The
on the turn left Fuller drawing dead, and he picked up €160,820 for fourth place.
After Fuller's elimination, Thew was a dominant chip leader, as the remaining three stacks looked like this:
Julian Thew — 1,816,000
Denes Kalo — 750,000
Vladimir Poleshchuk — 255,000
It took only moments for Poleshchuk to get the last of his chips in the middle, pushing pre-flop with
and finding a caller in Denes Kalo with
. The flop of
gave Kalo an inside straight draw, and the river
filled it, eliminating Poleshchuk in third place for €225,000.
Thew took an advantage in both chips and experience into heads-up play, with several more final table appearances than Kalo, but Kalo managed to last an hour before finally succumbing to Thew's aggression and chip advantage. On the final hand, all the chips went in the middle pre-flop as the players tabled these hands:
Thew –
Kalo –
The board was
, and Julian Thew's
was good enough to eliminate Denes Kalo as the runner-up (€375,000). Thew picked up the first-place trophy, an entry into the EPT Grand Final in Monte Carlo, and €670,800 for his PokerStars EPT Baden victory.