EPT Dublin Day 1a Recap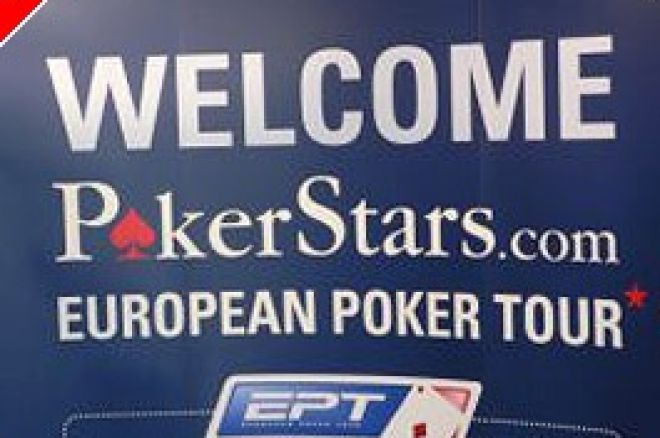 Eighty-Nine players took the field at the Royal Dublin Society for the first day of the PokerStars European Poker Tour Dublin Championship, including such local favorites as Jason O'Toole, Andy Black and Conor Doyle. Joining their Irish counterparts were players from all corners of the world like European pros Bertrand 'ElkY' Grospellier, Julian Thew and Johnny Lodden, as well top-level American players like Erik Seidel and Brandon Schaefer. 2006 EPT Dublin champion Roland De Wolfe and WSOP Europe Main Event Champion Annette 'Annette_15' Obrestad were spectators on Day 1a, as they awaited their Day 1b start.
It took less time for Malmai Csaba to double up than it did for some players to take their seats. On the very first hand, Csaba found himself all in holding pocket Aces against his opponent's pocket Queens. All the money went in on the flop of
, and when the turn and river revealed the
, Csaba's aces held up to give him the first significant pot of the day and to give his opponent an ignominious early exit. Csaba used his early edge to pick up pots and work his way to a top-5 chip stack by the end of the day.
Young internet superstar Dario Minieri also made an early exit on Day 1a, when he pushed his short stack all in over the top of Jan Sjavik's preflop raise. Sjavik called with
, and Minieri tabled his dominated
. The
in the door all but dashed Minieri's hopes for a suckout, and the young Italian was ousted before the dinner break. Internet superstar Bertrand 'ElkY' Grospellier was also eliminated on Day 1a.
Joe Rafferty made the final table of the EPT Dublin in 2005, but the Dublin native ran
into an opponent's
early in Day 1a and was eliminated. Erik Seidel also went to the rail on Day 1a when he ran his
into Stig Top Rasmussen's
. A board of
brought no help for Seidel, and the 8-time WSOP bracelet winner headed to the rail.
Irish poker star Andy Black doubled up early in the day and rode his big stack to a top-5 finish for Day 1a. His early double up came when he picked up the second-nut flush holding
on a board of
. On the river, Black's opponent moved all in, and Black quickly called, picking up a monster pot and putting himself in good position for the rest of the day.
48 players survived Day 1a, with Mike McDonald atop the leaderboard. More superstars were scheduled to join the fray on Day 1b, including Roland De Wolfe, Annette Obrestad and 2007 WSOP bracelet winner Katja Thater. Complete Chip counts for the surviving players are -
Mike McDonald 67,250
Dave Colclough 59,350
Phidias Georgiou 55,475
Kristian Kjøndal 53,150
Jacques Zaicik 48,225
Andrew Black 45,675
Simon Christensson 45,000
Christoffer Egemo Hansen 43,050
Kevin Vreeswijk 42,725
Marcel Baran 40,150
Henric Stråth 39,000
Csaba Malnai 37,250
Johnny Lodden 37,225
Casper Hansen 37,150
Johannes Steindl 36,500
Adrian Koy 35,850
Andrew Grimason 35,400
Sebastian Ruthenberg 35,175
Oran Holt 33,450
Kenneth Hicks Jr. 30,950
Aleksandr Arutjonov 30,150
Noah Boeken 27,825
Daniel Ryan 27,550
Carl Hostrup 26,850
Brandon Schaefer 26,725
Stig Top-Rasmussen 26,300
Martin Wendt 25,125
Ian Woodley 24,550
Christopher Hamman 18,875
Hans Eskilsson 18,550
Mark Asgcal 18,500
Paul Testud 17,750
Reijo Manninen 17,525
Len Collin 17,275
Michael Hogbom 16,100
Gustaf Jonasson 15,200
Johan Storakers 15,050
Thierry Van den Berg 14,250
Daan Ruiter 14,125
Terje Augdal 13,925
John Conroy 11,525
Reuben Peters 11,050
Mathieu Gallienne 10,750
Martin Rask 10,175
Davide Calabro 8,125
Patric Fredriksson 5,850
Jan Sjavik 5,450
Seth Blackman 5,000
Join PokerNews as we bring you all the live updates, hand histories and interviews from EPT Dublin Day 1b starting at 2PM local time!