MGM Mirage Announces Atlantic City Complex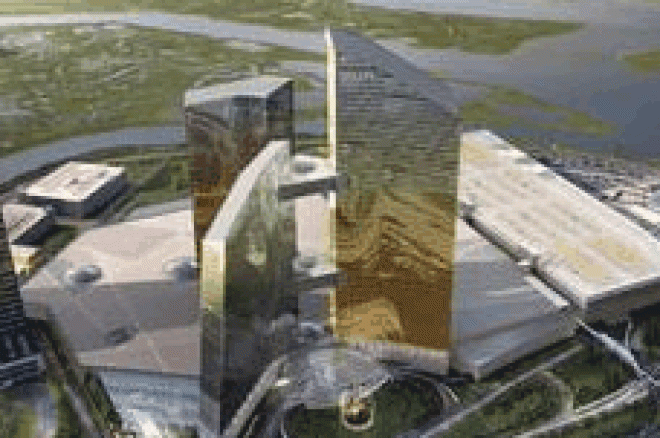 On Wednesday, MGM Mirage announced plans to build a $4.5-$5 billion casino complex in Atlantic City. The complex will have a 3,000-room hotel facility, the largest casino floor in the state, a poker room, a 1,500-seat theatre, restaurants, spa and convention center. It will be built on the 72-acre property adjacent to the Borgata, which the MGM jointly owns with Boyd Gaming. Executive Terry Lannie said, "Our company has carefully considered the possibilities for our landholdings in Atlantic City. We believe the success at Borgata demonstrates the eagerness for further evolution of the nation's second-largest gaming market." Pending regulatory approval, MGM Mirage plans to break ground next year and open the new complex sometime in 2012. (An artist's conception of the complex appears at right --- image courtesy MGM Mirage.)
MGM Mirage's announcement will put further pressure on the already competitive Atlantic City market. Since the Borgata opened in 2003, it has prospered at the expense of some of Atlantic City's older casino properties. In an attempt to compete more favorably with the Borgata, many casino companies have invested heavily in renovation and expansion projects.
Donald Trump has spent $225 million over the past few years renovating all the rooms in his three Atlantic City casinos. Next year his company will have spent another $250 million to add a second tower and more rooms to the Taj Mahal Casino Resort. The Tropicana Casino Resort just spent $15 million renovating its South Tower rooms and opening a new night club. Pinnacle Entertainment is currently undergoing the ultimate renovation, starting with the implosion of the former Sands Casino Hotel scheduled for later this month. Pinnacle plans to replace it with a $2 billion casino resort on 18 contiguous oceanfront acres by 2011.
In February, Harrah's unveiled the first phase of its $500 million expansion project in Atlantic City. The remaining phases are scheduled for completion next year, including what was to be the largest casino tower in Atlantic City. It will only have a few years to enjoy that honor, however, as MGM Mirage's planned hotel tower will top it.