Online Poker Weekend: Technical Difficulties Key 'splashthaap0t' Win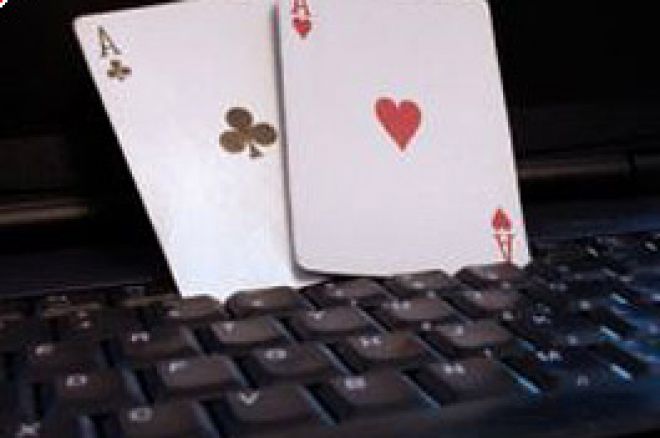 This week, three major sites experienced an overlay simultaneously in their biggest online tourneys, while over on PokerStars, the huge WCOOP Main Event was rolling on, drawing away anyone who wasn't exclusive to another site. Expect turnouts to climb back up in the coming weeks as things settle down in the online poker world.
Full Tilt $750,000 Guaranteed
Full Tilt's numbers fell to 3,709 following last week's big turnout, and in a rare case, it had to pay an overlay of $8,200 to make the $750,000 guarantee. First place was $132,787.50 with 522 places paid.
Cashing among the 'red' pros were Chip Jett in 490th, his wife Karina Jett in 472nd, and David Singer in 47th. Top-ranked online pro Sorel 'Imper1um' Mizzi finished in 77th. It was another named online pro, bigegypt, that would make this final table, dominating action nearly the whole way.
First out, though, was muchaka when he went all in over the top of bigegypt's standard raise. bigegypt called with
and muchaka had
. The board was
and muchaka got $10,050 for ninth.
Next was the self-deprecating El_Imbecil, who went all in, in the small blind, with
, and was called by aquanaut with
. The board was
and El_Imbecil went home with $13,500 for eighth.
Despite taking out a player, aquanaut would exit next. He shoved under the gun with
and dag2 called with
. A ten spiked on a board of
and aquanaut got $17,250 for seventh.
Soon after, UboughtMyBMW shoved over the top of P0KERPR0's standard raise. UboughtMyBMW had
and P0KERPR0 had
. The dominant hand would stay that way with the board coming
. UboughtMyBMW collected $23,025, enough for a nice down payment on a new Beemer.
Again, the buster became the bustee, when P0KERPR0 re-raised to 600,000 on top of bigegypt's standard raise. bigegypt went all in with
and P0KERPR0 called with
. Luck was not with P0KERPR0, as the board came
. He got $31,050 for fifth.
Next was Deviland. He re-raised all in over the top of splashthaap0t's standard raise. splashthaap0t called with
to Deviland's
. The board was
and Deviland got $41,400 for fourth.
After that, bigegypt put in a standard raise, dag2 went all in with
, and bigegypt called with
. The board was
and dag2 won $52,500, leaving in third.
Though bigegypt came in to heads up with a 3-to-2 lead over splashthaap0t, and he would increase that lead to as much as 4-to-1, it was not to be for the big online pro, as he disconnected and was unable to reconnect until the lead had changed to 5.6-to-1 the other way.
bigegypt finished in second for $80,250 when his
failed to improve versus splashthaap0t's
on a board of
, and he will have to explain to his Internet service provider how they likely cost him over $50,000. The winner was splashthaap0t, taking home $132,787.50 in what has to be an extremely fortunate circumstance.
Final standings:
1st ($132,787.50): splashthaap0t
2nd ($80,250): bigegypt
3rd ($52,500): dag2
4th ($41,400): Deviland
5th ($31,050): P0KERPR0
6th ($23,025): UboughtMyBMW
7th ($17,250): aquanaut
8th ($13,500): El_Imbecil
9th ($10,050): muchaka
PartyPoker $300,000 Guaranteed
PartyPoker's numbers dropped for the second straight week. With 1,487 players, PartyPoker had a small $2,600 overlay to add to reach its $300,000 guarantee. As is standard when the guarantee is not surpassed significantly, 200 places were paid and first place receives $60,000.
Hjarno came into the final table as extreme low man, and would get even lower, falling to 57,916 in chips with blinds at 30,000/60,000 with a 1,500 ante. Several fortunate calls and all-ins later, and Hjarno battled back from a chip and a chair and won it. Here's how it happened.
First out was mmcessa, when chuckchuk raised 4x and mmcessa in the big blind re-raised all in over the top. chuckchuk called with
to mmcessa's
. The board was
and mmcessa got $2,850 for tenth.
Next, Zonck raised 3x in the cutoff and dani2611 called. The flop was
and dani2611 checked. Zonck put in 180,000 – over half his stack. dani2611 countered by going all in, and Zonck put the rest in. Zonck had
to dani2611's
. The board finished out
and Zonck left with $4,050 in ninth.
A few hands later, Hjarno limped in, in late position, and chuckchuk re-raised all in. Hjarno called with
and chuckchuk had
. The board was
and chuckchuk received eighth-place money of $5,250.
About six minutes later, Hjarno raised 2x on the button, and zillick re-raised all in for over a million in chips. As before, Hjarno called, but this time he had the deadly
to zillick's
. Left with only 19,527 after putting in the small blind, zillick went out with
versus Hjarno's
on a board of
. zillick collected $7,950 for seventh.
The first of many attempts at a deal started shortly after, but one player kept closing the dealmaking window, so everyone gave up and play continued.
In a battle of the blinds, hertigafkorv raised 3x in the small blind and garbage_ went all in. hertigafkorv called with
to garbage_'s
. The board was
and garbage_ was out next, finishing in sixth for $10,350.
The most vocal about a deal, Liverpul, got his way again as the dealmaking window opened. Again, one player closed the window after awhile.
Unfortunately, Liverpul would never get that deal. He went out next after going all in on the button with
and getting called by Hjarno with
. The board was
and Liverpul had to settle for $13,800 and fifth.
For the third time, players attempted to make a deal. Chip leader Hjarno wanted $50,000 – a few thousand more than his share by chip count. hertigafkorv wanted a chop by chip count or nothing, so play continued for awhile.
After some chips were pushed around, players went into the dealmaking window again. Hjarno again insisted on $50,000. One player suggested $48K, and Hjarno haggled to $49,000. Smakkies wanted $21,000, the other two, who were virtually tied on chips, took $30,000, and Smakkies got the extra $50. The tournament was finished, and Hjarno, the comeback king, won it.
Final standings:
*1st ($49,000): Hjarno
*2nd ($30,000): hertigafkorv
*3rd ($30,000): dani2611
*4th ($21,050): Smakkies
5th ($13,800): Liverpul
6th ($10,350): garbage_
7th ($7,950): zillick
8th ($5,250): chuckchuk
9th ($4,050): Zonck
10th ($2,850): mmcessa
* reflects the results of a four-way chop
Bodog $100,000 Guaranteed
The weekly Bodog $100,000 Guaranteed got a bit of a bump with 747 players compared to the last two weeks at 729. Still, the overlay was $25,300. 63 places paid and first place was $25,000.
First out at the final table was joseph k, who went all in on a flop of
with
and was called by 8BallDeluxe with
. The board finished
and the flush kicked joseph k out in ninth, earning $1,600.
Next, quietwinner shoved in late position with
and was called by carman111 with
. In a classic race, the board came
and quietwinner not-so-quietly exited in eighth for $2,500, unleashing a few choice expletives afterward.
On the very next hand, eltico went all in, in the small blind for 37,288.27, not covering carman111's odd 63,100 bet. carman111 took some back and held
to eltico's
. The board was
and eltico received $3,500 for seventh.
Two hands later, whodey1978 shoved in early position with
and carman111 called with
. The board was
, giving whodey1978 hope for a split second, but the river was
and he was sent home with $4,500 for sixth.
The maniacal bustouts slowed for just a few minutes until 8BallDeluxe limped in the small blind and PV01 raised to 50,000. 8BallDeluxe went all in with
and PV01 called with
. Another race, and with a board of
, PV01 lost to the killer river card, earning $5,500 for fifth.
These four players would battle it out for 20 more minutes, and then 8BallDeluxe raised about 2x. bearbeer went all in on the button with
and ran into 8BallDeluxe's
. The board was
and bearbeer left for the fridge, a cold one, and $6,900 for fourth.
Fifteen minutes of three-way play later, looshle went all in on the button with
and was called by carman111 with
. looshle was not able to hold on with a board of
, and he was let go with $9,200 for third.
About sixteen minutes of heads-up action followed, and 8BallDeluxe, who dominated the final table, shoved on the button. carman111 called and showed
to 8BallDeluxe's
. A fortunate board of
later, and 8BallDeluxe collected $25,000 for the win, leaving $14,300 for second-place carman111.
Final standings:
1st ($25,000.00): 8BallDeluxe
2nd ($14,300.00): carman111
3rd ($9,200.00): looshle
4th ($6,900.00): bearbeer
5th ($5,500.00): PV01
6th ($4,500.00): whodey1978
7th ($3,500.00): eltico
8th ($2,500.00): quietwinner
9th ($1,600.00): joseph k