Poker Room Review: Sharky's Manchester, Manchester, NH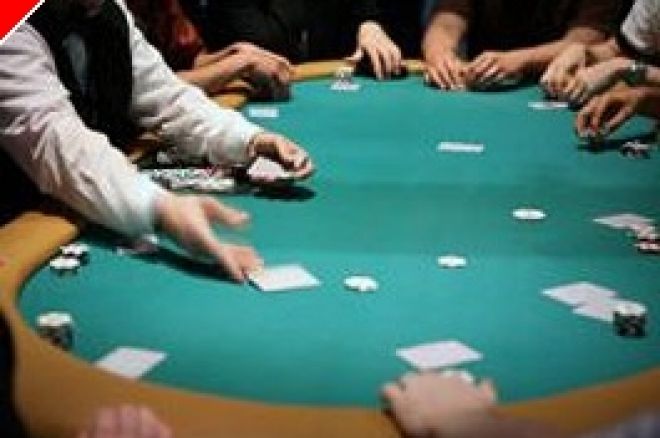 Thirty minutes north of the Massachusetts line, in the old industrial city of Manchester, New Hampshire, sits an unassuming but vibrant poker room. It's open seven days a week until midnight and admits those aged 18 and up. They get away with the young age limit because they don't serve alcohol.
Sharky's Manchester offers four multi-table tournaments during the week and five on Saturday and Sunday. Buy-ins range from as low as freerolls with $10 and $20 re-buys to the deep-stack $250 tournament on Saturday afternoon.
This is one of the many "charity" poker rooms in New Hampshire. The games are not overly raked, however, unlike the charity tournaments offered in Massachusetts. Typically, the tournament rake is between 15 and 25% — which compares favorably to "real casino" poker rooms like Foxwoods, which rakes 23% for some of its poker tournaments.
The tourneys tend to offer quite a bit of play for the money – especially the deep-stack event on Saturday afternoon. For $250, players receive 40,000 in starting chips, with blinds starting at 25/50 and increasing every 20 minutes. If you like a lot of play, it's hard to do better than that.
The room also offers cash games, but as in other New Hampshire poker rooms, there is a maximum bet of $2 – making the games ultra-loose and heavily raked (10% with a maximum of either $5 or $6 depending on the game). They typically spread limit hold'em, though they sometimes have an Omaha-8 game.
I entered the 5:00 PM $10 tournament with re-buys. The buy-in price is deceptive. You get 1,500 in chips to start. You can rebuy your original stack for $10, or get a double re-buy for $20. The add on is $20 for $4,000 or a double add on for $40 gets you $10,000. Typically, players buy in, try not to rebuy for the first hour, and then add on $10,000 in chips for $40. So the tournament really plays like a $50 tournament with 14,000 in tournament chips. Blinds start at 25/50 and, roughly doubling every 20 minutes.
There were 68 players in the tournament I entered. I played well for the first three hours then got restless and eager to leave, playing wildly. When I made the final table, at around 9:00 PM. I went all in three hands in a row and was finally knocked out, winning tenth-place money of $80. First paid nearly $700.
The room is a nice, if bare-bones, place to play poker. There are 18 tables, eight of which were in use when I arrived: seven for the tournament and one for a cash game. It is a windowless room, with painted brick walls, little decoration, a high ceiling with fluorescent lights, good ventilation, and a snack bar at the back of the room.
The snack bar is far above average for a poker room. They offer a wide array of sandwiches, wraps, salads, burgers, side dishes, and even dinner specials including a nice special of stir fried chicken, vegetables and cheese served over rice. Prices are very reasonable, with sandwiches between $4 and $7. I had a nice bowl of delicious chili for $3. Drinks were a buck or two. There is no alcohol (hence the 18-year-old age limit for players) but there is a wide assortment of soft drinks, water, and juice. They even had YooHoo and Moxie.
The level of play seemed typical of these New Hampshire rooms – regular play, tending on the wild side for some, with no experts or pros in the room. There was a nice mix of players – from teenagers to seniors – and there were about 10-12% women – including some very young women.
The tournaments seemed to run smoothly, with experienced, friendly, and efficient dealers. The players all seemed to know each other. I may have been the only new face at my table all night – as more than a couple of the regulars asked me who I was and if this was my first time.
The room is only about seventy minutes from Boston – only five minutes or so off of Interstate 93. It's a busier room than the Sharky's room at the Elks Club in Nashua – and things seemed to go off more smoothly. I suspect that the folks in Manchester have been operating their room for a while longer than they've been running their game in Nashua. There's not as much action here as in either the Rockingham or Seabrook rooms in southern New Hampshire. But the food is much, much better than in any of the rooms I've been to in New Hampshire.
They have three-card poker and blackjack – though I don't know how their rules compare with casino rules. And they have roulette – with casino payouts (they make a big deal of this – but it's still a game with at least a 5% house advantage). The roulette was enormously popular among the poker players – with many of them running over to the game during breaks in the poker action.
If you are a bingo fancier, this is a great location for you – as there is a bingo hall right next door. Check their days of operation. Unlike the poker room, they are dark a few nights during the week.
I enjoyed my visit, and would recommend the room for anyone within an hour or so looking for a well-run tournament.
Sharky's Poker Room Manchester
195 McGregor Street
Manchester, New Hampshire
603-606-4456
www.sharkyspokerroom.net