Women's Poker Spotlight: Jan Fisher – The Secret to Her Success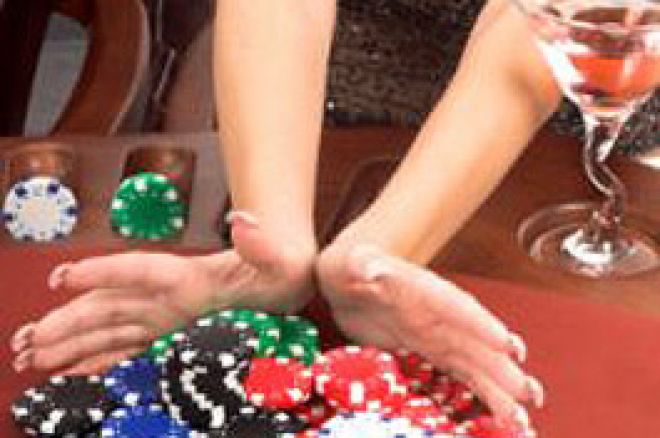 My first meeting with Jan was about five years ago when I first became supportive and proactive in women's poker. Since then, Jan and I have become fast and good friends through poker. A demure lady but very intense about her dedication to the betterment of poker as a whole, she has had a hand in some of the most dramatic changes in the poker industry. Jan has made a career of building her reputation and involvement in poker.
Jan began her quest for perfection in poker in 1977 when she started as a poker dealer in old downtown Las Vegas. Her experiences in dealing lead her to playing professionally to make a living at poker. One opportunity led to another as Jan took a position with Card Player Cruises as a dealer and floor supervisor. Soon after, Linda Johnson would enter the picture by purchasing the Card Player Magazine and Cruises businesses. Linda and Jan became quick friends and soon business partners in Card Player Cruises. Today the business and relationship flourishes under the guidance of these remarkable ladies.
Because of the longstanding, strong friendship between Linda and Jan, they have accomplished many poker projects and business relationships through the years. One such project, the nearest to Jan's heart, is the Tournament Directors Association, or TDA. Jan explains, "If there's anything in the poker industry I would want to be remembered by, it's my contribution to making a structure of constant guidelines for tournament poker players. I want everyone to know the rules and feel comfortable about playing a tournament and knowing that the rules will be the same at every tournament they play."
Another poker aspect of Jan's very busy life is the role she fills as statistician for the WPT. It's a tedious job, but a very necessary one, in which Jan records every single hand in detail that is played at the final table of every WPT event. Her involvement with the WPT doesn't stop there; she also fills in during several sessions through out the year with the WPT Boot Camp as an instructor. When she's not working on the TDA or the WPT, she's giving her time to charity or instructing in a women's-only event seminar and open seminars for casino events. Jan says, "Opening doors to women's poker is so important. I would like women to feel comfortable in the environment they play in. Instructing is one way I can give back to the poker community and hopefully help someone to take that next step in their poker career."
Often, requests and inquiries are made whether Jan is available to host or teach in many different venues. One, which has become an annual event, is the Japanese Poker Championship. This event has become very special to Jan as it is the only one of its kind in Japan. Although the event only pays out prizes (because gambling is illegal in Japan), the door is open and players are stepping through. Jan says, 'If I can be a propelling influence on the continuing growth of poker in another country, I'll do whatever I can to contribute. This event is both fun and fulfilling."
Contributing should be a staple in Jan's daily life. She recently took on her own column at Poker Player Magazine and also spends time as a contributing board member for the Poker Players Alliance and its push to expand the legalization of poker. "I feel strongly that the voices of 700,000 members of the Poker Players Alliance will influence the changes to come in online poker. There's power in the numbers when concerned active members become a part of the solution."
As I reflected on the many stories Jan has shared with me over the years, and in this interview, I realize what a truly remarkable lady she is. She's a friend to many, an advocate for better poker relations, a hard-working business woman and a lady of integrity. I asked Jan what she believes people will remember most of her when she is gone and has left her poker legacy behind. A humble response, she replies, "I hope people will remember my reputation over the past 30 years in poker. I've worked hard to maintain an honest, hard-working persona in the poker industry."
I can see why Jan is a popular choice among the many influential people in the poker industry when it comes to personal appearances and offers of placement in prestigious associations. Her integrity has become her secret to success. Well done, Jan… well done!