Venetian's Deep Stack Extravaganza Announced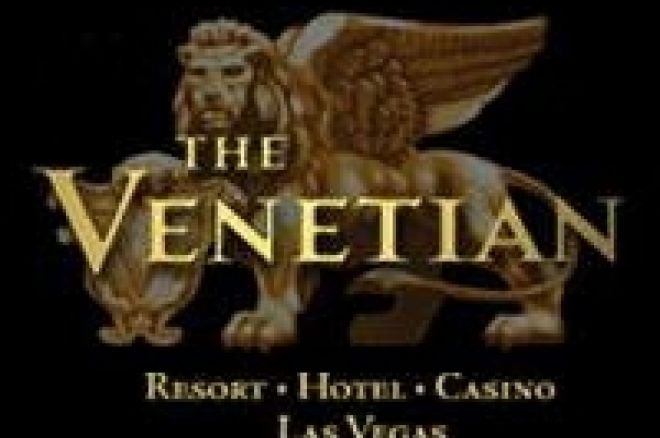 The Venetian has announced its 2008 Deep Stack Extravaganza (DSE) series, featuring both a tournament in February and a tournament which will coincide with "the world's largest poker tournament" in June. "We are thrilled to be bringing back the Deep Stack Extravaganza as a full-fledged series with two annual tournaments a year and giving players the opportunity to experience great tournament formats run by a very knowledgeable and friendly staff," stated Kathy Raymond, director of poker operations for The Venetian. "With lower buy-ins, larger chip counts, more play and great blind structures and our luxurious, spacious, and exquisitely decorated poker room, these tournaments are like no other in Vegas."
Players enthusiastically responded to the "more chips, more play" philosophy of the Venetian's previous deep stack events. The Deep Stack Extravaganzas run in 2007 were extremely successful, drawing more than 19,000 entrants and featuring a combined total prize pool of more than $10 million. For players looking for an even more affordable price point into DSE events, the Venetian will be conducting daily satellites throughout the series.
The first 2008 DSE is scheduled to begin on February 4th and will conclude with a $2,600 buy-in Main Event on February 24th. Starting chip counts for the $330 No-Limits, $540 PLO, $540 O8, and $540 H.O.R.S.E. are 4,500. Starting chip counts for all other $540 and $1,060 events are 7,500. The Main Event, on February 21st, will start with 10,000 chips. For an optional $10 staff bonus, a player can add 1,500, 2,500 and 5,000 respectively to the aforementioned starting chip counts.
The complete schedule for the February 2008 series:
Date Buy-In Event
2/04 $330 NLHE
2/05 $540 PLO w/ Rebuys
2/06 $330 NLHE
2/07 $540 NLHE
2/08 $1,060 NLHE
2/09 $540 NLHE
2/10 $1,060 NLHE
2/11 $330 NLHE
2/12 $540 Omaha 8 or Better
2/13 $330 NLHE
2/14 $540 NLHE
2/15 $540 NLHE
2/16 $540 NLHE
2/17 $1,060 NLHE
2/18 $330 NLHE
2/19 $540 H.O.R.S.E.
2/20 $330 NLHE
2/21 $540 NLHE
2/22 $1,060 NLHE
2/23 $540 NLHE
2/23 $225 Satellite w/ Rebuys
2/24 $2,060 NLHE