Win Your Seat at the 2008 Aussie Millions, Courtesy of PokerStars!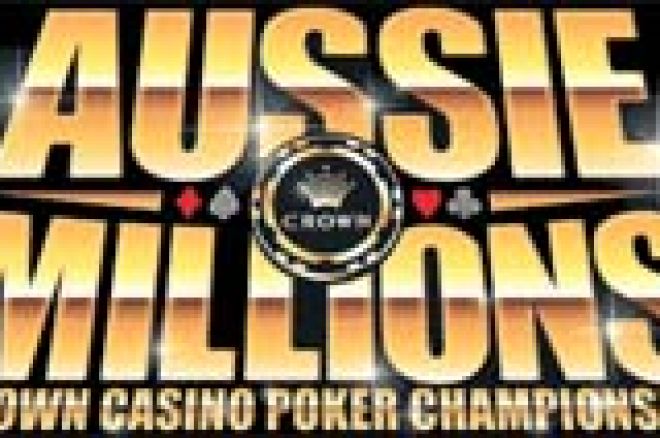 The Crown Casino in Melbourne, Australia will once again host the Aussie Millions in what is fast becoming one of the premier tournaments on the poker calendar. From January 5-20, the 2008 Aussie Millions will take place and will attract players from across Australia and around the globe in search of Aussie Millions glory. PokerStars is pleased to present two Aussie Millions Freerolls exclusively to PokerNews players. The first Aussie Millions Freeroll begins Saturday December 1 at 15:00 EST and is a fantastic opportunity to win your way to Australia to compete at the 2008 Aussie Millions.
Each and every Aussie Millions Freeroll winner will receive a $12,500 package that consists of entry to the 2008 Aussie Millions Main Event (valued at AUD$10,500), nine nights accommodation at the luxurious Crown Promenade Hotel and $2,000 cash for travel. Winners will also join the ranks of Team PokerNews and receive exclusive merchandise and entry to the Team PokerNews welcome party.
The top two finishers in this $25,000 Aussie Millions Freeroll at PokerStars will each receive a $12,500 package, making this freeroll positively bursting with player value. To be eligible for this amazing freeroll, players must download PokerStars through PokerNews and register a new account. After making a deposit, players must accumulate 500 Frequent Player Points (FPP) before November 27, in order to qualify. Eligible players will be issued a ticket which is used to register for the tournament.
PokerStars continues to supply PokerNews players with excellent value through a $12,500 Aussie Millions Freeroll, commencing Friday December 14 at 20:00 EST. To be eligible, download PokerStars through PokerNews, register a new account, make a deposit and earn 250 VPP (VIP Player Points) between Saturday December 1 and Wednesday December 12. Qualified players will be issued a ticket, which is then used to register for the tournament.
Keep in mind that existing PokerStars players who signed up through PokerNews are welcome to participate in these huge freerolls, as long as all other entry requirements are also fulfilled.
If that isn't enough, PokerStars also offers two excellent $5,000 Freerolls, exclusive to PokerNews players. Check our exclusive freeroll page for more details.
So sign up to PokerStars through PokerNews today and you could be competing in the 2008 Aussie Millions for free!
Ed Note: Fancy a 150% bonus on a $50 deposit? Sign up to PokerStars through PokerNews and receive a 100% first deposit bonus up to $50 plus $25 free!