College Poker Life: University of South Dakota, Vermillion, SD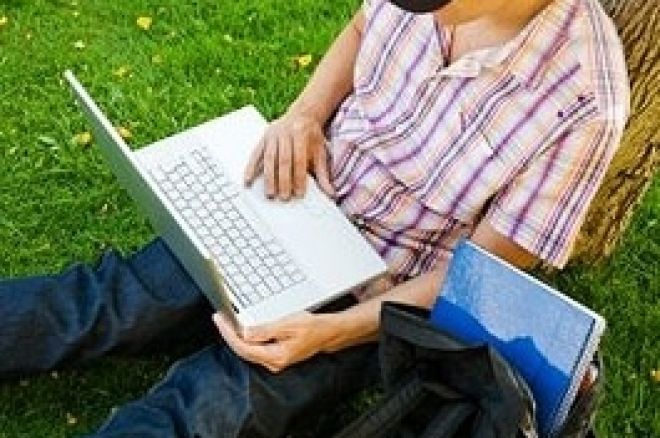 College students across the nation have already begun to lose sight of their studying habits and have begun to focus on more important things, such as the approaching winter vacation. And yet, with the end of the fall semester looming, students at the University of South Dakota are finishing their preparations for the university's biggest poker event of the year.
Student poker players in the small town of Vermillion, South Dakota have had very limited choices when it comes to enjoying the game of poker. While the university may not have a poker club, and while there may not be weekly campus poker tournaments, the university does differ drastically compared to other colleges in the fact that USD students can actually enroll in a semester-long poker class.
The class, "Poker and the Meaning of Life," is one of the seminar options available to incoming freshman for their first year at USD. The class began three years ago when First Year Experience head Steven Ward and Professor Doug Peterson thought that the game of poker could be used as a great tool in teaching students life lessons. Peterson, a psychology instructor, noticed many similarities to decisions players have to make at the poker table and decisions people make in their everyday life. In one class lesson, Peterson illustrates how poker chips can serve as a metaphor for time management; knowing how to use each chip well, even when short on them, will be fundamental in the game and, therefore, in one's life.
The class may meet twice a week, but some of the ways Peterson uses class time aren't what you would expect in a college setting. A few of the class periods each semester are actually devoted to playing poker, where Peterson has specific goals for the students to learn, like the act of bluffing, one way of demonstrating the randomness of human behavior. Even more amazing than playing poker in the classroom is the text book in which the students learn from, Poker Nation, by Andy Bellin, a book the Library Journal says "does not glamorize this high-stakes game," but instead tells of the "psychological toll" it entails. Talk about your ideal class.
While the class may sound like all fun and games, students thinking that it would be a breeze are mistaken. A major focus of the class is community, and each year the students organize a large charity tournament to close out the semester. The students are completely responsible for the event, including generating prize donations from local businesses, as well as choosing the charity, plan the connected promotions, and even act as dealers for the tournament. The charity tournament has been a great success each year, with attendance ranging from 80-100 attendees.
This year's event takes place at 2pm on Saturday, December 1st at Pro's Bar and Grill. Entry is free and open to the public, though the students are hoping each entrant will make a $5 donation to SeSac, this year's student-picked charity. The main prizes will be given out to the top three finalists, with additional prizes also being handed out to spots fourth through tenth. So if you live in Vermillion and play poker, this is one event you can't afford to miss out on. For what could be better than playing poker, donating money to charity, and helping support a class which teaches poker and life lessons?
With the exception of a few regular home games around town, students may be hard pressed to find a profitable, regular poker game to take part in. Pro's Bar and Grill just recently stopped its regular weekly Tuesday night freerolls for the Players Club Poker League, where players competed in point system tournaments, with the highest point earners being invited to a bigger tournament with cash prizes. Pro's Bar and Grill is currently unsure whether or not the weekly games will start back up, as they are in the process of finding someone to help run the events. If you really like freeroll action, the PC still holds regular events in the nearby city of Sioux Falls, at the Shenanigans Bar and at the Thirsty Duck. While these freerolls serve as a great way to practice your skills at the game, they may be a bit of a drive for the average college student.
While casinos may be sparse across the state of South Dakota, the town of Deadwood, several miles west of Vermillion, is one spot students can't pass up. Deadwood may be known for many different things, but many poker players know it to be the town where "Wild" Bill Hickok was shot to death during a poker game. At the time of his death, Bill was famously holding a poker hand consisting of the two black aces and two black eights; a hand to be forever known as "dead man's hand". Deadwood does have a handful of casinos with poker rooms, albeit small ones, many of which run regular, small-stakes tournaments. Cadillac Jack's Gaming Resort may only have four tables in its poker room, but it runs regular small- and high-stakes limit games, including Omaha-8, as well as nightly Hold'em tournaments. Although the drive may be a long one, it certainly makes for a memorable weekend of cards for any college student.
Students at the University of South Dakota may find regular poker options in Vermillion to be sparse, but the campus certainly makes up for it in terms of uniqueness. This time of year typically brings about excitement as the approaching month-long winter vacation starts to become a reality for students. But, for students enrolled in "Poker and the Meaning of Life," it ultimately brings about the end of one of the most unique college classes offered anywhere.