EPT Dublin Day 1b recap – Flood, Colclough Near Top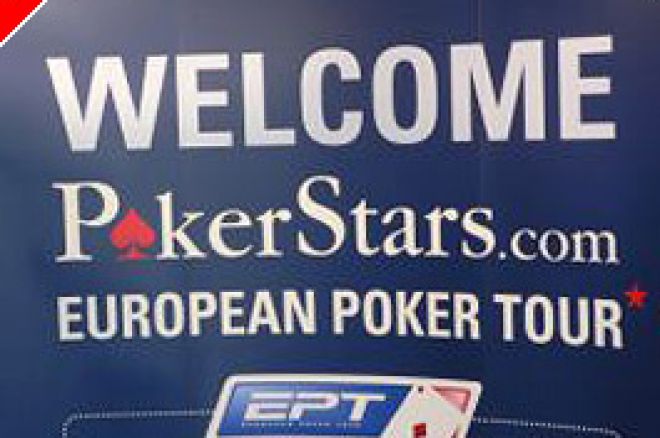 The field for Day 1b of the PokerStars European Poker Tour Dublin event was larger than Day 1a, with 132 players joining the 91 that took to the felt on Day 1a, making a combined field of 221 of the top players from Ireland, Europe and around the world. Among the top pros playing on Day 1b were Ram Vaswani, Surinder Sunar, 2006 EPT Dublin champ Roland De Wolfe, 2007 EPT Baden winner Julian Thew, and 2007 WSOP Europe Main Event Champion Annette 'Annette_15' Obrestad. Many more local Irish stars played on Day 1b including Roy 'The Boy' Brindley, Liam 'The Gentleman' Flood, Marty Smyth and former soccer star Tony Cascarino.
The day started eventful and unpleasant for Hendon Mobster Ram Vaswani when he moved all-in over the top of Florian Langmann's bet on the turn when the board read
. Vaswani picked a bad time to make a move, as his
was no good against Langmann's
. No gutshot on the river, and Vaswani was eliminated early.
Roland De Wolfe saw his chances at a repeat championship disappear early when his top two pair did not hold up against his opponent's open-ended straight flush draw. The flop of
x hit De Wolfe's J-9 hard, but when his opponent tabled
after all the money went in, the
peeled off on the turn to send De Wolfe packing. Among other notable eliminations on Day 1b were Thomas Wahlroos, John Magill and Age Spets, who lost a coinflip with A-K versus pocket Jacks to end his tournament. 2007 Irish Open champion Marty Smyth ran into pocket Aces to end his tournament early, and early chip leader Anthony Lellouche flopped a straight and got all his money in good against an opponent holding top pair and a flush draw only to fall to runner-runner full house.
The day went much better for Surinder Sunar, who picked up a monster pot early in the day that left him in good position all through Day 1b. After calling a preflop raise, Sunar raised on a flop of
. His opponent called, then checked to Sunar when the turn brought the
. Sunar fired at the pot again, and led out again when the
came on the river. His opponent paid him off on every street, and Sunar tabled pocket sixes for a flopped set and dragged the pot. Sunar held on to his chips all day, finishing in the top 5 on the leaderboard.
Liam 'The Gentleman' Flood rode a chip rollercoaster for much of the day, finally getting off the short stack as the end of Day 1b approached. Flood picked up Aces against Raul Mestre, and all the money went in preflop as Flood's Aces dominated Mestre's Queens. The board came down
, and Flood doubled up to finish the day in good shape for Day 2.
As the day wore on, Annette Obrestad was relatively quiet until she managed a late-day double up. In the big blind with 6-7, Obrestad checked preflop and along with the small blind and a limper from the button saw the flop of 6-7-J. Obrestad checked the flop, and the button led out. The small blind folded and Obrestad raised substantially. The button reraised enough to put Obrestad all in, and she called with her flopped two pair. The button tabled his Aces, having limped in with a monster, and Obrestad doubled up with her big blind special.
As the end of Day 1b neared, Liam Flood and Roy 'The Boy' Brindley tangled in a big hand. On a 9-high flop with two clubs, Brindley checked, Flood led out, and Brindley check-raised. Flood pushed all-in over the top and Brindley called with
for a flush draw and a backdoor straight draw. Flood turns over
, and no club comes to keep Brindley alive. 'The Gentleman' finished the day with a strong chip stack while 'The Boy' went to the rail.
122 players survived the two day ones, and the field will combine for Day 2. Among the notable survivors from Day 1b are Katja Thater, Juha Helppi, Thor Hansen and Luca Pagano. All of them ended the day chasing the chip stack of Ludovic Lacay, who closed out the day in a super-aggressive style and amassed a huge chip stack because of it. The top 20 chip leaders as the field joins together tomorrow are -
Ludovic Lacay 85,225
Liam Flood 75,750
Tronde Eidsvig 70,475
Mike Mcdonald 67,250
Philip Hardy 62,600
Dave Colclough 59,350
Michael Martin 57,950
Mark Roland 56,625
Phidias Georgiou 55,475
Barry McGrath 54,625
Simon Munoz 54,200
Kristian Kjøndal 53,150
Ian Cox 48,250
Jacques Zaicik 48,225
Raymi Sanchez Thörn 46,875
Arshad Hussain 46,425
Runar Runarsson 46,400
Andrew Black 45,675
Simon Christensson 45,000
Jose Luis Picazo Collado 44,650
Join PokerNews at 2PM local time as we bring you all the updates from Day 2 of the PokerStars European Poker Tour Dublin Championship.