The PokerNews Interview: Chris Vaughn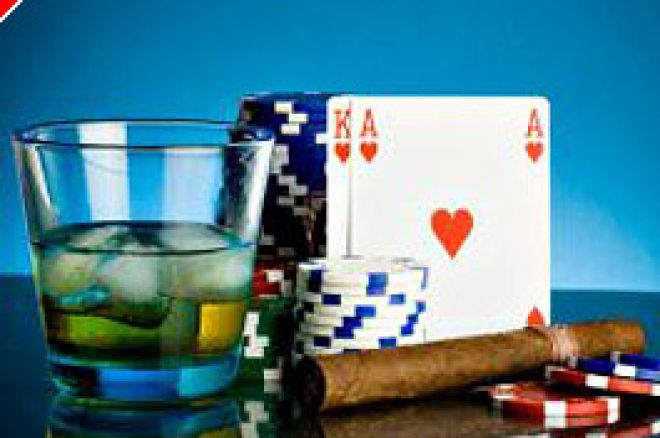 Chris Vaughn is one of the faces behind Bluff Magazine, having worked there since August 2006. Since that time, he's worked his way up from an internship to managing editor of the magazine. One of Vaughn's job perks is talking to the best poker players in the world on a regular basis, though nothing could have prepared him for his recent amazing run in tournament poker. On October 21, he won the Full Tilt $1 Million Guaranteed, and then he won the Poker Stars Sunday Million one week later, on October 28. Half a million in winnings, just like that.
Here's how Vaughn feels about his back-to-back wins, how his life has changed, and where he goes from here.
PokerNews: So, back to back million guaranteed wins. How does it feel with a couple weeks of space? Has it sunk in yet?
Chris Vaughn: It definitely sunk in when I went on a shopping spree the following week. It was still mostly weird and unbelievable the night I won on Stars, and I guess it just took the money hitting my bank account for me to realize that it was going to be life-changing.
PN: In the second event, you made a comment to the effect of "Oh, that's how - I get my money in bad," after coming from behind to win a pot. What is this referring to? Did you get bad beat upon prior to this?
CV: It was just a small jab at blanconegro. He had won a monster pot versus me when he four-bet A-J and I called with K-K and then an ace flopped. Had I won that hand, I would have had about 90% of the chips on the table with three players left or something. I guess at the time, I just didn't like the comment he made about me running so hot or something, so I made a little jab. It was really just a joke with no hard feelings behind it. I realize how lucky I was in the tournament.
PN: Had you entered a lot of online guaranteed tournaments before the Full Tilt event? How did you do prior to this?
CV: I've always played sporadically, but not too much. I have a full-time job with Bluff which limits my time to play tournaments. I did OK, I guess. I've always been a winner in poker, but nowhere near this sort of success. I have mostly just played sit-and-gos and smaller cash games over the years.
PN: Tell us about working at Bluff. What do you do there? Do you ever travel anywhere or do you stay in the office?
CV: I am the managing editor with the magazine, which means I spend a good bit of time in the office working on preparing each issue for release. However, I spent the summer in Vegas for the entire WSOP, and usually travel at least every other month for various poker tournaments or stories.
PN: How has your position at Bluff helped you as a poker player, if at all?
CV: It's easily the most important factor. Having a contact list full of the top poker players in the world gives me a great chance to talk about my game. I've also watched so much online poker, I feel that I understand situations just from having watched them. Especially late in the tournaments, where I think all the time I have spent watching great players tear up the bubble and make moves, really affected how I played in those spots.
PN: Around $500,000 in winnings - you're still staying on at Bluff?
CV: Absolutely. I love my job. I wouldn't quit it for most anything. Also, I was staked in both tournaments, so I didn't bring home the full $500,000, but a very nice chunk of it.
PN: How did you get into the poker industry originally?
CV: I actually was just a player. I had graduated from Oglethorpe University in Atlanta and was kind of grinding rent payments and doing various odd jobs. I met two guys, Matt and Darren (who both still work at Bluff Media) at a bar in Atlanta, and I bugged them to help me get an internship. It worked out to where I am now. That was in August of last year.
PN: Should we expect to see you in more big online events and perhaps some brick-and-mortar events, work permitting? Any specific plans?
CV: I'll play all the Sunday tournaments and maybe a couple of live $10,000s each year. I remain realistic that I am probably still way behind a lot of the Internet and live pros who devote their life to playing. I feel I would be a long-term winner in almost any tournament I play, but I don't ever expect to be in the top 5% or so of players.
PN: Is this life-changing money? Any plans right away for some of it, other than poker?
CV: Definitely life-changing. I plan to invest most of it, but I did buy a new TV among some other toys. Maybe a new car in the near future too, but for now, I just plan on investing my money and letting it grow in a bank until I decide to make any decisions with it.
PN: Any plans to play cash games anywhere with some of the money? What sites and stakes are we likely to see you at?
CV: Like I said, I don't have a ton of time to play. When I do play, I will be playing $2-4 no-limit and up, but not much higher. I imagine I will play $100 sit-and-gos and higher when the games are running and look profitable, and I have the time to do so.
PN: What are your plans for the World Series in '08?
CV: I have no idea; that's a long way away. Bluff is very involved with the WSOP as the official media sponsor, and I imagine most of my time will be spent doing everything I can for Bluff during that time span. Hopefully there will be some time to play a few events, and I definitely will play the Main Event.