The PokerNews Interview: Justin Bonomo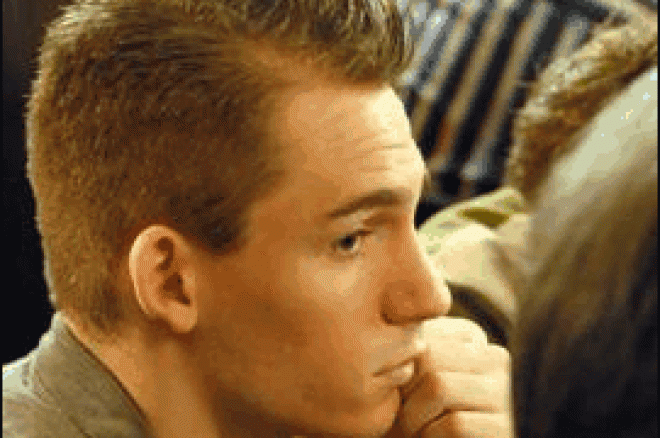 In the past, Justin "ZeeJustin" Bonomo was strictly an online phenom, known throughout the poker world for his accomplishments. He turned 21 in late 2006, and now, that's all changing.
Bonomo first attracted attention for breaking the then-record for the youngest player at a TV table, at the French Open in February 2005 – he was 19 years and five months old. He took fourth in that event. Since turning 21, he's gone on a tear, with five cashes in 2006 and ten in 2007. His biggest live finishes to date were both in 2007: fourth in a $2,000 No Limit event at the 2007 World Series of Poker, and fifth in the Caesars Palace Classic championship event in October.
ZeeJustin's potential is huge, and here's what he has to say about anything poker-related that we can throw at him:
PokerNews: How did Day 1 at the Bellagio go for you? Anything interesting happen?
JB: I only lasted about two hours. I semi-bluffed all my chips away pretty early on. Nothing really interesting happened. I think I played really well, and was glad to find out that I'm focused and really want these tournaments.
PN: Sorry to hear that. Have you been playing some cash games down there, instead? What are your plans for the rest of the week there?
JB: Yeah, I'm going to play a bunch of cash games. I played a little of the $300/600 mixed game today. I won about $3,500, but left because the lineup got pretty tough. Trying to have good game selection.
PN: Are you going to stick with that then, do you think?
JB: I'd love to play no-limit games with antes, but they don't really run, so if those go, I'll play those. If not, I'll play the mixed games if they're soft. I can play no-limit too, so whatever game looks good, I'll play.
PN: You prefer to play cash games that have antes?
JB: When it's no-limit, yeah. I think that very few players know how to adjust to antes in cash games.
PN: What has been the biggest change you have seen in online poker in the last year or so? To what do you attribute that change?
JB: About a year and a half ago, I think, online games got really tough. Especially in tournaments. Players just got a lot more aggressive, and I think games are a lot more aggressive than they were a few years ago.
PN: Is that good or bad, or is it just something you have to adjust to?
JB: I mean, it's just a natural progression of things. People play more hands, they're going to get better. Games are tougher, which is never good for the professionals, but I guess it's good for the game of poker as a whole.
PN: There seems to be a solid business really developing in the backing of players into online tournaments. Do you see this continuing to develop as a 'cottage industry'? Any thoughts or cautions for players being pursued by potential backers?
JB: I think it's great for everyone, really. The backers make money; the players get chances to play. But, there are a lot of people making deals that they shouldn't, so that's one thing people should be careful.
One thing players really need to work out is tax issues. A lot of the backers refuse to sign off for taxes, and that can really screw the players over, especially if they don't find out about it until it's too late. Another issue is, there are deals that are basically set up so that it's really hard for players to get out of them. Players should be very careful about entering into deals like that. But overall I think it's a good thing. It's also really good for players who don't have good bankroll management and maybe gamble too much with their winnings. Having a backer kind of puts them in line. So I think it's great for players without discipline.
PN: What do you mean by deals that people can't get out of?
JB: There are lots of deals that you can only quit if you're up money. So if you lose for the backers, you have to pay them the money you've lost to get out. And of course, the people who need backing can't afford to pay that, so they're trapped until they have a big score.
PN: Do you see yourself continuing in the field of poker for the foreseeable future? Any goals for life beyond poker?
JB: It's really hard for me to say, but if I had to take a guess, I'd say I'd probably play poker full time for another three to five years, and then still play fairly often after that. I think it's pretty likely that I'll probably branch off into a poker-related business or possibly a non-poker related business, I guess. But I think there are a lot of opportunities in poker-related business, especially if online poker becomes legalized in the US. I should say fully legalized, because there's kind of a grey area.
PN: If full legalization and regulation of poker does happen, how will this affect you personally?
JB: I think it'd be huge for everyone involved in poker right now. A lot more people would be playing. There'd be this whole new wave of players that aren't that skilled trying to learn how to play and losing money in the process. Not only are they losing money at the tables, it also provides for poker-related businesses to do well, such as book sales, training sites, everything like that. It'd be basically the best possible thing that could happen for any poker player.
PN: You're probably one of the highest-profile free agents out there. Are you close to signing a deal with a site? What can they offer you that you can't already do yourself?
JB: I've been sponsored by Bodog and Full Tilt in the past. I've been negotiating with Bodog, and I like the way they do business, I'd like to be on their team, I guess. Also, there's a training site that is giving me an offer. I guess I'm just waiting for a good offer at this point.
PN: How will your plans change in 2008 compared to 2007 as far as live events? Do you see yourself playing more overseas?
JB: No. I rarely play overseas tournaments. It's so easy to play a lot of live tournaments that are close to me. Usually, if I travel, I don't get to play as many tournaments per trip and there's more time spent traveling. If I stay here, I get to spend more time playing poker and less time traveling. I also deal pretty badly with jet lag.
PN: Do you still follow the Magic: The Gathering scene at all? There is always talk about David Williams and other guys betting on Magic Online drafts and other tournaments.
JB: I'm actually on pause in a draft with David Williams and a couple of other players so that I can do this interview with you! I'm proud to say that my team won the first draft and we're on the second team draft right now. I like my team's chances.
I mean, I love Magic, the game. The great thing about it is that you can play for no money and still have tons of fun. If you play [poker] with your friends, even if you are playing for money, people still have trouble taking it seriously, they're going all-in blind and stuff. But with Magic, you can take the same the game seriously, and it's still fun even if there's nothing on the line.