Poker Room Review: The Lodge at Belmont, Belmont, NH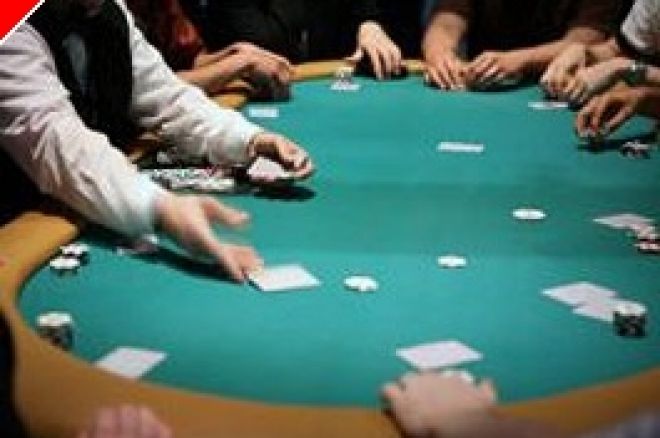 I've gotten used to the typical New Hampshire "charity" poker room. They're typically somewhat rough around the edges – a little dirty, somewhat pedestrian, or strictly functional. I hadn't come across any rooms that had more than a few glimpses of luxury… until now.
Don't get me wrong. The Lodge at Belmont's poker room will never be mistaken for the Bellagio or the Venetian. But its surroundings are splendid – worth a special trip – even if you don't play poker.
Belmont is about 80 minutes north and west of Boston, 50 minutes northeast of Dover and about 20 minutes north of Concord, the nearest city. It is near the mighty Lake Winnipesaukee, and about ten minutes from the popular NASCAR track in Loudon, New Hampshire.
The Lodge itself is a greyhound track, with racing during the summer months. But it is much more than that. From what I gathered during my Saturday night visit, it is also the social hub of the area, with a great sports bar, an excellent kitchen, and about the closest you can get to a casino in this state – with full-sized craps and roulette layouts, well-attired croupiers, plus carpeted and well-lighted surroundings. For a New Hampshire charity poker location, it's a classy joint!
The poker room is trying very hard to appeal to players in the area. They offer a Wednesday Night Fall Poker League – a series of weekly tournaments where participants earn points in addition to tournament winnings. The league then culminates in a large final event, where points buy extra chips. They also have poker on Friday, Saturday and Sunday, with a busy schedule of multi-table tournaments.
Opening and closing times vary depending on the day of the week. Wednesday and Friday runs from 4pm – 12am. Saturday is open 2pm until midnight (with a couple of Saturdays opening early, at noon). And Sunday is open noon to 10pm.
In addition to the multi-tournaments (and you should call the room before you go just to check on the latest schedule of events) they spread a $2 limit hold'em game and sit-'n'-goes.
The gambling age is 18 – and they serve alcohol.
I played in the limit hold'em game. I found the players friendly, social, and out to have a good time gambling. The opposition wasn't too tough. I played my basic, unimaginative, limit hold'em strategy – waiting for very strong hands and playing them aggressively. I cashed out $18 ahead – and that's even after paying for a great bowl of chicken gumbo soup and a soda.
A serious player would have a hard time paying a 10% $5.00 maximum rake in a $2 limit game. If I were a regular attendee I think I'd stick to the tournaments – and maybe try my hand at the Fall Poker League.
The Lodge at Belmont was fun, and it was poker. The staffers were attentive and helpful. There's also tableside waitress service – a nice and unexpected amenity.
All in all, it was worth the special trip if only to see how nice a charity poker room can be. I'd surely stop here if I were vacationing in the area. Even if I didn't play poker, I'd come back just to eat their excellent Prime Rib buffet (Friday and Saturday nights only) and enjoy the capacious and bustling sports bar.
The Lodge at Belmont
1265 Laconia Road, Route 106
Belmont, NH
603-267-7778
poker-room@belmontgaming.com