Poker Room Review: The President, St. Louis, MO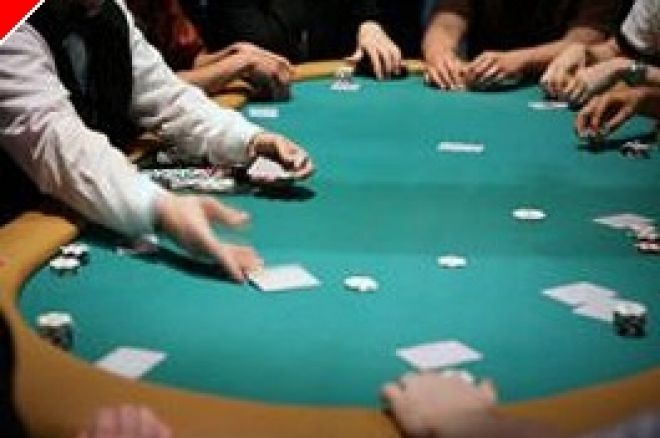 [Editor's Note: The views expressed herein are those of the reviewer, and do not necessarily represent the views, beliefs or opinions of PokerNews.]
I'm about the most positive of casino visitors. I tend to see gleaming silver linings no matter how dark the cloud. But this place – well, it's another story.
In my opinion, the President Casino is a weird and sad place. What can I say? First of all, at night, when I arrived, it was a little scary. I took little access roads off of a city street, driving down a dark and deserted riverfront. I was told by players in other rooms not to take my life in my hands by driving there at night. Though I never felt unsafe, I understood what they meant when I approached the riverboat. I wouldn't want to walk up to the place on the route I followed in my car.
The casino is old, small even by riverboat standards. The carpets are dirty and worn. The walls need to be repainted or knocked down and put up new, and the lighting is poor throughout. Some of the slot machines don't work. The staff, even the greeters at the door who are supposed to be the friendliest, seem sullen – though not downright rude. The whole place looks like the owners have gone away and left it to some underlings to run – for too long.
And that's the nice part.
The poker room is down below – in all respects. I walked down the stairs from the main casino and descended into what looked like some guy's clubroom that wasn't quite finished… and the guy had no taste or concern about how things looked. Areas were sectioned off. Gates prevented me from going into certain parts of the space. Signage was poor. Lighting was awful. This was the "St. Louie's Poker Room"? How sad.
It was a depressing sight. But I'm a poker player, not a gambler. What do I care about ambiance? Give me a table, a chair, and some opponents and I'm a happy man – well, most of the time.
I'd visit this room regularly only if it was the only room around, I couldn't get a home game, and I didn't own a car. As it is, this is the only St. Louis poker room available to city residents without access to a car. It's right on the river in downtown St. Louis. There are shuttle buses and public buses and not-too-expensive taxis that bring people right up to the door. The other St. Louis casinos, Ameristar and Harrahs, are 20 or 30 minutes away. This is the most convenient place for the city dweller.
But I have to add that the place really looked like a property whose owner had already sold it and wasn't going to spend another damn nickel on the place.
Even the niceties were disappointing.
For example, the poker room provided free food to players. That's a nice thing. Few rooms do that. They may provide popcorn and soft drinks. But how many poker rooms have you been to where they actually put out a buffet that's free for the players? This poker room does.
So I eagerly and hungrily visited it.
"Buffet" is too generous a term. "Food" might be too generous – at least at 11:00 PM when I visited it. It was sad. Someone should have come in, taken out the tray of cold cuts that were wet in their own brine from sitting out too long. But there they were – looking over-exposed and awful. Like no one cared.
Oh, and you can't eat in the poker room. And there are no chairs in the area where the deli meat was set out. There's a dark area – literally unlighted – with some old beat up looking tables and chairs. I guess if you want to eat you sit in the dark chewing on this inedible looking deli meat. Maybe it's all a set for a public service movie about the dangers of gambling that's going to be shot. I can't think of any other reason for the place to look so unkempt and depressing.
The playing conditions are about as bad as I've seen in this era of non-smoking rooms. Fortunately, the air seemed clean and breathable – unlike some of those smoky pits of yesteryear. But the room was still claustrophobic. The lighting cast shadows on the table – and there wasn't enough light to begin with.
The rake was moderate by mid-western standards – 10% with a $4 maximum and $1 taken out for the bad-beat jackpot (aces full of jacks beaten). The players didn't seem to mind. They were there to gamble and have a good time. But even the players seemed to have a pall of depression hanging around them. Maybe it was the weird shadows caused by the awful lighting. But everything seemed dulled and depressed – even facial expressions.
One positive and unexpected note — the room spreads stud — $2-6 spread-limit – but only on Friday nights. The game usually goes until 3:00 AM or so the following morning when poker shuts down. The casino remains open all weekend if players want to wager on other games.
I walked around the casino upstairs as well – to get a feel for the place. There's a snack bar upstairs. It too was depressing. It's a hole in the wall – literally. Inside there was a young woman sitting and reading a book. The place was very poorly patronized. Even so, adventurous sort that I am, I asked for some chili. It was very, very, very cheap – only $2.00 or so. The chili was delicious. They also had the cheapest chilidogs I have seen in a while – hot dogs slathered with the chili were only $1.64. In the hour or so that I observed the snack bar I was the only customer.
I went back down to the poker room for a spell. The player to my right summed up the entire room. I was noting the dimness and dinginess of the place. He chimed in with, "They just don't care."
Even so, the poker was good. But then, for me poker is almost always good. There were three tables of $1/2 no-limit. There used to be tournaments, I was told, but they stopped running them a while back. On this night, there were a couple of wild players and the rest seemed pretty timid. My strategy of waiting around until I had some cards worked well. I picked up some small pots early on by raising the wild raiser. And then I realized that he'd release his hand any time I came back at him. So I did it a couple of times as a bluff – with the same success. I won about $50 in the hour I was there.
On reflection, there was something kind of cool about playing in this dungeon-like room, away from all of the action upstairs in the main casino, huddled together as we were in this low ceilinged, poorly lighted place. It was kind of cool for an hour. But I suspect that after a couple of days I'd get tired and move on to more inviting pleasant spaces.
President Casino
St. Louie's Poker Room
1000 N. Leonor K. Sullivan Blvd
St. Louis, MO 63102
312-622-3110
Monday—Sunday
10:00 AM until 4:00 AM