Sexton's Corner, Vol. 20: Stu Ungar Inspired 'Poker Masterpieces'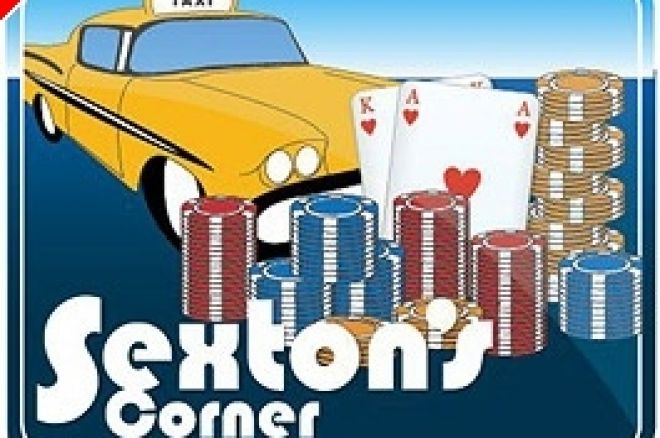 Poker Masterpieces was a company I started thanks to the inspirational performance of poker's legendary Stu Ungar in winning his third WSOP title in 1997. Before I elaborate on what I did with this idea, I'd like to go back in time and reflect on the role Stuey played in all of this. It was the second day of the WSOP Main Event, and it was time for the remaining players to go on the dinner break. My brother Mike was one of Stuey's best friends, so the three of us went together to have dinner. During dinner, Stuey pulled a wallet-sized picture from his front shirt pocket showing his beautiful daughter, Stefanie. The happiness on Stuey's face, as he began to talk about his daughter, was our good fortune to witness first-hand. He began to tell us, "My daughter is my lucky charm. I hold this picture of her over my heart. I'm going to win this tournament for her!" Mike and I glanced at each other as we listened to Stuey talk, not as a great poker player, but as a very proud father. Oh, how he loved his daughter.
After we were done eating dinner on the break, Stuey looked at both of us and said, "I need your help to get up… I don't have the strength to stand up." Mike grabbed one arm, and I held the other, as we gently lifted him up to his feet and pointed him back to the poker room.
As Stuey reached his table, I asked Mike, "Is he going to make it? He hardly has the strength to walk back to his table!"
Mike said, "I don't know… it's all of those damn drugs he has taken over the years - they have taken their toll on him physically."
I stood and watched Stuey play the first hour after the dinner break, and was amazed how much energy he exuded once the cards were in the air. His energy level and artistic command of the table were incredible. Believe me, not one of his opponents had any clue just how frail and weak inside he really was. He projected an image of this big giant, brimming with self-confidence, that was in total control of the table! He maintained this high level of performance throughout the event, as he found himself in the driver's seat at the final table in the 1997 WSOP Main Event with the chip lead. Stuey had $1,066,000 in chips to Ron Stanley's $694,000 and Bob Walker's $612,000. The remaining three players, John Strzemp, Mel Judah, and Peter Bao, had $300,000 or less.
Of course, this was the year the final table was held outside underneath the Fremont Street Experience, and it was about 100 degrees! There were many large TV screens set up for the large anticipated crowd inside Binion's that carried the ESPN live telecast. Every time Stuey would raise or go over the top of a player, there was this loud noise of voices from his fans ooohing and aaahing together, watching the great one do what they all expected of him. Stu Ungar put on a masterpiece clinic that made him the only poker player in history to win the WSOP Main Event (in its current format) three times!
Watching all of this gave me the chills, as I couldn't have been happier for Stuey. I couldn't help but remember him unable to get up from his chair on Day Two after dinner. Here he was on top of the world, beaming with pride as the ESPN cameras rolled. He pulled out his lucky picture of his beautiful daughter, Stefanie, and then called her on his cell phone to tell her the great news. This all looked like an incredible comeback scene, straight from a movie. Jack Binion had set up a celebration party with tables set up for the players and friends under the Fremont Street Experience. Stuey looked like the happiest person on earth, as he went from table to table shaking hands and receiving everyone's congratulations and pats on the back after his victory. He had blossomed from a world of oblivion, primarily due to drugs over the previous years, to rightfully be deemed by the press as… "The Comeback Kid."
I asked my brother to ask Stuey for that special picture of his daughter he had in his pocket that day, as I wanted to make a copy of it in a collage of this historic moment. I didn't know if I had any artistic talent to do the story justice or not, but felt compelled to try. I told Mike that I wanted to piece together highlights of all three of Stuey's WSOP titles from 1980, 1981, and 1997 in this special picture, so he could give it to Stuey as a gift. The collage turned out beautiful, and when Mike took it over to Stuey's house, Stuey broke down and cried. The picture highlighted his daughter, Stefanie, in the center, Stuey's inspiration, and how proud she was that her beloved Dad was crowned as the three-time WSOP champion. All of this pulled on Stuey's heartstrings, as it is easy to forget the great things one might have accomplished, through a life made hazy by turmoil and drugs. Stuey's was the very first collage I ever did in the poker world, and it led to Mike asking me to do about 20 more before the first Tournament of Champions held in 1999. We set up a Champion's Lounge to showcase the poker legends around the room, which all of the players appreciated. The recognition these poker legends received in these Poker Masterpieces collages truly added a lot of class to the whole event!
I'll always be grateful for Stuey's inspirational 1997 performance at the WSOP. He became the original source that inspired me to do over 60 collages of the world's greatest poker champions between 1999 and 2002. It was during that time I was the official photographer for Binion's Horseshoe and had a unique front row seat for each WSOP event over those four years. With three cameras wrapped around my neck, I was in the unique position to catch those special moments of winning hands and the players' reactions, as well as those of family and friends at that special moment of victory. That once-in-a-lifetime moment for a player jumping up with his hands in the air in celebration, winning a WSOP gold bracelet, was featured in most of the collages, with pictures of all of the opponents at the final table, plus computer graphics detailing all the highlights of the action and prize money won. These collages were a little ahead of their time, being pre-poker boom; with all of the meticulous details each required, each picture took about two weeks to complete.
Stuey's former wife, Madeline, and daughter, Stefanie, loved these collages I created. I ended up doing four different collages on Stuey that highlighted his life and story, and decided to give all four to them as a gift a few years ago. Nobody would be more appreciative than these two, who deserve to remember Stuey at his very best! Stay tuned for Parts 3 and 4 of the Stu Ungar story.
The Cab is Parked,
Tom Sexton
Tom Sexton is a featured columnist for PokerNews.com. Tom attended the University of Oklahoma on a full gymnastic scholarship, where he was captain of the team four straight years, becoming the first NCAA All-American and Big Eight Champion in OU's gymnastics history in 1968. The Sexton family is well established in poker and includes Tom's brother Mike, the World Poker Tour commentator and poker's "First Ambassador", as voted by his peers. Tom welcomes your thoughts and comments about any of his articles. His e-mail is TSStarbuck1@aol.com.