Women's Poker Spotlight: Top Ten Women, Career Earnings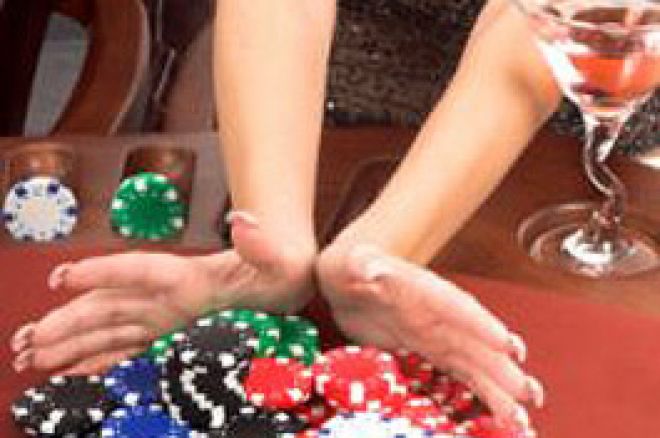 The order of who has the most in tournament earnings seems to change from month to month, what with so many large tournaments over lapping each other. It's nearly impossible for players to make it every opportunity they have to play. But in a year where several milestones have been reached, it seems only right to recognize these ladies who have accomplished so much. The top ten, ordered by earnings, will indeed surprise many.
I'll start with the #10 spot. Here we have Victoria Coren of London, England. Victoria is little known in America but widely feared on the European Poker Tour. With just over a million dollars in total winnings she has set herself among the greats. Her total winnings of $1,105,491 accumulated over the last 7 years have mostly been achieved in the European tournaments. The most impressive win of her career was at the EPT Championship in London in September 2006, where she clinched the first-place prize of $941,513.
In the #9 spot, Lucy Rokach shines with her career winnings of $1,224,072. Lucy's impressive poker career spans over 16 years. Lucky Lucy plays mainly in the European poker market and often goes up against the biggest players in the world. Her specialty games, Pot Limit Omaha and Hold'em, have won her the most cashes. Believed to be the most aggressive and best woman poker player in Europe, she is revered by many.
The #8 spot goes to Barbara Enright. Not only does Barbara hold many titles and honors accumulated over 20 years n poker, she is a devout supporter of women in the poker industry. Besides her many accomplishments as an author, magazine editor and WSOP bracelet winner, she has career winnings of $1,239,352. In the WSOP 1995 series, Barbara became the only woman to ever reach a final table in the main event. That accomplishment, however, has now been broken recently with the WSOP-Europe main event being won by a woman.
#7 in career earnings at the moment is Cyndy Violette. Though small in stature, this lady emanates the aura of a strong player. From Atlantic City, Cyndy has played poker professionally for over 23 years. Her impressive lifetime winnings are $1,251,269. Cyndy went on a rampage at the 2006 WSOP where she cashed in an impressive seven events. It seemed every time we looked at a final table that year, Cyndy was there, though a bracelet escaped her in that series. She does own one WSOP bracelet, in 2004's $2,000 Seven Card Stud Hi-Lo Split.
Our #6 spot goes to Mimi Tran. Many know Mimi as Barry Greenstein's protégé. She has emerged in her own right as a true poker professional. Over the last 10 years Mimi has won a great deal of money, totaling $1,432,056. Although Mimi has yet to win a WPT title or a WSOP bracelet, she must doing something right to have such impressive career winnings.
#5 is a lady who has captivated the poker audiences from all over the world. JoAnne Liu, she who dresses so flamboyantly, is married to professional poker player Dan Alspach. JJ, as she is most well known, has played poker professionally for over 10 years. Her recent and most noted accomplishment must be her heads up battle with Ted Forrest at the WPT Shooting Stars tournament where JJ took second place. Just one place off from making WPT history, JJ was giving it her best to become the first woman to win a WPT title. JJ's career winnings presently sit at $1,686,908.
The #4 spot reveals itself to be noted cash-game player Jennifer Harman-Traniello. Jennifer is a noted participant in the Big Game at Bellagio. A member of the consortium who played against the multi-millionaire Andy Beal, Jennifer raked the largest pot known in a cash game, of just over $1.7 million, against Beal. Jennifer has only played tournament poker for 13 years but her poker career spans much longer than that. Jennifer's career tournament winnings sit just short of the $2M mark at $1,975,436.
The impressive #3 spot goes to Annette Obrestad. The poker genius of Norway recently won the bulk of her new poker career winnings at the 2007 WSOP Europe main event. Annette has only been playing live poker for two short years. As an accomplished online player as well, I am sure we will be seeing more of this young player as she grows in her game and life. Annette's career winnings presently sit at $2,481,868.
At #2 we find the often-controversial Annie Duke. Annie's career winnings at $3,476,942 simply blow others away. Annie has always been an outspoken supporter for poker in the online battle for legalization in the U.S. Her famous brother, Howard Lederer, supported Annie in her beginning years of playing poker. Her most outstanding performance on television must be the 2004 WSOP Tournament of Champions where she took out her brother and went on to win the $2 million prize.
This lady should be no surprise to be sitting in the #1 spot. It's Kathy Liebert, with a fantastic career winning total of $4,039,332, which is by far the most to date in women's poker tournament history. Kathy has played poker for over 15 years and has a most impressive record. With multiple first places including a WSOP bracelet, Kathy has placed at more final tables than any other woman. She has 23 cashes at the WSOP, 13 cashes at the WPT (of which five were at the final table) and numerous others.
Reflecting on these great poker players and the many accomplished ladies not far behind, we must recognize what a force these women bring to the poker table. Our numbers are growing and statistics show that the poker market sees the greatest growth with women, with opportunities opening up across the country and world.