WSOP-C Lake Tahoe, Day 3: Ferguson Wins Third Circuit Ring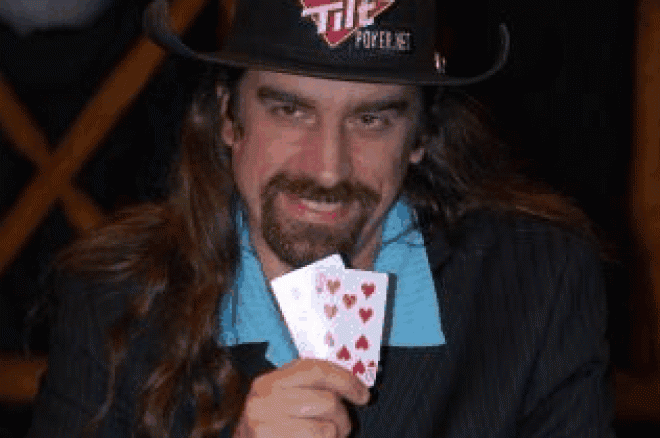 After three days of top-flight poker play, Chris 'Jesus' Ferguson triumphed over local favorite Dustin Fox to capture the World Series of Poker Circuit Main Event Championship at Harvey's Lake Tahoe, making him the first player ever to win three Circuit Championships and further cementing his status as one of poker's greatest tournament players. Ferguson started the final table with the chip lead, but it was Fox who was most active in the early rounds, doubling up in the first hour of play and chipping up through the afternoon to become a serious contender as the night wore on. Eventually it was Ferguson who came from behind in a dramatic final hand to capture the WSOP Circuit ring and the $203,649 first-place prize money.
The starting chip stacks and seat assignments looked like this as players took to the table to begin final table play:
Seat 1: Chris Ferguson, Pacific Palisades, CA — 426,500
Seat 2: Michael Banducci, Traverse City, MI — 158,800
Seat 3: Frank Lee, Los Gatos ,CA — 120,500
Seat 4: Gabriel Testa, San Jose, CA — 128,500
Seat 5: Dustin Fox, Lake Tahoe, CA — 95,000
Seat 6: Sylvester "Vesty" Geoghegan, Mullingar, Ireland — 131,000
Seat 7: Mark Bonsack, Maple Valley, WA — 252,000
Seat 8: George Saca, Folsom, CA — 75,500
Seat 9: Travis Erdman, San Francisco, CA — 36,500
Travis Erdman wasted no time getting his short stack in the middle, and he found one caller in Gabriel Testa. Testa was ahead with
, but Erdman's
picked up an open-ended straight draw on the
flop. When the
hit on the turn, Erdman's outs dwindled to six, and the
on the river gave Testa the flush and sent Erdman home in ninth place with $14,239.
It didn't take long for another all-in confrontation to happen, this time Mark Bonsack and Frank Lee tangling. After several pre-flop raises, Lee shoved all in on a flop of
, and Bonsack called instantly with
for flopped quads. Lee tabled Kc-Qc and was drawing dead. Lee picked up $19,663 for his eighth-place finish.
Moments later Sylvester 'Vesty' Geoghegan won a coin flip against George Saca to send Saca to the rail, and the field was cut to six. All the money went in pre-flop, and Geoghegan's A-K picked up a king on the flop to crack Saca's pocket jacks and send him home in seventh place ($26,443).
Chris Ferguson was fairly quiet through the early portion of the final table, solidifying his chip lead and allowing the short stacks to take each other out, but when he did become involved with a big hand, it became the biggest hand yet in the tournament. Ferguson raised pre-flop from late position and found one caller in Michael Banducci, on the button. On the flop of
, Ferguson checked to Banducci, who led out. Ferguson made the call, then fired at the pot when the turn brought
. Banducci went all in over the top with
, and Ferguson made the call with
. Ferguson needed an ace, a queen or any diamond to take down the pot, and the river obliged with the
. Banducci earned $33,223 for his sixth-place finish.
Play slowed a bit after Banducci's elimination, but Dustin Fox began his run towards the ring shortly after the first break. Testa made a steal attempt on Fox's big blind, shoving from late position with
, and Fox quickly called with pocket sixes. The board of
brought no help to Testa, and he was eliminated in fifth place ($43,055). Fox next took out Geoghegan when Geoghegan re-raised all in pre-flop with
, and Fox called with
. Despite having Fox dominated when the money went in, the flop of
left Geoghegan drawing thin. No help came on the turn or river, and Geoghegan was eliminated in fourth place for $56,955.
After a short period of three-handed play, Mark Bonsack went to the rail in third place when Chris Ferguson picked off his bluff to eliminate him. Ferguson led out on the flop of
, and Bonsack made the call. When the turn brought another jack, Bonsack check-raised all in over the top of Ferguson's bet, and Ferguson quickly called with
, for trips with a flush draw. Bonsack was drawing dead with the
, and he picked up $82,042 for third place.
The heads-up match saw the poker superstar Chris Ferguson start with a slight chip lead over the hometown favorite Dustin Fox, but even with all that drama, heads-up play was the shortest in WSOP Circuit history – one hand.
Fox raised pre-flop to start the action, and Ferguson re-raised. On the flop of
, Ferguson checked to Fox who bet out, and Ferguson called. The turn brought the
, and Fox moved all in with pocket aces after Ferguson checked, and Ferguson quickly called with pocket tens for a flopped set. The
on the river was not one of Fox's two outs, and he was eliminated in second place for $119,333.
Chris 'Jesus' Ferguson picked up his third WSOP Circuit championship ring, the $203,649 first-place money, and another spot in tournament poker history for becoming the first player to win three WSOP-C championships.