The Year in Poker: August, 2007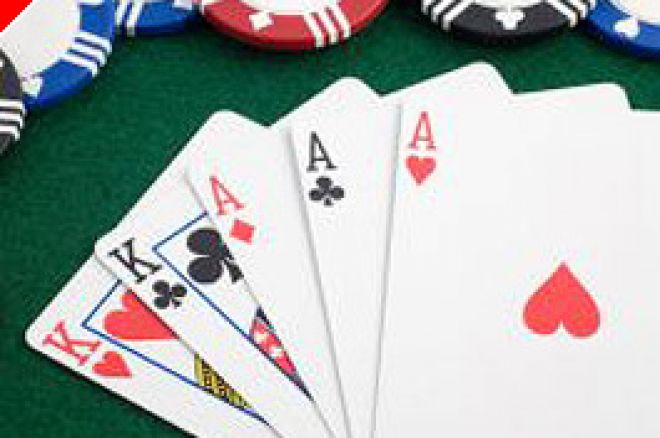 Following a few weeks of slow news following the conclusion of the 2007 WSOP, August returned to a normal poker pace with major tourneys both live and online, plus a scattering of business news. Mergers and acquisitions were one of the major 'business' themes of poker in 2007, and MGM Grand's courting of a new international partner resulted in a deal that will change Las Vegas history. As summer drew to a close, these stories dominated the news:
Sander Lyloff Takes PokerStars.net EPT — Denmark's Sander Lyloff made a big splash on the poker scene in August by taking down the PokerStars.net European Poker Tour event in Barcelona, Spain. Lyloff triumphed over a 543-player field stuffed with top-flight international players to capture the €1,170,000 first-place prize, winning a longer-than-normal final day that began with 13 players after the previous day's action couldn't get down to the normal nine by the casino's end of day. Lyloff was in second place behind Mika Paasonen as the last day's action began, and stayed near the top throughout before taking down the win.
'CrazyZachary' Captures FTOPS V Main Event — The fifth edition of the Full Tilt Online Poker Series (FTOPS IV) continued to shatter participation marks, with the series final weekend including both a history-making two-day, high-buyin tourney that drew a crowd of the game's biggest online names and the main event itself. That main event drew 4,578 players and generated an outstanding $2,289,000 purse. Coming out on top after a battle that stretched well into the following Monday was 'CrazyZachary,' whose hard-fought win was worth $395,905.44.
Bolcerek Leaves Top Post at PPA — Poker's largest political/lobbying entity, the Poker Players Alliance, announced in August that it would be relocating to Washington D.C. to better handle it federal lobbying efforts. Concurrent with the organization's move, the PPA's President, Michael Bolcerek, announced that he would step aside from the organiation to pursure other projects closer to his West Coast home. Bolcerek's post at the top of the PPA ladder was quickly filled by Mike Pappas, a veteran D.C. lobbyist who had joined PPA as a full-time member just weeks before, while former Senator Al D'Amato continued on his roles as Chairman and as the most public face of the PPA.
Dubai Buys into MGM's City — One of the biggest ever developments planned for Las Vegas is MGM Grand's CityCenter project, and in August, MGM announced that they were bringing a new partner into the fold. For $5.1 billion, Dubai World, a Dubai government-owned holding company, acquired both a 50% stake in the ongoing CityCenter project and a 9.5% share in MGM Grand itself, via a stock purchase plan. The huge CityCenter project moves forward and will change the Vegas skyline, slated for completion sometime in 2009.
Brett Parise Takes PokerStars.net APPT Manila — The new PokerStars.net Asia Pacific Poker Tour debuted with an event in Manila, the Philippines, and the first-ever winner of an APPT main event was a 22-year-old college student from the U.S., Brett Parise. Parise secured his passport only two hours before his international flight was scheduled to depart, but made the last-minute effort worth it, taking $179,775 back to the U.S. after defeating another American, 45-year-old Ira Blumenthal, during heads-up action.
'Bodog.com' Domain Seized in Patent-Infringement Dispute — On one day in late August, unexpected connectivity problems were the first sign users had that something was amiss with the bodog.com domain, host of the online Bodog poker website. The reason for the lapse quickly became known, as Bodog had been hit with a default judgment for roughly $49 in a disputed and curious patent-infringement case, with the domain seized and turned over to the plaintiff, 1st Technology LLC as a result of the judgment. While legal developments continue to unfold in this matter, Bodog dealt with the unexpected down time by quickly shifting to a couple of new domains, first (on a temporary basis) to newbodog.com, and then to bodoglife.com, where the site resides today.