The Year in Poker: January, 2007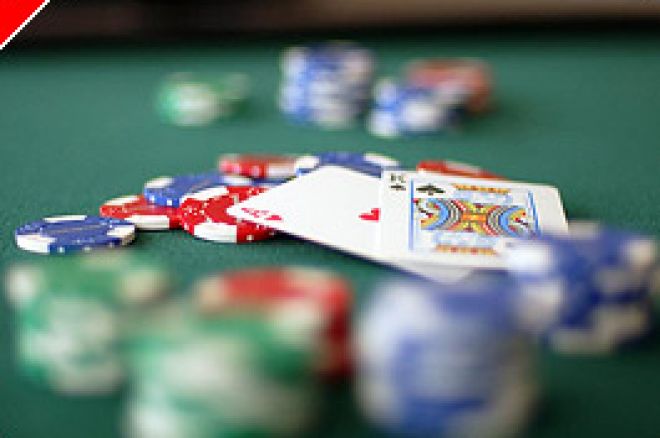 PokerNews begins its annual recounting of the year in poker with the best from January, a month that started slow but finished with a flourish of major tourneys and important news and legal events. While the 'Great Dane,' Gus Hansen, cashed big in Australia, eyes elsewhere were on the U.S.'s legal reach, and by late in the month the name "NETeller" was on everyone's lips. A rush of news in the second half of the month marked January as turbulent times, and here's how the month played out:
Hansen Takes Aussie Millions — The first major poker championships of 2007 were held Down Under, at the Aussie Millions in Melbourne. The poker world was rewarded with a major champion when Gus Hansen came through to take the crown and its AU $1.5 million firs prize. Hansen overtook young online star Jimmy 'gobboboy' Fricke during heads-up play after the two outlasted a stellar final table that also included Andrew Black, Kristy Gazes and Marc Karam. Winners of other Aussie Millions events included Erick Lindgren, Jesse Jones and Gary Benson.
NETeller Founders Charged with Money Laundering — The fallout from the passage and signing of the United States' unpopular UIGEA [Unlawful Internet Gambling Enforcement Act] continued early in 2007 with the detainment of the Canadian co-founders Stephen Eric Lawrence and John David Lefebvre, both of whom were within the reach of American jurisdiction or extradition. The pair were separately charged with money-laundering conspiracy connected to NETeller's facilitation of payments from U.S. residents to offshore gambling sites; the majority of those were sportsbook clients but online-poker sites were crimped as well. NETeller's key status as an online-payment processor ¬¬— and its status as a target for U.S. prosecutors — would become obvious days later, when….
NETeller Freezes U.S. Deposits — Just days after the arrests of NETeller co-founders Lawrence and Lefebvre, the company froze the deposits of all U.S. customers, a portion of which, it developed, had been seized by U.S. authorities as part of its ongoing investigation. The freeze occurred even though Lawrence and Lefebvre were no longer executives with the company and NETeller itself had not been charged. The total amount of U.S. customer funds held 'hostage' while the NETeller case played out would turn out to be nearly $150 million, prompting pessimism about online poker's fate in the U.S., despite its surging popularity elsewhere.
Merger/Acquisition Rumors Fly — Another market trend influenced by the U.S.'s UIGEA were a wave of rumored acquisitions and mergers among many of the largest online sites. One such was between Absolute Poker and UltimateBet, which went off… if not quite as originally stated; to this day the two remain separate entities with differing software platforms. Another rumored acquisition ran hot and cold for several months before, finally, being scuttled. This planned deal would have seen 888 Holdings, parent company of Pacific Poker, acquired by UK land-based giant Ladbrokes, but the deal finally fell through when Ladbrokes' lawyers could not craft a method to shield the company from future prosecution and liabilities regarding some of 888's online products.
WTO Affirms Ruling Against U.S. in Antiguan Dispute — All wasn't doom-and-gloom for U.S. online poker players, however. Late in the month, the World Trade Organization affirmed a decision in favor of the island nation of Antigua & Barbuda in that country's complaint against U.S. barriers to offshore gambling competition. The WTO dispute had worked its way through that trade organization's structure for years, and was barely a blip on the radar as late as mid-2006. As 2007 wore on, however, the U.S.'s continuing efforts to apply double standards to the online-gambling market would make this case more and more important, with the matter now of vital interest.
Bodog Releases Jamie Gold from Endorsement Deal — Also late in the month, Bodog announced a pullback from much of its U.S.-based advertising, particularly print advertising, and as part of the ad shift it also decided to end its own short-lived endorsement deal with 2006 WSOP Main Event winner Jamie Gold. Gold's own market image took an extended hit late in 2006 and may have been part of the unofficial release for the Bodog decision, since Gold remained embroiled in a lawsuit brought by Bruce Crispin Leyser over an oral agreement made for half of Gold's WSOP winnings. Bodog's brief and noncommittant release merely noted that the company "enjoyed [its] association with Mr. Gold and wishes him the best of luck in his future endeavors."
PokerNews Grows, Internationally Speaking — PokerNews remains the world leader in terms of offering language-specific sites and regional and national poker news. January was a great month for PokerNews' own ongoing expansion, with new sites launched in Turkish, Hebrew and Romanian. By year's end PokerNews would be available in 27 different languages, proof indeed that poker is a worldwide game.