Women's Poker Spotlight: Winning Your 2008 WSOP Ladies Event Seat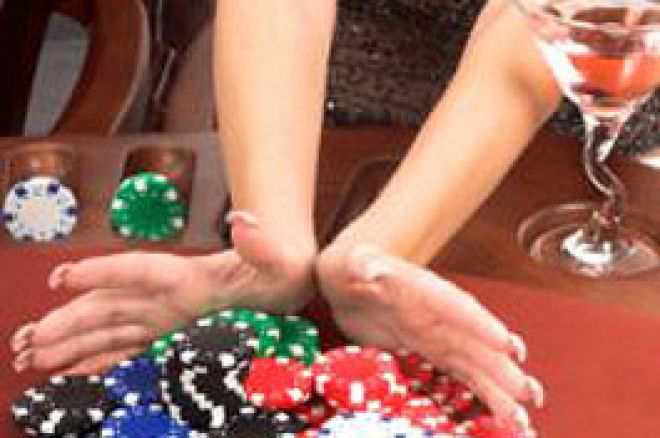 The ladies are off and running! It seems we just finished the 2007 WSOP, and now everyone is thinking ahead to winning their seats in the 2008 series. The recent release of the 2008 WSOP schedule has put the idea in our heads that we need to start playing online, start home leagues, look for those free seats in pub and tavern tournaments and look everywhere fo opportunites. These are just a few of the offerings I have found that may help you win your way to the 2008 WSOP Ladies event:
1. The National League of Poker, www.nlop.com is a free site. This league is based on points. Free is a rare commodity but is a good tradeoff on this site. You can obtain points to play in the free tournaments by replying to sponsor surveys, logging into the site every day, and playing qualifiers. Again, no money is needed. A seat to the ladies event is just one of many prizes given away on this site. There's a definite need to check it out!
2. Home leagues were very popular last year. I participated in one myself and fell one point short of winning a seat into the WSOP Main Event. You can set up your own home league easily. This is the formula we followed:
● Based on 10 players;
● Play is once a month for 10 months;
● Cost is $15 per player each game;
● $5 of the $15 goes into a prize pool paid out to top three spots each game;
● All players share in a 45% interest in the winner and share in any prize won;
● Points are awarded for finishing in places 1-10
3. Online ladies poker forums such as www.ladypokersharks.com, www.ladiespokerassociation.com, www.lipstour.com, and other ladies or women's poker forums are full of useful tips and information on leagues, seats, tournaments and satellites for upcoming WSOP ladies event seats. Search online continuously to see what's available.
4. Online poker sites will offer limited outlets for qualifiers and tournaments for women only. Since the UIGEA was passed, U.S. players are now limited to only a few sites. In the past, Full Tilt, PokerStars, Absolute Poker and Doyle's Room offered seats to the Ladies Event for women. We will continue to watch and report on sites that offer this opportunity for ladies as time for the WSOP draws nearer.
5. Every year the LIPSTour offers a satellite for $150 at Binions the day before the WSOP Ladies event. The number of seats awarded depends on the number of satellite entrants. I can tell you from experience that this is the best last-minute offer out there. I've won my seat in this tournament for the past three years. This is generally the scramble that all ladies play for their last chance to win their seat into the Ladies Event. Besides this specialized satellite, the WSOP room itself offers a variety of one-table satellites that are played almost all day long every day. The easiest satellite there would be the $125 single table.
6. Probably the most memorable opportunity last year to win your seat into the WSOP Ladies event came from attending the WSOP Ladies Poker Camp. That event produced the eventual 2007 WSOP Ladies Champion, Sally Ann Boyer. During the camp, attendees play a tournament where last year ten finishers won their way into the Ladies Event. It isn't a free venue, though; it will cost you around $1,699 to attend the camp. The next camp is January 25-26, 2008. Check out www.wsopacademy.com for details.
7. Another opportunity to learn and win a seat resides at www.pokerschoolonline.com . The cost is $14.95, but this venue also offers qualifiers and tournaments to the Ladies Event. Currently, the site is offering opportunities to win your way into many other tournaments as well. Best spent $14.95 yet.
So there you have it, ladies — some of the best opportunities to win your way into the 2008 WSOP Ladies Event! Good luck and great wins are coming your way! See you at the final table.