Aussie Millions, Event #8, $3,250 2-Card Manila w/ Rebuys: Kambouroglou Tops Elite Field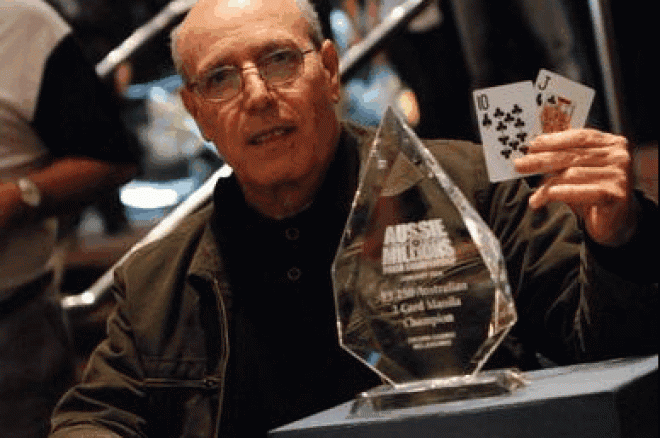 The field was smaller than last year, with only ten runners plunking down $3,250 each for a seat in the 2-card Manila Championship. That field, though, was stacked with some of Australia's toughest players, including several with deep finishes in Aussie Millions events, along with 2006 2-Card Manila champion Fred Bart, going for his second title.
Manila, also called 7-Up Poker, is a reduced-deck game where all cards deuce through six are removed from the deck. Players receive two cards face down, and the five community cards are dealt, one at a time. There is a round of betting after each community card, and at the river, players must use both hole cards and three cards from the board to make their best five-card poker hand. Other peculiarities in Manila are that a flush outranks a full house due to the reduced deck, and the ace cannot play low for a straight.
The ten players who settled in for the 2008 Australian 2-Card Manila Championship were:
Seat 1: Markas Salkanovic
Seat 2: Karib Karib
Seat 3: Warwick Mirzikinian
Seat 4: Yevgeniy Timoshenko
Seat 5: Graeme Putt
Seat 6: Max Donnelly
Seat 7: David Steicke
Seat 8: Antonis Kambouroglou
Seat 9: Fred Bart
Seat 10: Mark Scott
Karib Karib was the first casualty, busting out when he ran aces into Mark Scott's trip kings shortly before the end of the first level. Karib opted against the rebuy, and ended his day early. Mark Scott followed shortly after, along with 2006 winner Fred Bart. David Steicke topped the field in rebuys, accounting for at least five of the eight rebuys made in the event.
After the second break, the players had settled in for money-bubble play, with only four remaining and the top three spots making the cash. Warwick Mirzikinian led the quest toward the $27,000 first prize, and it didn't take long for him to end up heads up with Antonis Kambouroglou for the title. After Yevgeniy Timoshenko busted in third ($10,800), Kambouroglou put Mirzikinian away to claim the trophy and his first victory of the 2008 Aussie Millions. Here are the final standings and payouts for the Australian 2-Card Manila Championship:
1st: Antonis Kambouroglou ($27,000)
2nd: Warwick Mirzikinian ($16,200)
3rd: Yevgeniy Timoshenko ($10,800)
4th: Graeme Putt
5th: Max Donnelly
6th: David Steicke
7th: Markas Salkanovic
8th: Fred Bart
9th: Mark Scott
10th: Karib Karib