Inside the Tour — 83: More from the Full Tilt Strategy Guide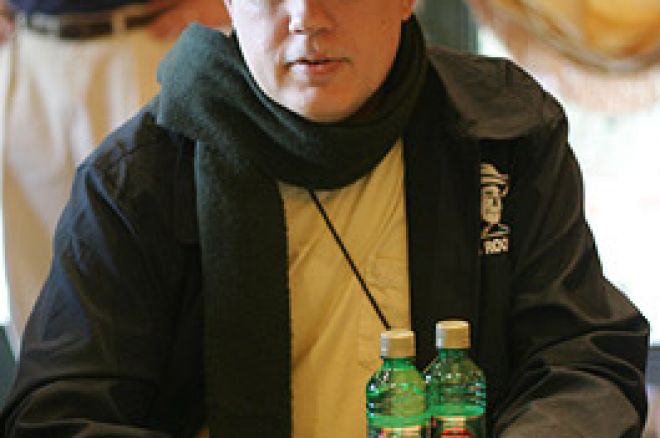 We return this week with Part 2 of my review of the Full Tilt Strategy Guide, Tournament Edition, edited by Michael Craig. Part 1 of my review can be found here, and in this column we'll look at the part of the book on non-NLHE games. This is really good material and unless you are a hold'em specialist it alone makes the read worthwhile.
The chapters by David Grey and Keith Sexton on seven-card stud, regarding tournament play, are full of valuable information. I concur with most of what is said and imagine that they can only make the fields tougher if anyone reads them. For selfish reasons, I hope they don't. For practical advice, just read the Sexton chapter. If you want to think about tourney situations that arise, then read the Grey chapter. I remember David saying many memorable things to me on Day Four of the WSOP Main Event, and I will share one here: "I would love to play with more [tournament] champions but most of them can't afford the ante of the regular game I play in." David is not only verbally glib but freely gives out statements that are challenging for the thinking player.
The chapter on Omaha pot-limit, high-only, is full of good advice but is written by Chris Ferguson, whose background as a tournament player is well-documented. Still, perhaps someone who plays that game for money on a more frequent basis could have written about it… perhaps Phil Ivey or Gus Hansen or Erick Lindgren, to just throw a few names out there, limiting our selection to Full Tilt biggies.
While we are at it, why not have Steve Zolotov write about pure gambling? He is one of the best there is at all-around gaming ability. Not to impugn Rafe Furst here, but Steve has at least 30 years of experience in countless games on which to draw, and he is also an official 'friend' of Full Tilt. In the late seventies we all feared Steve at the Mayfair Club in New York whenever some obscure game came up. One popular game at the time was liar's poker, played with the serial numbers of dollar bills, where you added the numbers of your bill to the other guy's to decide to outbid or challenge any claim. Steve was the uncrowned king of this game. This was a famous bridge club, and was stocked with famous brains; it later produced many well-known players, including Eric Seidel and Howard Lederer.
I feel that the chapter written by Howard Lederer on limit hold'em is great and has very important information to consider within it. In the future, limit hold'em will make a comeback and no-limit hold'em will return to be the king of tournaments. That statement might shock some of the readers but it is based on experience. No-limit hold'em for cash is a trapping game and random players are turned off by the acting that goes with it. Eventually all the weak money is taken and players return to the more affordable games. Limit hold'em means that one can play for set periods of time. It is as simple as this: you get a lot more bang for your buck when you play this game! Limit hold'em is a game that is wonderful for beginners, too, as when you are wrong it will usually only cost you a relatively small part of your stack. This is always true, of course, if you understand risks and fluctuations and plan accordingly.
Chapter 13 is about Omaha eight-or-better by Mike 'The Mouth' Matusow and it's very good. Do as he says and not as he does! He knows how to play, even while talking; the rest of us might not do as well in multi-tasking. I am reminded of playing no-limit hold'em in one of the WPT events at the Bellagio where a player kept talking to Dewey Tomko. He was obviously an old friend who hadn't seen much of Dewey in recent years. Finally Dewey took one of his earplugs out and, scowling, leaned over to reply, "I'm trying to concentrate on my play, and I suggest you do the same!" Talk about a re-direct!
Ted Forrest presents stud eight-or-better in Chapter 17 and presents valuable information that can make even bad players okay. It would take years of experience or an excellent mentor to give you such clear advice on what and how to play in this game. I think talk of how to alter your play in different positions makes this chapter really important, even if stud eight-or-better is not your game of interest. Ted details both playing situations and the decisions that spring from those situations, very important for the player that lacks experience. This is the most important material in the entire book. I'm rather stunned that Ted went into the possibilities so deeply. He even defines 'short-stacked' for everyone. Furthermore, he gives some very important advice on how to play heads-up. This advice applies to all games, in my opinion, not just stud eight-or-better. Don't just get there and then try to think on your feet; have a plan and stick to it. As H.O.R.S.E. tournaments become popular, razz and stud eight-or-better remain mysterious areas for some competitors.
Lastly, Ted and Huckleberry Seed discuss correct actions in razz in the final chapter and again give a lot of terrific advice. Sadly, they will make a lot of hopeless players into competitors if they read this book. Razz is a game that is often played very poorly for multiple reasons. Now those readers can understand imaginative and advanced plays, and get the reasons for those plays from the mouths and thoughts of great and acknowledged players. The talk about variance alone makes this chapter worthwhile.
The review of this book was much more complex than I originally thought. There are more than 400 pages here, with many thoughts on how to play and many games that are featured. Bottom line: If you are a tournament player this book is well worth buying.
Until next time… play good and get lucky!