Luke 'Resteal' Abolins Takes Down the Prestigious 888.com PokerProForAYear Competition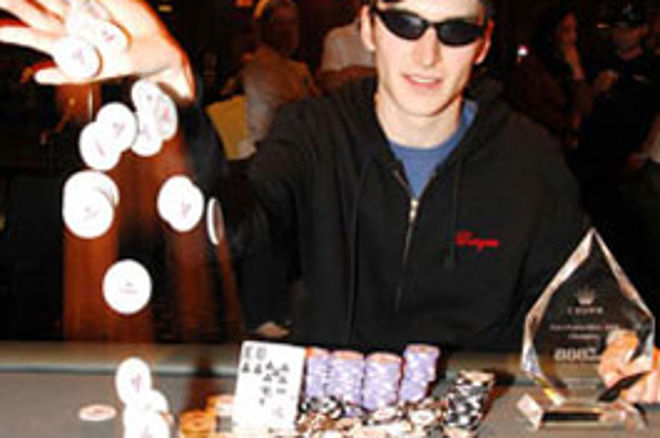 It all started back on January 6, 2007 when Series 1 of the PokerProForAYear began. After a total of six series, 12 massive freerolls and over 50 League events, the PokerProForAYear League came to a dramatic conclusion on Monday January 7 at the Crown Casino, when the ten finalists took their seats at the PokerProForAYear Final. After nearly six hours of intense competition, Luke Abolins from the UK emerged victorious and claimed first prize.
The PokerProForAYear Final began just before 13:00 at the Crown Casino in Melbourne, Australia. Currently hosting the 2008 Aussie Millions, the Crown Poker Room was filled with eager poker players and spectators, all curious to see the outcome of this massive competition. The room was filled with nervous energy as the final ten players sat down and the cards started flying.
Photos courtesy of Eagle Image - Dave Goudie.
The players at the final table were:
Seat 1 - Jo Abolins
Seat 2 - Massimo Di Marco
Seat 3 - Martin Page
Seat 4 - Robert Ritchie
Seat 5 - Luke Abolins
Seat 6 - Robert Price
Seat 7 - Ilja Smid
Seat 8 - Kairit Leibold
Seat 9 - Andrew Ritchie
Seat 10 - Carlo Carione
The first elimination came after just under an hour and a half of play, at the 200/400 level with 50 ante. With Ilja in the big blind, action folded to Massimo, who called. The two Roberts also called and Ilja checked his option. On a flop of
Massimo checked and Robert Ritchie bet 500, followed by Robert Price, who raised to 2000. Massimo then moved all in and only Robert Price called. Massimo showed
against Robert's
. The turn brought a
and the river was
, ending Massimo's tournament.
Around 20 minutes later, Robert Ritchie moved all in for 3900 and thought his
would hold up. Luke moved all in and tabled
. The community cards fell
and
, busting Robert in ninth place.
Close to an hour later, Martin Page looked down to see
and went all-in for 4,475. Ilja made the call with
. The flop came
, giving Ilja a comfortable lead. The
on the turn, followed by
on the river sealed the deal and left Martin in eighth place.
With blinds at 400/800, with a 100 ante, Robert Price raised to 1800 and Ilja, who had lost a string of hands, moved all-in for 175 holding
. Andrew then moved all-in for 8,150 and Robert folded. The community cards showed
and whilst Ilja felt confident with the straight on the river, Andrew made the flush with
.
The next elimination occurred just after 17:00, when Robert Price, holding
, moved all-in with an impressive 14,350 and was called by the Italian Carlo Carione. Holding
, Carlo was the favourite heading into the flop. The community cards showed
and
, sending Robert to the rail.
Four minutes later, Kairit went all-in with
and Andrew called all-in for 5,025, showing
. The flop showed
, giving Kairit top pair. The turn brought a
and river was the
, giving Kairit the win with a pair of aces.
As had been the trend for most of the day, Kairit then moved all-in pre flop for 9,875 holding
and was called by Carlo, holding
. The community cards landed
and
, sending Kairit to the rail in fourth.
And then there were three.
At around 18:00, Jo Abolins in the small blind went all-in for 11,600 holding
and was quickly called by brother Luke, showing
. The flop produced
, giving Luke the high card. Both the turn and river didn't help Jo (
), who finished third and claimed her prize of $1,000 worth of online tournaments at Pacific Poker.
Luke Abolins and Carlo Carione entered heads-up play with roughly the same amount of chips (47,500 and 54,500 respectively). After two hands and with blinds now sitting at 1,500/3,000 with 500 ante, Luke raised 6,000 from the small blind and Carlo jumped all-in for another 12,100 in chips. Luke called and players produced their cards. Carlo, showing
, was just ahead of Luke, who tabled
. The flop of
didn't help Luke, although the
on the turn most certainly did. The river brought an inconsequential
, ending Carlo's tournament in second place and leaving Luke 'Resteal' Abolins as the newly crowned PokerProForAYear.
Luke receives a package that includes buy-ins to four major tournaments in 2008, including flights, accommodation and expenses. The major tournaments are expected to include the Aussie Millions, World Series, 888 UK Poker Open (London) and the 888 Canadian Heads-up Challenge.
For finishing second, Carlo wins entry to the 2008 Aussie Millions Main Event, which begins January 14 at the fantastic Crown Casino, including flights, accommodation and expenses.
It certainly was a massive and lucrative competition, with players sharing in over $150,000 in prizes. "We were excited to send the PokerProForAYear finalists to Australia to battle it out for the Champion. It was a great series and it was good to see that the final table lived up to the excitement. Crown was a great venue and I would like to thank them and PokerNews.com for their support", says Gareth Edwards from 888.com. "Luke was a worthy winner and we look forward to him representing 888.com at events around the world this year."
Luke was thankful and still in shock after his massive win. After all the photos and fanfare, Luke celebrated with a well earned beer.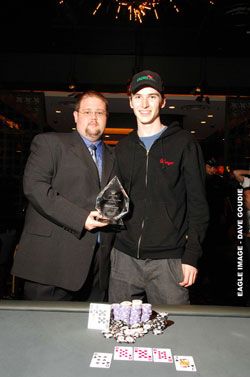 888.com representative Gareth Edwards presenting the PokerProForAYear trophy to Luke. Photo courtesy of Eagle Image - Dave Goudie
PokerNews and 888 would like to thank all participants in this great PokerProForAYear competition. Check out these great interviews with our top three finishers!
Interview with Luke Abolins
<script language="JavaScript">var host = document.location;document.write("<iframe src=\"http://www.pokertube.com/MakePlayer.aspx?host=<http://www.pokertube.com/MakePlayer.aspx?host=> "+ host+"&amp;movieID=e200f164-55d0-4f39-83f3-7782678fb003\" frameborder=\"0\"height=\"374\" width=\"434\" scrolling=\"No\"></iframe>");</script>
Interview with Carlo Carione
<script language="JavaScript">var host = document.location;document.write("<iframe src=\"http://www.pokertube.com/MakePlayer.aspx?host= "+ host+"&amp;movieID=da303a5d-e2a0-4358-831f-cf799e9379b0\" frameborder=\"0\"height=\"374\" width=\"434\" scrolling=\"No\"></iframe>");</script>
Interview with Jo Abolins
<script language="JavaScript">var host = document.location;document.write("<iframe src=\"http://www.pokertube.com/MakePlayer.aspx?host= "+ host+"&amp;movieID=e4f19b04-4ec9-433d-9177-dd9f1d075c32\" frameborder=\"0\"height=\"374\" width=\"434\" scrolling=\"No\"></iframe>");</script>
[I]Ed Note: There are more fantastic tournaments and prizes awaiting players at Pacific Poker, including an exclusive 60% up to $100 first deposit bonus for PokerNews players.