On Duty with Randy Couture and the 'Operation All In' Poker Fundraiser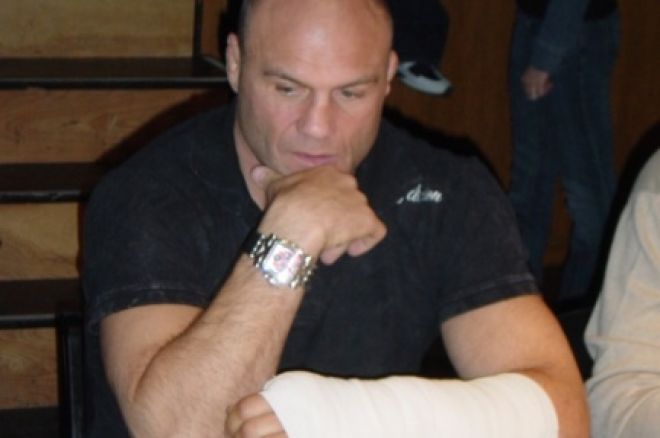 A good selection of poker's glitterati gathered on Saturday evening in Las Vegas, hosted by Randy and Kim Couture and their Xtreme Couture GI Foundation. The foundation was founded by Randy and his wife Kim Couture to aid fallen GIs and their families, and the fundraiser was scheduled to benefit the non-profit organization, which helps these families with finances, medical aid and readjustment to civilian life. In addition to the aid generated for those purposes, the organization offers an 'Xtreme Weekend' where invited soldiers can come to spend an inspiring weekend with the Extreme Couture GI Foundation staff, which helps soldier readjust to civilian life.
The Hard Rock Casino and Hotel was the hosting venue for this year's event, the second annual funder. 123 players showed to support the foundation and our American soldiers. Steve Cyr, Tournament Director, said, "Poker is the most universal game among charity supporters today. It's an easy game to teach, learn and play. People come out to support these kinds of events because poker is so popular right now, and players can relax and enjoy the event without any pressure." Many poker pros and celebrities mixed and mingled and generally had fun in supporting this worthwhile cause. Those on hand included Todd Brunson, Pam Brunson, Hoyt Corkins, Kirk Morrison, Johnny Chan, Maureen Feduniak, Jose Canseco, Dean Cain, Montel Williams, Phil Gordon and Jamie Gold, who served as Master of Ceremonies for the event.
A silent auction continued throughout the event, in addition to a live auction for an evening with Randy Couture and his wife Kim, which quickly brought a winning $10,000 bid from Houston Curtis for the foundation's cause. After the evening's festivities, the total raised for the foundation exceeded $90,000, with more donations still coming in. Phil Gordon, who took the third-place prize, donated his winnings back to the foundation. The event's winner, James Scott, also donated a portion of his $20,000 first-place prize back to the fund.
Randy Couture, who wanted to use his fame to give back to the community, saw the night's efforts grow his very successful foundation. Randy said, "We support our troops while they are out of the country fighting, but they are often forgotten when they return home. There frequently are adjustment periods in many soldiers' lives as well as those of their families when they return home to civilian life. Our foundation is an organization that will help these families in need."