Sexton's Corner, Vol. 29: A Tribute to Chip Reese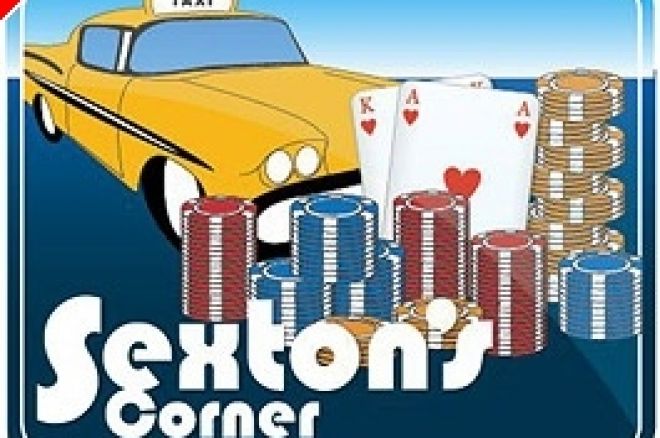 Two days after Chip Reese won the WSOP's first-ever $50,000 H.O.R.S.E. event in 2006, I was in traffic at a red light at Flamingo and the Strip. As I looked up at the biggest electronic video billboard in Vegas, in front of Bally's, there was this great picture of Chip Reese in victory, the newly crowned king of the poker world. Chip had a beautiful, big smile, and was holding up in the air a portion of the $1.8 million he won in poker's most challenging event.
It felt good seeing Chip recognized with such acclaim. All of us in the poker world, by consensus, knew Chip to be the greatest high-stakes cash game player on the planet over the past 30 years. Splashing Chip's image up and down the Strip seemed like true vindication. Win, lose, or draw, Chip was the essence of class at every corner, not only in poker, but more importantly in life itself. He was a wonderful father who loved his three children, Casey, Taylor, and Brittney. All the poker players who were good enough to compete with Chip at Bobby's Room at the Bellagio will tell you how Chip would leave the big game to attend a baseball game for Casey or an activity for his daughters. He was the best!
On Dec 4, 2007 the shocking news came that Chip Reese, at the age of 56, had passed away. The entire poker world was and still is in shock. At such a young age, it doesn't seem fair. Chip wasn't just a good poker player, but an icon idolized and admired by one and all. Many high-stakes players have a reputation for being less than nice to a dealer or floorman when things aren't going their way. Chip was just the opposite, as his gentleman's demeanor always showed. You won't hear negative stories about how he ever treated a dealer badly when he lost on the river. He was smart enough to know the dealer was like the mailman, simply delivering the mail. Some dealers cringe when they have to enter into the room where the big game is dealt, due to the potential abuse by some players. If other players could learn to be the class act that Chip Reese was, the dealers would feel as though they were in heaven.
Following Chip's passing, the announcement came that only three days later a memorial for Chip would be held for his friends and family at the Palms Mortuary in Las Vegas. The turnout was unbelievable. My brother Mike asked me to pick up Steve Lipscomb at the Bellagio; Lipscomb had just flown into town to pay his respects, just like so many others had quickly done. On the way to the memorial we picked up Mike, and the three of us talked about how unbelievable it was to even comprehend that Chip was gone. When we arrived, one could quickly see this was going to be a gathering of magnificent proportion. The lobby was packed with Chip's friends and what seemed like every famous person in the poker world. Doyle Brunson was doing his best to welcome each person with a big bear hug and two pats on the back, thanking each one who had come to support his best friend Chip.
As we were all greeting each other, you could sense the disbelief in the air about Chip not being with us anymore. Before we knew it, an announcement was made that the chapel was filled up to capacity, and for those still in the lobby to turn around and head for the other rooms, where closed-circuit TV was set up to view the service. There were hundreds still in the lobby, and even with the extra rooms available, it was standing room only. I had never seen a memorial service with so many friends. I remember Doyle saying in the past that Chip seemed to always have someone stop by during the big game to say 'hi' or sit next to him. When they would leave, Doyle would say, "Who was that, Chip?"
Chip would say, "Oh, that's just a friend of mine." Doyle always felt Chip had more friends than everyone else put together. For anyone who attended Chip's service, it would be easy to see what Doyle meant. Someone once said, "You can see how successful a person is by how many friends they have." If that is the barometer, Chip looked to be the most successful man on earth this day.
Before the service started, one of the first persons I met in the lobby was Danny Robison. Danny said he was asked to come to the earlier closed viewing with the family and very close friends, which gathered an hour before the general service. Danny said that when he visited Chip, he said, 'Chip, I'm not here to say good-by. I'm here to let you know, I'll be seeing you real soon.' Doyle had also invited Madeline Ungar, Stu Ungar's ex-wife, into the private viewing. In talking with Madeline, she was touched by Doyle's special invite. She was a big admirer of Chip Reese from the very beginning.
The general service honoring Chip was extra special. When Chip's son, Casey, got up to speak about his dad, the emotion of the moment hit all of us. I remember closing my eyes for a moment when Casey spoke, and I could hear his dad's voice within his words.
Bobby Baldwin gave a great tribute to Chip, saying, "Five men have shaped my life and probably all of yours: Benny Binion, Jack Binion, Steve Wynn, Doyle Brunson, and Chip Reese."
David Chesnoff, friend and family attorney, also gave a touching tribute, including a funny story about playing a hand for Chip in the big game one time when Chip had to go to the restroom. Chesnoff said it was like being asked to pinch hit for Babe Ruth. Chip hurried back to the table out of breath, tucking his shirt in and saying, "I just realized that Chezzy was playing for me. I think I took the quickest leak in the history of poker!"
When Doyle Brunson got up to speak, he opened up by telling us, "I really didn't think I would ever be up here talking about Chip. I thought Chip would be doing this for me." This was perhaps the most poignant moment of the entire service. All of us knew Doyle and Chip were the best of friends for the past 30 years. Doing Chip's eulogy that day had to be so difficult for him. As Doyle said, they had done everything together, including many bonehead ventures such as making investments in raising the Titanic, finding Noah's Ark, mining diamonds, running race horses, digging oil wells, and building planes. Doyle said, "We lost money on all of them, but we always had poker to fall back on."
The recent decision by Harrah's and the WSOP to award the future $50,000 H.O.R.S.E. winner a special trophy in Chip Reese's name, as the WSOP's best all-around player, will be a popular one. Any player who wins this prestigious event in the future will treasure this special award. Kudos to the WSOP for this decision! Since Chip Reese's memorial service, I would like to also commend all the poker news magazines and outlets that have paid their own tributes to Chip with cover and feature stories. No one in the poker world was more deserving of the accolades. Lisa Wheeler's special CardPlayer feature on Chip was special, with 21 great players and friends who paid tribute to Chip. There were so many nice things said and written about Chip, but two of the tributes jumped out at me like gigantic neon signs:
Chau Giang: Chip was one of my best friends. I talked to him just about every day for the past 10 years. It's unbelievable. I never cry, but since the day he died and I went to his house, I can't seem to stop. All I do is think about him. I just want to call him again to hear his voice. I loved him a lot. He was the best I've ever known.
Nolan Dalla: Chip Reese was a far wealthier man than most of us can ever comprehend, for reasons that had absolutely nothing to do with money. He inspired virtually everyone around him, and many thousands more who never met him face to face, to do good things. Being in Chip's presence, one took away the feeling of encouragement—to be a better person, to be a better family man, to help others, to be a good winner but even a better loser, and, most certainly, to improve as a poker player.

Chip left all of us with the ultimate gift that one person can bestow upon another, which is the gift of inspiration. Indeed, we are all left with the inspiration to be more like Chip Reese — both at the poker table and, more importantly, away from it.
I feel very fortunate to have known Chip Reese personally. My heart certainly goes out to his family, who can forever be proud of him as a great man and father. It is my hope all of us will learn from Chip, on how to do things the right way in life. We will all miss Chip, but we will never forget him. May his memory continue to inspire each one of us as we search for the best path through life.
The Cab is Parked,
Tom Sexton
Tom Sexton is a featured columnist for PokerNews.com. Tom attended the University of Oklahoma on a full gymnastic scholarship, where he was captain of the team four straight years, becoming the first NCAA All-American and Big Eight Champion in OU's gymnastics history in 1968. The Sexton family is well established in poker and includes Tom's brother Mike, the World Poker Tour commentator and poker's "First Ambassador", as voted by his peers. Tom welcomes your thoughts and comments about any of his articles. His e-mail is TSStarbuck1@aol.com.