Team PokerNews at the Aussie Millions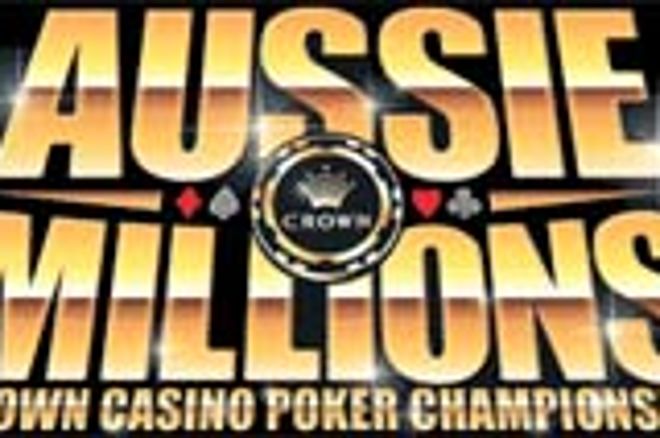 After two weeks of grueling and intense poker, the Southern Hemisphere's richest poker tournament came to a triumphant close on Sunday. With the Main Event attracting a total of 780 runners, the 2008 Aussie Millions welcomed a colourful variety of entrants including poker professionals, amateurs and international celebrities. Included in this 780 was the team of 17 lucky players sent by PokerNews to represent Team PokerNews at this global event. All 17 team members received buyin into the $10,500 Main Event, nine nights fully paid accommodation at the modern Crown Promenade Hotel, plus cash for travel. They all qualified through exclusive PokerNews freerolls.
"I qualified through a freeroll so it cost me nothing to come here," explains Sebastiaan van Kempen from The Netherlands, "this is my first time in Melbourne and I like it very much." Sebastiaan qualified through a PokerNews freeroll at Titan Poker and made the most of his poker holiday. "So far, I have managed to watch the Australian Open and visit some of the tourist landmarks in the city."
Aside from taking in the sights and culture of Australia's most beautiful city, Team PokerNews got down to some serious poker with seven out of the original 17 making it to Day Two. This included Thierry Radovanovic, Cedric Segato and Tony Pruvot from France, Kairit Leibold from Estonia, Sebastiaan van Kempen from The Netherlands, Melbournian David Wyatt and German Michael Wolf.
Michael Wolf managed to outlast the rest of Team PokerNews to finish in the money. Michael came up against Bong Vongsykeo's Aces as he moved all in for his last 4,000 with A-Q. His hand did not improve and he was eliminated in 70th place taking home AUD$15,000 in prize money. Not bad for three day's work, considering it cost Michael nothing to compete in the Aussie Millions.
"I am really excited," explains Michael, "this has been an amazing trip, plus it cost me nothing to come here… I had a very good vacation and I am very happy." The German, who qualified through a freeroll on Full Tilt Poker liked the way he played. "I know I didn't play bad, I played good… I had a really tough Day Two starting on a table with some of the world's best poker players and I survived that." Michael smiles, "I also met some really great people."
Congratulations to all Team PokerNews members for such a tremendous effort at the 2008 Aussie Millions in Melbourne.
Think you have what it takes to represent Team PokerNews at the next major poker event? PokerNews is giving you over 100 chances to win a fantastic €1,500 package to the 2008 PokerNews Cup Austria. Stay tuned to PokerNews and our freeroll page for more details.