Walid Bou Habib Captures Lebanese Poker Title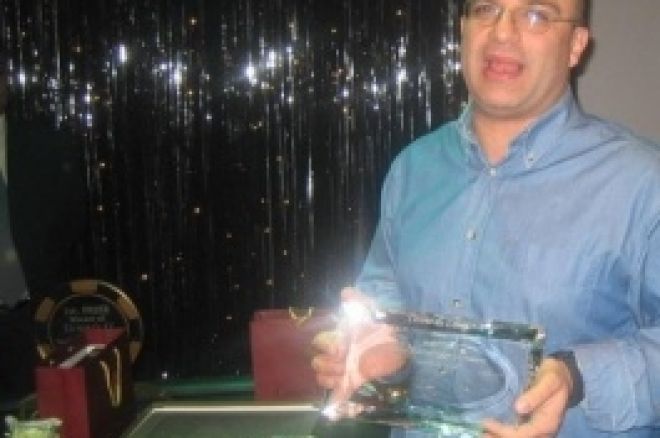 [special to PokerNews]
Lebanon's Casino du Liban recently hosted the largest poker tournament ever held in the Middle East. Run on December 27-28, 2007, the No-Limit Hold'em event drew 126 players, each of whom paid a US $5,000 entry for a shot at a share of the $620,000 prize pool. Lebanese amateur Walid Bou Habib took home the first prize of $200,000 after a hectic and tense three-way battle against fellow Lebanese player Mohammed Seblini and Russian-born Yuri Kerzhapkin.
Action commenced on the 16-table poker stage at the Casino Du Liban, part of the new use for a section of the casino; poker has been dealt there only since June of 2007. The stage, surrounded by 750 audience seats, drew both direct entries and satellite qualifiers, with audience and players alike entertained by a duet band and a belly dancer.
But once action focused on the poker, the first day's action saw 94 of the 124 players eliminated. The 30 Day Two survivors played seven more hours to reach the nine-player final, led there by Majid El Khoury. In descending order by chip count, these were the finalists:
Majid El Khoury
Walid Bou Habib
Omar Geadah
Michel Helou
Mohammed Seblini
Ramez Haddad
Yuri Kerzhapkin
Bassam El Najjar
Maen El Hachem
Majid El Khoury began the final table with the lead, but dropped over half his chips in the very first hand. He locked horns with Mohammed Seblini, holding
to Seblini's
. Both made big hands on the river as the board presented
, with Seblini taking down a $300,000-chip pot when his boat won out. The first casualty came an hour later, when Ramez Haddad's
lost against Bassam El Najjar's
with the chips in pre-flop. Haddad exited in ninth place with $10,000 winnings.
Soon after El Khoury was bluffed out of another decent pot, open-folding pocket kings, he struck back by eliminating Maen El Hachem in eighth. El Khoury's
was enough to pick off the short-stacked El Hachem, who held A-K, when the board brought 7-5-4-Q-J. El Hachem picked up $15,000 for finishing eighth. Bassam El Najjar soon followed, committing the last of his chips with a Q-7 that fell to Omar Geadah's K-Q on a 6-Q-K-2-K board. El Najjar collected $20,000 for his seventh-place showing.
Geddah, though, soon lost most of his chips when his pocket nines failed to hold up in a race against Yuri Kerzhapkin's Q-J, the board bringing two jacks. Next out, however, was a short-stacked Michel Helou. Helou moved all in with A-10 and was called by Walid Bou Habib with J-8. Bou Habib picked up the knockout as the board came 7-3-8-J-3, and Helou departed in sixth, $25,000 richer.
El Khoury's rollercoaster day ended next, courtesy of a bad beat when his Q-Q was outflopped by Walid Bou Habib's 6-6. The complete board read 6-4-5-K-J, and El Khoury went home with $40,000 and a fifth-place finish. Kerzhapkin then knocked out Geadah, the chips going in pre-flop with Kerzhapkin's K-10 racing against Geadah's pocket sevens. The board brought 2-10-K-9-8, and Geadah exited in fourth place with $50,000. Then there were three… some 11 hours after the beginning of Day Two and after four hours of final-table play. The standings at this juncture:
Walid Bou Habib — 920,000
Mohammed Seblini — 580,000
Yuri Kerzhapkin — 390,000
A brief break saw contentious and unsuccessful negotiations toward a chop before action resumed, Kerzhapkin's demands for the winner' trophy partly responsible for the no-deal. Kerzhapkin then quickly tried to muscle his way to the front, pushing with
. Bou Habib called with
and painfully witnessed a flop of Q-J-2, which moved Kerzhapkin well ahead with two pair. A turn eight gave Bou Habib some hope, and a river ten completed Bou Habib's unlikely runner-runner straight. Kerzhapkin disappeared quickly, collecting $65,000 for his fine third-place effort.
Seblini and Bou Habib quickly reached a deal, with Seblini mucking his cards after being all-in. Seblini officially collected $110,000 for his runner-up showing, while his friend Walid Bou Habib picked up $200,000 and the winner's trophy, presented by tournament director Barry Mundee.