Women's Poker Spotlight: Stepping Brightly -- The High Heels Poker Tour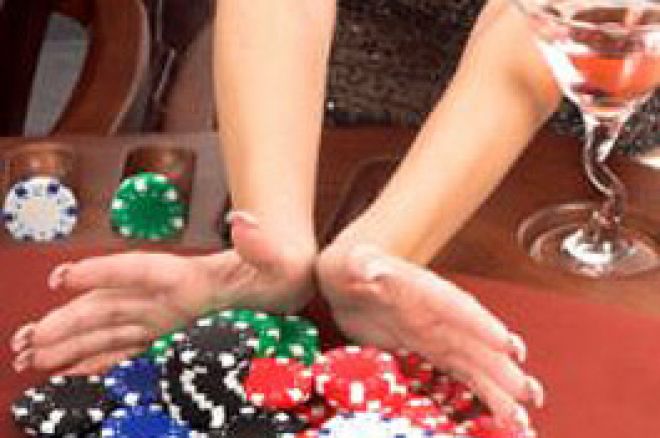 Look out, fellas, and step aside, a new player is in town and her name is Lauren Failla, head of the High Heels Poker Tour.
One only needs to speak to Lauren, hearing the enthusiasm in her voice, to know she's excited and driven in her push to bring more women into live poker. Lauren took her passion for poker and launched the ladies-only High Heels tour in June of 2007, including a website at highheelspokertour.com. The club's annual fee of $30 makes one a member and brings notices of upcoming events, hotel discounts, giveaways, eligibility for free seat drawings, specials, and perks of the High Heels tour, such as private receptions and hospitality rooms.
Based in Florida and spreading across the Gulf and East Coasts, HHPT is moving into the big time with several upcoming events. Tunica, Mississippi's Gold Strike Casino will host its first HHPT event on January 6, 2008 as part of the WSOP Circuit stop. A second event on February 24, 2008 at Harrah's Horseshoe in Council Bluffs, Iowa is also on the upcoming schedule, with more to surely follow with other Harrah's properties. The Harrah's staff has made some changes at Lauren's urging to make the event more enticing to the lady players. This year the starting stack will be 10,000 chips with 40-minute rounds.
A new affiliation with the WSOP Academy offered HHPT members the opportunity to win their way to the 'Ladies Only' poker camp January 25-26 at Caesars Palace. All one had to do was join the HHPT to become eligible for the drawing. The winner was drawn New Year's Day and is being announced here: Congratulations to Paula Ettline of Fort Lauderdale, Florida. If you didn't win, here's an added bonus: all members will receive a $150 discount on their entry to the event, from the original cost of $1,699.
Another great way to win a seat in the WSOP 2008 is getting underway. Several poker rooms are beginning to host 'step tournaments' or qualifiers to advance to a main event taking place in March. The main event will be hosted at the Seminole Casino in Hollywood Florida on March 1st with a direct buy-in of $450, with $125 satellites available at seeral Florida locations: Seminole Casino Hollywood, Seminole Casino Brighton, The Isle Casino and Racing at Pompano Park, Miami Jai-Alai, Flagler Magic City Poker Room, Club 52 Melbourne Greyhound Dog Track, Naples Fort Myers Greyhound Dog Track, and Daytona Greyhound Dog Track. Total attendance and prize pools will determine the number of World Series seats to be given away.
Given Lauren's enthusiasm and dedication, this new ladies tour just might have staying power. Certainly, HHPT will have its growing pains, but it joins a group of organizations catering to the growing women's market. Nor is this all from the HHPT, as several new announcements and affiliations are planned for the coming months.