WSOP-C Tunica, Day 2: Devia Heads Final, Schneider Fourth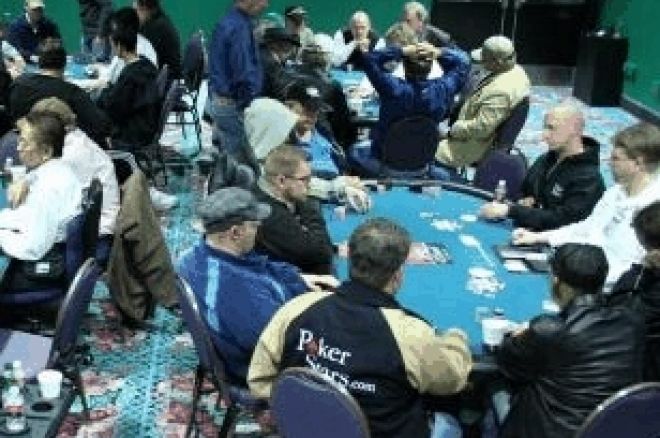 29 players returned to the Grand Casino in Tunica on Sunday to play down to the final table at this World Series of Poker Circuit stop's Main Event. 2007 WSOP Player of the Year Tom Schneider remained in the field, along with 'Captain' Tom Franklin, Vanessa Rousso, and Day 1 chip leader Mark Garner. The top ten chip stacks looked like this as play kicked off for the day:
Mark Garner — 263,500
John Devia — 250,500
Dale Morrow — 240,500
Jesse Dean — 220,500
Charles Horvath — 205,000
Vanessa Rousso — 180,500
Spencer Hudson — 177,500
Giovanni Marcacci — 166,500
Dustin Bailey — 165,000
Josh Arieh — 152,000
Vanessa Rousso was an early casualty, going out early on Day 2 when she made a stand with A-9 and found a caller in Tom Schneider with 7-7. Schneider hit a seven on the flop to make his set, and Rousso was eliminated just before the bubble. Billy Jackson was the bubble boy when Schneider busted him in the 19th spot.
Once the bubble burst, the standard rapid-fire eliminations of the short stacks took place, with Jesse Dean (18th), Josh Arieh (17th) and Tim Frostad (16th) all heading to the rail within minutes of each other. Each picked up $12,976 for his finish. Charles Cardin was next to fall when he pushed the last of his chips in the middle with
on a board of
. Schneider called with
, and the river
gave Schneider the flush and sent Cardin home in 15th place ($15,571). Charles Horvath busted in 14th when he ran pocket kings into Ryan Young's pocket aces and found no help from the board. Horvath picked up $15,571 for his efforts.
Soon after, Dustin Bailey fired out at a flop of
, and John Devia raised enough to put him all in. Bailey made the call with
, and Devia tabled
for two pair. Bailey needed running sevens to stay alive, and when they didn't come, he was eliminated in 13th place ($15,571). A short while later, Jeremiah Vinsant pushed his last few chips in with
and was called by Ben Sabrin with
. The flop brought no help for Vinsant, and the
on the turn left him drawing dead. His 12th-place finish was worth $18,166.
11th place went to 'Captain' Tom Franklin, who busted after moving all in preflop with
. Jordan Rich made the call with
, and the board brought no help for either man, as it ran out
. Rich's A-7 was good, and Franklin departed with $18,166.
Jesse Maupin was the final elimination of the night when he pushed
into Ben Sabrin's
. The flop gave Maupin outs, coming down
. The
on the turn gave him more outs to the flush, but the
on the river left him short, and he was eliminated in 10th place ($18,166). With Maupin's exit the final table was set.
Day 1 chip leader Mark Garner remains alive as John Devia takes a sizeable lead into the final table. The seating assignments and chip counts for the WSOP-C Tunica final are as follows:
Seat 1: Tom Schneider (Scottsdale, AZ) - 422,000
Seat 2: Ben Sabrin (Atlanta, GA) - 417,000
Seat 3: John Devia (West Palm, FL) - 929,500
Seat 4: Giovanni Marcacci (Brooksville, FL) - 465,000
Seat 5: Jordan Rich (Portland, OR) - 147,000
Seat 6: Mark Garner (Little Rock, AR) - 213,500
Seat 7: Bart Tichelman (Atlanta, GA) - 164,000
Seat 8: Donald Nicholson (Oak Ridge, TN) - 325,000
Seat 9: Ryan Young (Torrance, CA) - 521,000