College Poker Life: University of Kansas, Lawrence, KS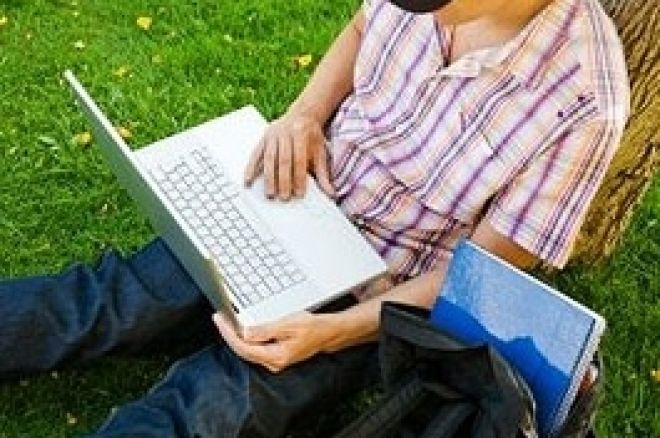 Since the spring semester began at University of Kansas, it hasn't taken students long to get back to poker. The UK campus is located in the college town of Lawrence, an ideal place for students, where many enjoy regular poker games both on and off campus. With only three full months left in the semester, students still have plenty of poker options left to look forward to before summer vacation arrives.
While the University of Kansas does not have an established poker club, it does have regular scheduled tournaments on campus. These events are free for all students wishing to participate, and serve as a great resource for any student aiming to improve his game. Last semester, students were also able to participate in a Casino Night presented by the same organization. Also last semester, an annual free poker tournament was organized by the SUA (Student Union Activities group), and was held in the KU Memorial Unions. The tournament was free for all students, and handed out over $250 in prizes for the top finishers. Students should make sure to check the Memorial Unions calendar for any upcoming events.
Students looking for inexpensive options will find many local games on and off campus to their liking. Whether students are looking for small-stakes cash action or cheap-entry tournaments, there are plenty of places to play around campus. These friendly games seem to be the best poker options for students at KU, as the games are generally inexpensive, fun, and offer only a very slight competitive scene. While playing, you'll probably hear rumblings of Patrick Huse, somewhat of a local legend at KU. Huse went to Vegas after graduation last May and cashed in the WSOP Main Event, taking 128th place and a nice prize of $58,000. But KU students shouldn't worry much; his name may pop up at local house games but that doesn't mean you'll be staring across the table at him any time soon.
For students interested in more freeroll options than the campus offers, make sure to check out The Pool Room. This bar offers regular free tournaments on Wednesdays and Sundays, which work on a point system where the top three players each receive points. A 21-year-old age restriction applies.
For those interested in trying casino action, there are two options nearby. The first is the Golden Eagle Casino in the neighboring city of Horton, which houses seven poker tables and is regularly open on Thursdays, Fridays, and Saturdays. The game of choice is generally limit hold'em, with blinds at $3/6 and $4/8. The casino's tournaments on Thursday nights tend to bring in enough players to keep the room running a steady game.
However, if you're looking for guaranteed casino action, look no further than Harrah's Prairie Band Casino in Mayetta. While both casinos are just a short drive from campus, if your heart is set on high-stakes action, Harrah's is where you want to be. The casino is open daily with re-buy tournaments, a bad-beat jackpot, and plenty of good games to choose from. While the poker room only houses four poker tables, the action inside is steady and includes limit hold'em at $2/4 and NL at $2/5. The casino holds its biggest game on Fridays when it hosts a NL high-stakes game, with a minimum buyin of $300 and the maximum set at $1,000. Inexperienced players beware; this is not a game you want to find yourself in. The casino is also nice enough to spread an Omaha Hi-Lo $5/10 game if enough players warrant it, and they'll even be happy to host any game you suggest, as long as they have enough players. While there may be few casino options located near Lawrence, these two are prime picks for any student poker player needing to test their skills. A complete list of Harrah's tournament schedules can also be found at pbpgaming.com.
While KU-sponsored poker events may not occur on a regular basis, Lawrence certainly has plenty of poker options for students. Whether you're looking for an inexpensive, fun night out with the guys or steady casino options, Lawrence is without doubt one of the best college towns to live in when it comes to playing poker.