2008 NBC National Heads-Up Poker Championship Field Nears Completion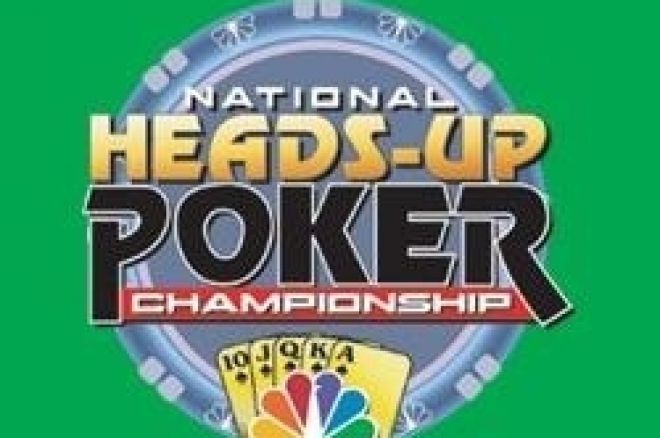 With the addition of two qualifiers from Caesars Palace qualifiers and a couple of replacements in the original announced list of invitations, the 64-player lineup for the upcoming 2008 NBC National Heads-Up Poker Championship is nearly complete.
60 of 61 "invitation" slots had been announced in early January, and of those 60, only poker-player/comedian Brad Garrett was unable to attend. The 60th and 61st invitations then went to Andy Bloch and Chris Moneymaker. The 61 invitees were then joined by the two winners from the Caesars play-ins, Tom Kelly and Hooman Nikzad. This leaves only the 64th spot to be filled by the winner of a recent PokerStars.net satellite, to be announced shortly. The lineup to date:
1. Alexander, Jason
2. Antonius, Patrik
3. Bellande, Jean-Robert
4. Benyamine, David
5. Bloch, Andy
6. Brown, Chad
7. Brunson, Doyle
8. Brunson, Todd
9. Chan, Johnny
10. Cheadle, Don
11. Clements, Scott
12. Cloutier, T.J.
13. Cunningham, Allen
14. Deeb, Freddy
15. Duke, Annie
16. Dwan, Tom
17. Edler, Bill
18. Elezra, Eli
19. Elizabeth, Shannon
20. Esfandiari, Antonio
21. Farha, Sam
22. Ferguson, Chris
23. Fischman, Scott
24. Forrest, Ted
25. Gold, Jamie
26. Gowen, Clonie
27. Greenstein, Barry
28. Grizzle, Sam
29. Hachem, Joe
30. Hansen, Gus
31. Harman, Jennifer
32. Hellmuth, Phil
33. Hershiser, Orel
34. Ivey, Phil
35. Juanda, John
36. Kaplan, Gabe
37. Kelly, Tom
38. Laak, Phil
39. Lederer, Howard
40. Lindgren, Erick
41. Little, Jonathan
42. Matusow, Mike
43. Mizrachi, Michael
44. Moneymaker, Chris
45. Negreanu, Daniel
46. Nikzad, Hooman
47. Nguyen, Scotty
48. Pham, David
49. Raymer, Greg
50. Rousso, Vanessa
51. Schneider, Tom
52. Schreiber, Daniel
53. Seed, Huck
54. Seidel, Erik
55. Singer, David
56. Smith, Gavin
57. Tilly, Jennifer
58. Townsend, Brian
59. Tran, J.C.
60. Tran, Kenny
61. Wasicka, Paul
62. Williams, David
63. Yang, Jerry
64. PokerStars.net qualifier (to be announced)
The drawing party for the tourney will be held on Feb. 28th at Pure nightclub at Caesars, adjacent to the room used for the NBC Heads-Up event. Play runs through March 2nd.
NBC has also announced the TV schedule and official prize pool for the event:
April 13: Noon - 2PM ET/Check local listings for PT
April 20: Noon - 1PM ET/Check local listings for PT
April 27: Noon - 2PM ET/Check local listings for PT
May 4: Noon - 2PM ET/Check local listings for PT
May 11: Noon - 2PM ET/Check local listings for PT
May 18: Noon - 3PM ET/Check local listings for PT
Complete prize purse breakdown:
Places 9-16: $25,000
Places 5-8: $75,000
Places 3-4: $125,000
2nd place: $250,000
1st place: $500,000
Total purse: $1,500,000