South African PokerNews Open: Bertilsson Leads Final Table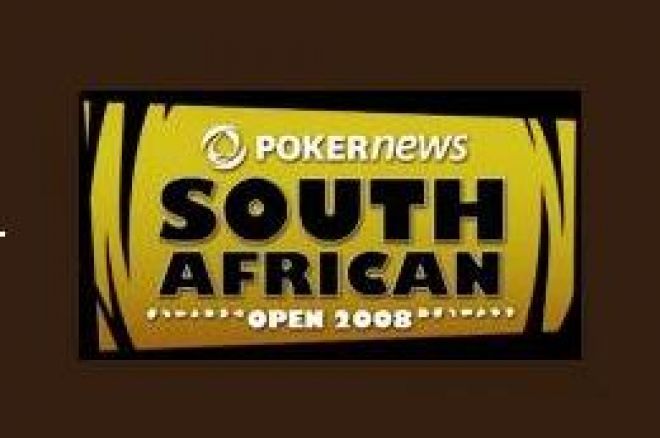 175 players each put down 25,000 rands, or roughly $3,600, to take their shots at the South African PokerNews Open Main Event in Johannesburg, South Africa. Notables present included Tony 'G' Guoga and Raymond Rahme. Rahme became South Africa's favorite son (or grandfather) of poker when he made the final table of the 2007 World Series of Poker Main Event. The 175 players built a prize pool of over $500,000, with $140,575 scheduled for the champion.
There were several freeroll qualifiers in the field, including Andrew Lindsay, Danny Durkens, Sang Nguyen, Kenneth DeBlock, Enrico Lencia and Mike Byrd. These players all qualified through special PokerNews.com freerolls that covered their entry fees, airfare and accommodations. As Day 1 drew to a close, Lindsay, Byrd and DeBlock were the remaining PokerNews.com qualifiers. Tony G busted early on Day 1.
Also in the field was local celebrity Colin Moss. Moss is the host of "Idols," the South African version of American Idol. The Ryan Seacrest of South Africa became part of a featured table when he joined Rahme and Sandy Koor, the tournament director for the poker site All Africa Poker. Koor finished the day with a strong double-up, as he put a dent in Rahme's chip stack during the last level of play. Koor got all his money in with pocket queens against Rahme's
, and the flop came down 6-2-10 with two spades. Koor dodged the remaining aces and spades in the deck to double up entering Day 2.
Day 2 kicked off with 77 players remaining, including Rahme and two South African WSOP bracelet winners, Norman Keyser and Hugh Todd. The first level of play was brutal, eliminating more than half the field. 36 players remained at that point, with the bubble at 18 players. It didn't take much longer for the bubble to burst, with Tom VanDermeere the unfortunate 19th-place finisher. VanDermeere was gifted with a 25,000-rand present from the tournament staff – a refund on his buy-in, easing the pain of bubbling out just a little bit.
With nine players remaining, Denis Huntry became the story of the evening as he lived by the old adage "a chip and a chair" in his efforts to make the final table. Huntry was forced all in blind with one chip left in reserve, and found callers in Anton Bertilsson and Darren Kramer in his first big hand. On a flop of
, Huntry put his last chip in the pot as both opponents called. The turn and river came down
, and Bertilsson and Kramer checked it down. Bertilsson tabled
, and Huntry revealed
for the turned straight and the triple-up.
Just a few hands later, Huntry again doubled through Bertilsson when he was all in blind with
to Bertilsson's
. The board brought no help for Bertilsson, and Huntry doubled up again. Huntry managed another triple-up courtesy of Bertilsson and Kramer, and then he got all in once more on his ante with Grant Nelson and Bertilsson. Nelson and Bertilsson checked the flop of
. Nelson checked the
on the turn, and Bertilsson fired at the pot. Nelson folded and Huntry tabled
for the flush draw and the inside straight draw. Bertilsson reveald
, and the
came on the river to triple Huntry up again.
All good things must end, and Huntry's ride concluded with him busting in ninth place to end the play for Day 2. On his last hand, Huntry was all in for the ante again, and Nelson, Bertilsson and Kramer all called. The flop came down
, and the players checked around. The
on the turn got a bet out of Kramer, and Bertilsson and Nelson folded. Kramer tabled
to Huntry's
, and the
on the river sent Huntry to the rail. Bertilsson finished the day as the chip leader, as the final eight players bagged their chips in preparation for the final table. The remaining chip counts looked like this at the end of Day 2:
Anton Bertilsson – 960,000
Grant Nelson – 822,000
Michael Hollom – 637,000
Chris Convery – 555,000
Darren Kramer – 488,000
Melanie Banfield – 412,000
Danny K – 286,000
Berrny Lengenfelder – 218,000