Poker Room Review: Harrah's Atlantic City, Atlantic City, NJ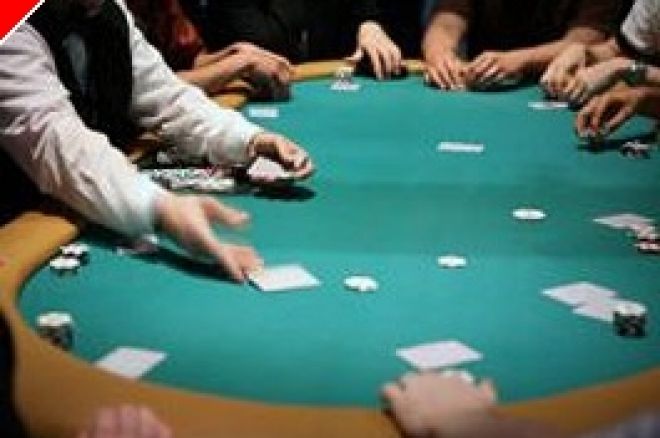 Harrah's is a pleasant and busy room for low-limit players. I enjoyed my visit there and recommend it to any who visit Atlantic City and are looking for a nice place to play low-stakes versions of limit hold'em, no-limit hold'em, and even stud.
When I visited on a Saturday night the place was hopping. It took me about twenty minutes to get a seat in any game – and I was willing to play anything. As it was, I was seated first in a $2/4 limit hold'em game, at one of three tables spreading that game. No sooner had I gotten my chips then a seat opened up in the $1/2 blind no-limit game, where I spent the remainder of my two-hour playing session. The $1-5 stud game they had going didn't have an empty seat for my entire session.
This is a 24-table room, with a full compliment of tournaments, including sit-and-goes. They also tie in tournaments to the World Series of Poker, run by Harrah's at the Rio in Las Vegas. While I was there they were promoting a tournament to win a seat into a mega-satellite to the WSOP Main Event. For every ten players, one seat into this $500 mega-satellite would be awarded.
The room also holds its own annual World Series of Poker Circuit event. This year past year it was in December.
Most days there are two tournaments. Check with the poker room to see the exact time and flavor; most are no-limit hold'em tournaments. They were running at 1:15 PM and 8:15 PM when I was there.
The room has a few promotions. They have a bad beat jackpot – funded by the players with a $1 deduction per hand. It was at $20,000 or so when I visited. They also provide player comps of $.50/hour for the $2/4 limit game, $1/hour for the $1/2 no-limit game, and $2/hour for the $10/20 game. (I didn't see a $10/20 game while I was there on Saturday night – but if they ever get one this is the comp that the players get.) There is no comp for stud. Games are raked at 10% to a maximum of $4.
My session was fun and relaxed. Waitresses bring free drinks and non-free food to the table. The players in my $1/2 game were a nice mixture of regulars from Philadelphia and the Atlantic City area and tourists like myself. Though I can't be certain, I don't think there were any pros in attendance. I think they'd be much more likely to frequent the higher-stakes rooms such as the Taj and the Borgota. All or nearly all of the players I saw were there to have a good time, drinking and chatting it up the whole time.
The dealers were competent, if a bit too dour and somber for the festive mood at the table. But then, they didn't need to promote this type of behavior from the players, since we were laughing it up without any help.
I liked some of the small things about the room. Players do not have to post blinds to get dealt in when they first sit down. This is good because it encourages less serious play. When players must post their blinds to get a hand, it makes some players think more seriously about every single bet they make, I've found. Allowing some free hands seems the better policy when it comes to promoting a 'fun' atmosphere.
On the other hand, the policy of not allowing straddles may seem to discourage loose play. One might think that since straddles (a voluntary third blind after the big blind that the under-the-gun player may make before he looks at his card) are extra action, that disallowing them may put an unnecessary damper on wild, loose play. I find that the exact opposite is the case. Straddles, though they sometimes promote action, often confuse new players – who then tend to become more timid and careful about their play, being unfamiliar with this rule. By disallowing it, Harrah's provides one less distraction for the new player to worry about. I like the rule (though I love it when players straddle). Go figure?
The room has some rules that I don't like. They don't allow headphones, and they ban cell phones from the table. I understand the reason for these rules. Maybe someone with headphones is cheating with a surrogate telling him hands he's viewing from a remote location in the room. Similarly so with the cell phone user. And, cell phone conversation can be distracting. Still, I've found that the fewer rules the better, as far as encouraging a happy, friendly game. No big deal. But if I were making the rules I'd allow anything at the table that you allow at your kitchen table game (except maybe rabbit hunting).
All in all, I had a great time, though I finished down about $20 for my two hours of play. I'd gladly go back – at least to try the action at the spread-limit stud game that was going strong during the time I visited.
Harrah's Atlantic City Hotel Casino
777 Harrah's Blvd
Atlantic City, NJ 08401
(800)-645-6774