Sexton's Corner, Vol. 30: How One Paragraph Changed Bill Edler's Life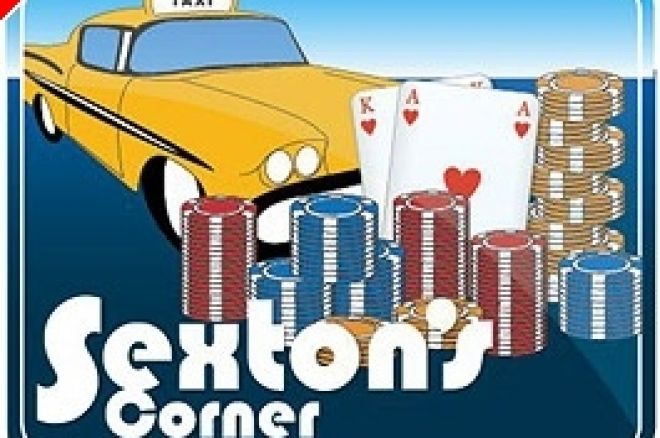 My wife Janis and I had just returned from Orlando, Florida, where we spent a week with our kids and grandkids at Disney World for the holidays. While there, I got to visit Dewey Tomko and see the beautiful golf course he owns, Southern Dunes. Dewey invited the whole family to be his guests at his restaurant, Vines Grille and Wine Bar, featuring great entertainment in the form of a tremendous jazz trio. Your wonderful hospitality was much appreciated, Dewey... thanks!
As I waited for my luggage upon returning to Las Vegas from the trip, I heard a voice calling my name. I looked around a couple of times until I felt a tap on my shoulder. I was pleasantly surprised, as it was one of poker's nicest guys on the planet and its newest superstar from 2007, Bill Edler.
Bill was just returning from a trip from Columbia, South America, with his beautiful wife, Carolina, and his lovely daughter, Valeria. Bill was gracious as always, explaining how fortunate he is to be happily married to Carolina for a year and a half, and so lucky to have an extra angel in his life with his adopted daughter Valeria, who recently turned nine. Bill had a year on the pro poker tour in 2007 that a player can only dream about! The class and modesty that Bill exudes during any tournament, interview, or outside activity is amazing to behold. It is no wonder he has been dubbed Bill 'The Stunning One' Edler. He has a natural gift that puts those around him at ease.
While we chatted and waited for our luggage to arrive, I mentioned to Bill that I enjoyed listening to a special poker show hosted by John Kelly where he was the featured guest. I said "Bill, you said something on that show that really jumped out at me like a neon sign, considering the great year in tournament poker you had in 2007."
Bill asked, "What was that?"
"When the interviewer mentioned this one part from Doyle Brunson's book, Super System," I continued. "You quickly pointed out: 'It's interesting you brought that up, because that one paragraph changed my life.' I was driving my car down the road in Las Vegas, when you said that on the radio, and actually pulled over to stop, so I wouldn't miss this monumental pearl of wisdom you were about to share with the audience." I then added, "Bill, I would love to do a story on you in my column, to share your thoughts on this with our readers."
Of course, Bill couldn't have been nicer, and gave me his cell number to contact him later on. I shook hands with him and told his wife and daughter how happy I was to meet them. It is hard to explain, but when the three of them walked away, I was admiring the genuine family love they seemed to all share together. I thought to myself, "I know this guy is a great poker player, but he looks to be much more than that. He looks to be the real deal, on top of the world with both his personal life and his professional career in poker. With someone so obviously intelligent, successful, and modest, I couldn't wait to interview him.
Before I reveal Bill Edler's advice on what changed his life in the poker world, it is worth reviewing what an amazing year he had in 2007. Bill started out in February winning the inaugural $10,000 Heads-Up Championships at Crystal Park Casino in Southern California for $215,000, defeating a living legend in the finals in Barry Greenstein. He then placed seventh at the LA Poker Classic, and followed that his first WPT final table in the Bay 101 Shooting Stars, placing sixth. This only warmed him up for the 2007 WSOP, where he won the $5,000 six-handed NLHE title, winning $904,000 and his coveted first WSOP gold bracelet. Outside the $50,000 H.O.R.S.E. event and the Main Event, this was the largest first place paid out in any of the WSOP events.
Only one week later, Bill placed 23rd out of 6,358 entries in the Main Event, picking up another $333,000. If this wasn't enough in accomplishments for one year, he captured the title at the WPT Gulf Coasts Championships in Tunica, Mississippi winning another $747,615. It was rival poker pro and good friend Gavin Smith who aptly nicknamed him 'The Stunning One,' which seemed so fitting after Edler's magnificent 2007 performance. With $2.6 million in tournament winnings during the year along with three major titles, his colleagues can look at Bill today with admiration. He has everyone's attention these days!
Imagine winning a WSOP gold bracelet and a WPT title in the same year, all after finishing off legend Barry Greenstein in a heads-up $10,000 buy-in event. When Bill won his first WPT title, he set a new comeback record that will be near impossible to ever top. He was down to two $1,000 chips and a chair on the third day, where the average chip position, for the remaining players, was $300,000. He began an incredible rush that ended up with him as champion, thus writing a chapter of WPT comeback history that would rival, if not surpass, Hall of Famer Jack Straus's 'chip and a chair' feat in the 1982 WSOP Main Event.
Since Bill Edler's accomplishments in 2007 were off the chart, let's ask him what his secret weapon was that changed his life:
Tom Sexton: Bill, on that radio show you were on, that I had mentioned to you earlier at the airport, you said that one paragraph changed your life. Tell us what you were referring to on this radio show.
Bill Edler: The radio host, John Kelly, had been asking several questions, when he suddenly mentioned Doyle Brunson's original book, Super/System: A Course In Power Poker. He had just referred to a paragraph in the book which talked about Doyle frequently putting his money in a big pot with the worst of it, appearing to be pretty lucky when he won. Doyle has this rambling gambling style, where his aggressiveness wins a lot of small pots. He then is able to get a freeroll on a big pot played, to give himself a chance to accumulate a lot of chips.
TS: Did this concept register to the degree you feel it changed your life?
Edler: Definitely! In fact, I had to re-read this section in Doyle's book over and over again, to finally understand it. At first it didn't make any sense to me, how I could become a winning player, with having the worst of it in many of the bigger pots. I thought maybe I'm just slow at first, until a light went off for me that opened up a whole new world in tournament poker. One should not leave dead money in the pot when you can be aggressive and win a lot of small pots, before playing that big pot.
TS: I'm opening Doyle's original book up now, and it looks like pages 420, 421, 422, and 423 are the four magic pages that cover this topic in depth. These four pages should be compulsory reading for any person interested in being a successful poker player. Looking at the impact they had on you and your fantastic success in 2007, these magic four pages should be bronzed. You modestly said you were a little slow perhaps, having to re-read this over and over to understand it, but I don't think there is any chance of that. Many of us read things a little too fast, and miss picking up the important message entirely. We should all go back now, and do what you did, re-read those pages over and over ourselves. Didn't you go to Spain, when you were a student at University of California, not only to take a series of law courses, but to do it with all of your books in Spanish?
Edler: Yes, this is true. I knew I wouldn't be clerking in law school, because I had already decided that I wanted to play poker for a living, and be able to travel the world, which is one of my favorite things. I was given the opportunity to go to Barcelona, Spain to take several law courses, and was grateful for the opportunity. I first decided to prepare for it by going a few months early to intensely study Spanish.
TS: That is amazing, as most of us in life would think reading most law books in English would seem like Greek, let alone trying to do it in a new language we didn't even know yet! Were you actually able to understand what was going on in your classes, with everything in Spanish?
Edler: Well, I was very lucky. My instructors were great, and they would always make eye contact with me to make sure I was getting it okay.
TS: Congratulations on graduating, and doing it in style, with many of your courses in a foreign language. That is one very remarkable achievement! On the day you were to receive your diploma at the University of California, I understand you were in an all night poker game, where you won $4500. Was that true?
Edler: Yes. I was in a $20/40 game and had a great session, where I won $4,500. In those days it felt like I had just won $1,000,000! This win reinforced my desire to pursue a career in poker.
TS: How did you meet your beautiful wife?
Edler: I met Carolina on a trip I took to Columbia, South America. Traveling around the world is my passion, and on this trip, I hit the jackpot beyond belief. She and her wonderful daughter, Valeria, mean everything to me. I feel like the luckiest person on earth.
What a joy it was to interview Bill Edler. He was just getting ready to enter the WPT Borgata Poker Classic in Atlantic City the next day, after competing in WSOP Circuit and WPT events in Tunica, Mississippi the previous week. He was getting ready to spend the day with a friend from 15 years ago, and explained how traveling in the poker world allows him to do these special things he enjoys so much in life.
When one looks at Bill's life over the last eighteen months, he has met the dream of his life, Carolina, and is so happily married. During this period, he has won about $3,000,000 in poker tournaments, including a WPT title and a WSOP gold bracelet. Perhaps his beautiful wife is his lucky charm? On the surface, Bill's life might seem too good to be true, but take my word for it, he is exceptionally extra-special. He is poker's class act in every category, win, lose, or draw.
Bill's nickname 'The Stunning One' is so appropriate, not just for his poker accomplishments, or his happy personal life, but for his gentlemanly demeanor and the way he treats other people at all times. This outstanding quality makes Bill Edler, without a doubt, a true champion in life. He is a genuine pleasure to be around. If you are watching the poker tour and get a chance to introduce yourself to Bill Edler, you are in for a big treat and a very enjoyable experience.
The Cab is Parked,
Tom Sexton
Tom Sexton is a featured columnist for PokerNews.com. Tom attended the University of Oklahoma on a full gymnastic scholarship, where he was captain of the team four straight years, becoming the first NCAA All-American and Big Eight Champion in OU's gymnastics history in 1968. The Sexton family is well established in poker and includes Tom's brother Mike, the World Poker Tour commentator and poker's "First Ambassador", as voted by his peers. Tom welcomes your thoughts and comments about any of his articles. His e-mail is TSStarbuck1@aol.com.