Women's Poker Spotlight: Summer Vegas Events Announced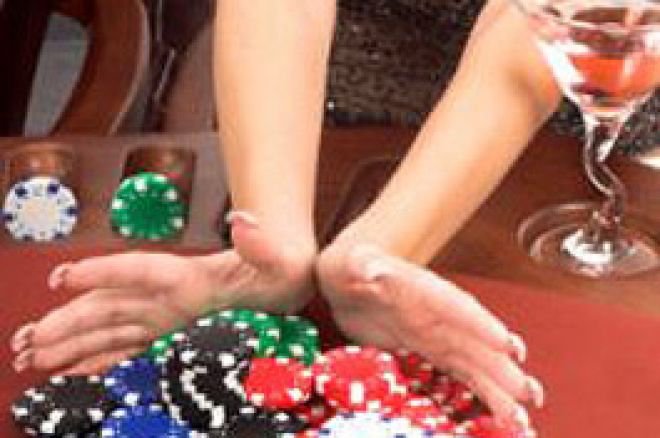 Las Vegas poker rooms are getting ready for the coming 2008 World Series of Poker, even if their name isn't Harrah's. I've just received several confirmations of ladies events that will be held in other poker rooms the same week as the Ladies Event at the WSOP. Each day for four days there will be a ladies event somewhere in Las Vegas!
On Friday, June 6th, Binions will hold a Ladies Event as part of the Second Annual Binions Poker Classic. The event begins at 11 am with a buy-in of $90+10, with 2,000 starting chips and a bonus 2,000 for $10. This series of poker events will begin on May 28th and run through July 8th. Buy-ins for other BPC events range from $100 to $2,000 with bonus chips available for every event.
On Saturday, June 7th the LIPSTour will hold its Super Satellite at the Golden Nugget (to be confirmed) for $155. Seats will be given away to both the 2008 WSOP Ladies Event and another ladies event (seat value: $330) to be announced. The total number of seats given away will be based on attendance. The LIPSTour sponsors this Super Satellite every year, and the turn out is terrific! Expect it to be well attended and several seats paid out.
Sunday, June 8th sees the Ladies Event at the WSOP – a $1,000 entry into the most prestigious ladies event of the year. The event begins at noon at the Rio in the Amazon Room. Be sure to register early, as last year the lines were very long. If you are lucky enough to win your way into this event, it is wise to go and register immediately after your satellite.
On Monday, June 9th, it's the Ladies Event at the Golden Nugget Grand Poker Series. This event starts at noon for a buy-in of $330 for 4,000 in chips with a bonus 2,000 for an additional $10 also available. The winner of this event will be crowned Queen of Poker and will receive a bracelet from the series. Ladies, this series is running concurrently with the WSOP. The Golden Nugget Grand Poker Series begins on June 6th and runs through July 6th, and the buy-ins will range from $330 to $1,080. All events are deep-stacked, with long rounds.
The opportunities to play poker and socialize with other ladies are increasing every year as venues become more aware of the profitable women's poker market. Women are turning out to ladies events in record numbers and this year's WSOP promises to set yet another record. In addition to the above-mentioned ladies events, please check out the mixed events as well. The buy-ins and starting chips are very reasonable, with more than enough time to play your game in the long rounds.
Good luck, ladies; we'll take Las Vegas by storm and show them our numbers are growing!