2008 NBC National Heads-Up Poker Championship: Ferguson and Bloch Make Finals
Amy Calistri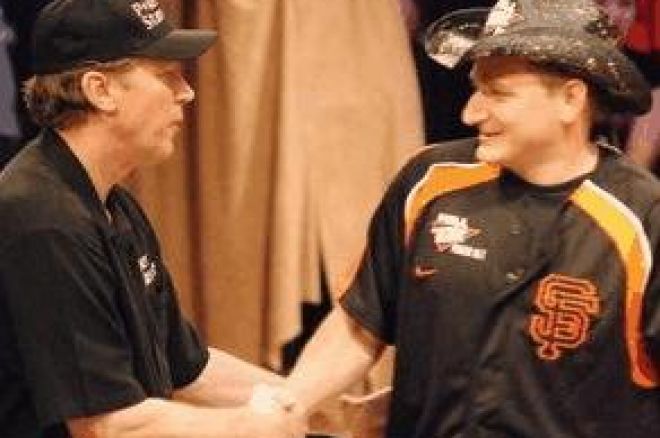 Of the elite eight players in the 2008 NBC National Heads-Up Poker Championship, two had advanced from the quarterfinal round in previous years: former WSOP champions Huck Seed and Chris Ferguson. Orel Hershiser and Jonathan "FieryJustice" Little made it to today's quarterfinals in their NBC Heads-Up debuts. Spectator favorite Hershiser was eliminated early in today's action, though only after defeating a world-class lineup of Ted Forrest, Allen Cunningham and Freddy Deeb. While the crowd was disappointed, Hershiser has to feel good about his performance in this event. As Hershiser handed an autographed baseball over to his vanquisher, the rest of the field vied for a chance at the final four on their road to the championship. Players eliminated in the quarterfinals took home $75,000, while players eliminated in the semis collected $125,000.
Quarterfinals
Huck Seed was the first player to advance into the semifinal round when David Benyamine, believing his pocket nines were good, moved all in on a board of 2-3-7-3-5. Seed, however, called with pocket twos for the boat. In 2006, Seed advanced to the NBC Heads-Up semifinals but was then defeated by Chris Ferguson.
Understandably, the feature table for the Hearts and Diamonds bracket hosted the match between Orel Hershiser and Andy Bloch. Bloch was able to gain a sizable advantage in the early going, but Hershiser pulled ahead when his all in with A-5 bested Bloch's Q-J. The crowd erupted on the A-Q-8 flop. Although Hershiser was ahead, any queen or jack would give Bloch the edge. Bloch was also quick to point out, "A ten on the turn gives me a lot of outs." The rest of the board filled in with running sixes and the game resumed. They seesawed back and forth until Bloch was finally able to put an end to Hershiser's run. Bloch raised all in pre-flop with A-9 and got called by Hershiser with J-T. The board of 9-7-6-6-2 gave Bloch unneeded assistance and Hershiser signed his ball over to Bloch. While I'm sure there are many that have autographed baseballs by Hershiser, the provenance of this particular ball has to be the envy of any collector.
Perhaps the most intense quarterfinal battle was that between Chris Ferguson and Jonathan Little. Ferguson had advanced to the semifinal round in two out of the last three NBC Heads-Up events. This was Little's first appearance in this event. It looked like an upset in the making when Little got off to an early lead and continued to extend it to a 6-to-1 advantage. Ferguson battled back, managing to execute two double-ups. The first double-up found Little with the
against Ferguson's
. The
flop gave both players the gutshot draw to a jack, but Ferguson's would be the higher of the two potential straights. A
paired Ferguson but gave Little the flush draw. The
on the river pushed the pot to Ferguson. Ferguson's pocket nines held against Little's pocket fours for the subsequent double-up. Finally, at a slight chip disadvantage, Little pushed with a suited T-7 only to run into Ferguson's pocket nines, which held for the win.
Phil Ivey had been chipping away at Gus Hansen for much of their match, gaining about a 2-to-1 chip lead. Hansen shoved all his chips in the middle on a
flop, only to have Ivey call and flip over
. Hanson grimaced as he turned over
with only a runner-runner straight flush hope for survival. An
on the turn left Hansen drawing dead and sent Ivey into the semis.
Semifinals
Off to a slow start, Chris Ferguson was able to eek out a slight advantage against Phil Ivey. About forty minutes into their match, Ivey pushed all in on a board of
. Ferguson went into the tank for well over a minute but subsequently called with pocket eights; Ivey turned over pocket sixes. Ivey had outs to a set and straight but the
fell, sending Ferguson to the semifinals for an unprecedented third time.
An hour into their match, Andy Bloch and Huck Seed were still virtually neck and neck. Bloch was finally able to get an edge on Seed before their final hand, where Bloch pushed all in with A-Q and got called by Seed with pocket nines. Bloch had to wait until the river for the ace that would send him through to the finals.
The finals between Chris Ferguson and Andy Bloch have begun as this report runs. Coincidently, back in the late 1990's Bloch and Ferguson discovered that they had run the same computer simulations to determine a rank of hands for heads-up play.