NBC National Heads-Up Poker Championship Round One Highlights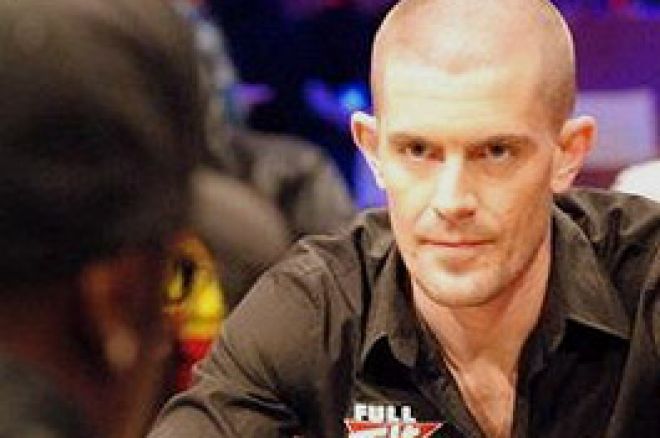 Half of the 64 original players remained after yesterday's first round action in the NBC National Heads-Up Poker Championship. Caesars Palace was once again host of the event that has become a favorite for players and television viewers. The first-round pairings had all the potential to deliver a great day of poker and when it was all said and done, they didn't disappoint. We saw a last-minute substitute prevail, all three former NBC National Heads-Up champions eliminated, and all but one actor sent back to Hollywood.
Hearts Bracket
Last year's runner-up in this event was this year's first casualty when Chad Brown ran into Allen Cunningham's flush. In a day that was particularly cruel to the Hollywood set, Brown's acting credentials may have been a handicap. Within minutes of Brown's elimination, last year's champion, Paul Wasicka also made his exit at the hands of Freddy Deeb. Holding pocket tens, Wasicka led out on a flop of 8-8-5 and Deeb made the call. Wasicka pushed all-in when a jack fell on the turn and Deeb called, showing A-J. The river brought another jack for Deeb and salt in the wound for the fallen Wasicka.
Jamie Gold, in perhaps the day's oddest series of hands, eliminated Caesar's Palace qualifier Tom Kelly. Kelly went all in pre-flop and Jamie Gold folded pocket queens face up. People were still buzzing about Gold's potential folly when Gold pushed all-in on the very next hand. Gold showed Kelly one card (allowable under the tournament's rules); it was an ace. Kelly called with A-K only to discover that Gold had not one, but two, aces, which held up. Gold finished up the job in a subsequent hand. Scott Fischman is one of only three players to have cashed in every one of the past NBC Heads Up events. Fischman gave himself a chance for four when he eliminated Todd Brunson. Fischman had Brunson outchipped about 3-to-1 when he called Todd's pre-flop all in with pocket deuces. Brunson's K-9 was a slight underdog, but degraded quickly when the flop delivered a set for Fischman.
Orel Hershiser is a heads-up specialist; granted most of his mano y mano confrontations have been against major league batters. On the felt, Hershiser never got behind in the count and kept 2006 National Heads-Up champion Ted Forrest at a chip disadvantage throughout the match. Forrest fouled off a few to stay in the game, but Hershiser got the K when his pocket sixes held up against Forrest's suited A-5. Andy Bloch was a last-minute substitution when invited comedian/actor Brad Garrett had to return to work after the resolution of the Hollywood writer's strike. Bloch and actress Shannon Elizabeth seesawed through the match. Elizabeth, a "Dancing with the Stars" contestant, made the quarterfinals in last year's event, but eventually succumbed when her good draw on a flop went bad.
If this was a match based on charm, it might have been a draw between Sam Grizzle and former "Survivor" contestant Jean-Robert Bellande. Luckily for Grizzle, it only took two pair. Vanessa Rousso bested her fiancé Chad Brown's performance when she defeated Antonio Esfandiari. Rousso crippled Esfandiari when her overpair held up against his flopped top pair. Rousso finished Esfandiari off with a nut flush.
Round Two Hearts Bracket Match-Ups:
Vanessa Rousso vs. Andy Bloch
Scott Fischman vs. Jamie Gold
Orel Hershiser vs. Allen Cunningham
Freddy Deeb vs. Sam Grizzle
Diamonds Bracket
"I may lose, but I'm sexy as hell," said actor Jason Alexander as he flipped over his
, all in pre-flop against Huck Seed's
. The flop of
looked bad for Alexander, but the turn brought the
and a plethora of outs. Alexander got up behind the dealer and started giving him a shoulder massage in the hopes it would coax out a seven, ten, or spade. The
fell and so did Jason Alexander. Sammy Farha and Doyle Brunson wasted no time, jousting with all-in bets. They found one they both liked in relatively short order when Farha woke up with A-Q vs. Brunson's dominated K-Q. A fortune-reversing king hit the board and Brunson advanced.
Jennifer Tilly got the early lead on Clonie Gowen, but eventually the actor's curse kicked in. In their final altercation, Tilly pushed all-in with a flopped straight and Gowen called with a flush draw. Gowen's suited 2-3 caught the flush on the river and dismissed Tilly. David "The Dragon" Pham was in good shape when he pushed in with pocket nines against Brian "sbrugby" Townsend's T-9 until the board brought two tens and no salvation for Pham.
All-in pre-flop, Michael Mizrachi's Q-T held up against Daniel Negreanu's Q-4 and propelled "The Grinder" to the next round. David Benyamine also advanced when his A-9 held up against Jennifer Harman's 9-8. Harman flopped a straight draw that never delivered. Howard Lederer hung on with a short stack for a long time but was finally defeated by Barry Greenstein. In the longest match of the bracket, Erick Lindgren finally put away Eli Elezra with a flush.
Round Two Diamonds Bracket Match-Ups:
Huck Seed vs. Brian Townsend
Clonie Gowen vs. Michael Mizrachi
Barry Greenstein vs. David Benyamine
Doyle Brunson vs. Erick Lindgren
Clubs Bracket
Without a doubt, the most stunning bad beat of the evening ousted former WSOP Champion and 2005 NBC Heads-Up champion Phil Hellmuth. Hellmuth insta-called Tom "durrrr" Dwan's pre-flop all in raise; Hellmuth had
vs. Dwan's
. The flop came
. When the dealer flipped over the
on the turn, the crowd erupted. Hellmuth's hopes of the flush or an ace were dashed with the
river.
Gabe "Welcome Back Kotter" Kaplan was the only player with acting credentials to advance when his A-5 caught an ace on the board to oust Patrik Antonius and his poker twos. Former WSOP champion Greg Raymer eliminated Caesar's qualifier Hooman Nikmad when he pushed all-in with pocket sevens on a jack-high flop. Nikad's pair of jacks looked good until another seven fell on the turn. Jonathan "FieryJustice" Little battled back to advance against Erik Seidel. Little was short stacked but pulled back to even when the board four flushed in his favor against Seidel's pocket nines. Little finally prevailed when his pocket fours held up against Seidel's A-9.
Kenny Tran and Scott Clements saw a lot of swings in their match, but Tran's run finally came to an end when his A-7 couldn't overcome Scott Clements' A-K. Gavin Smith gained a significant chip advantage when his 7-8 went all-in against Tom Schneider's pocket queens. Smith called for a miracle and got one in the form of an eight high straight. Schneider subsequently took his pocket nines against Smith's Q-T, but a ten on the board sent Schneider home.
2005 WSOP Champion Joe Hachem hit a six-outer to cripple Mike Matusow in the early going, but it was Matusow who advanced to the second round. In honor of their match, Mike was wearing a bright yellow T-shirt with a kangaroo on it, waved a miniature Australian flag and occasionally chanted "Aussie, Aussie, Aussie!" On their final hand, Hachem raised Matusow all-in on a flop of T-2-3. Matusow called, showing J-T vs. Hachem's T-4. The rest of the board delivered an ace and a jack, giving Matusow two pair and the match. The longest match of the Diamonds bracket was that between John Juanda and Chris Ferguson, with Ferguson maintaining the edge for the majority of the match. Ferguson was the NBC Heads-Up runner-up in 2005 and 2006 and with his eventual defeat of Juanda gets yet another shot at the title this year.
Round Two Clubs Bracket Match-Ups:
Jonathan Little vs. Gabe Kaplan
Greg Raymer vs. Scott Clements
Mike Matusow vs Tom Dwan
Gavin Smith vs Chris Ferguson
Spades Bracket
2007 WSOP Champion Jerry Yang caught a two-outer to defeat 2003 WSOP Champion Chris Moneymaker. Yang opened pre-flop, triggering a succession of re-raises until the players were all in. Yang's pocket fours were in trouble against Moneymaker's pocket tens – that is, until he caught another four on the river. 1997 WSOP Champion Scotty Nguyen was able to advance when he hit a higher flush than that of Bill Edler. This is the first year since the event's inception that Nguyen has made it past the first round.
PokerStars qualifier Alisha Kunze was hoping that Phil Ivey's $1.6 million victory in the LA Poker Classic this week would find him a little tired and less hungry for the win. But Ivey seemed content to play the rush, eliminating Kunze when his J-9 hit two pair against her short-stacked pocket sevens. David Singer got all his money in on the turn with two pair, only to discover that Phil Laak would advance with a flush.
Don Cheadle is an Academy Award-nominated actor, which in this field spelled trouble. Cheadle's trouble finally came when he got his pocket jacks all in against Gus Hansen's K-J. Needless to say, the board delivered a king for Hansen and brought down the curtain on Cheadle. While it wasn't a good day for actors, it was an equally bad day for former heads-up champions. All three NBC Heads-Up champs had already fallen by the time WSOP Heads-Up Champion Dan Schreiber squared off against TJ Cloutier. It looked like Schreiber was going to escape the heads-up champions' curse when his
was all-in against Cloutier's
, until Cloutier caught a five on the board to advance.
David Williams found himself all-in with A-9 against two-time WSOP Champion Johnny Chan's pocket jacks. Williams was only able to catch a nine on the board which wasn't good enough to keep him in the match. A short-stacked Annie Duke pushed her remaining chips in with T-6 only to have JC Tran call her in the dark with a dominating T-9. Tran caught both a ten and a nine on the board to advance to the next round.
Round Two Spades Bracket Match-Ups:
Gus Hansen vs. Scotty Nguyen
Jerry Yang vs. Phil Laak
Phil Ivey vs. Johnny Chan
TJ Cloutier vs. JC Tran
Join PokerNews.com for today's live coverage of Round Two of the NBC National Heads-Up Poker Championship starting at 11:30 am local time.