2008 NBC National Heads-Up Poker Championship, Round Three: Hershiser Makes Quarterfinals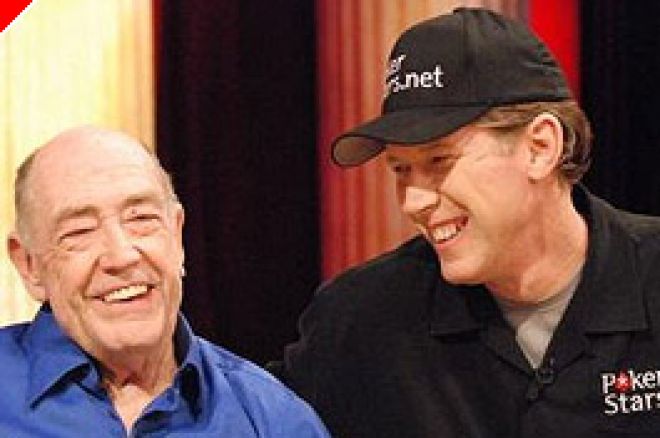 The story of Round Three of the 2008 NBC National Heads-Up Poker Championship was the continuing success of former LA Dodgers great Orel Hershiser. The drama that usually surrounds the road to the finals kicked into a fever pitch last night when Hershiser defeated Freddy Deeb to secure a spot in the elite eight. Heads-up play is often a game of razor slim edges with marginal cards, but much of Round Three's action centered on pocket aces and faces.
Hearts and Diamonds Brackets
Huck Seed made it past Michael Mizrachi to become the first player to enter the elite eight. Seed imparted a lot of damage on a hand where he and Mizrachi both hit top pair, but Seed's nine kicker played to beat Mizrachi's eight. Only minutes later, Seed pushed all in pre-flop, pressuring Mizrachi's short stack. When Mizrachi called, he had the best of it as his A-9 dominated Seed's 9-6, but Seed flopped a six and Mizrachi couldn't improve. This will be Seed's second appearance in the NBC Heads-Up quarterfinals. David Benyamine doubled through Doyle Brunson early in their match when Brunson pushed all in on a A-T-5 flop. Brunson flipped over pocket jacks, which never caught up to Benyamine's A-9. It was Benyamine's pocket jacks, however, that eliminated Brunson when Doyle's Q-T failed to improve.
Orel Hershiser's pocket jacks were an easy match for Freddy Deeb's 9-T to finish their match. Deeb added his signature to the growing list of victims penned on Orel Hershiser's baseball. Hershiser's next opponent will be Andy Bloch, who defeated Scott Fischman. Bloch got off to an early lead when he flopped a set of fours against Fischman. In the end, Bloch got some runner-runner help to put Fischman away. Pre-flop, Fishman pushed all-in with
and was called by Bloch's
. The flop of
looked harmless enough for Fishman, but the final
gave the flush and victory to Bloch.
Clubs and Spades Brackets
In the previous three years, Phil Ivey never made it past the first round in this event. But this year, Ivey is just coming off his win at the LA Poker Classic and seems intent on playing the rush. Ivey had JC Tran all in on a classic race: Ivey's A-K vs. Tran's pocket queens. The board brought a king for Ivey, along with a spot in the quarterfinals. Jonathan "FieryJustice" Little advanced to the elite eight when his pocket aces prevailed over Greg Raymer's K-5. Raymer was behind when he put himself all in on the flop of 5-3-2, but he pulled ahead when another five hit the turn. The river delivered a four and the wheel for Little.
Gus Hansen advanced when a short-stacked Phil Laak ended up all in with the Hansen-esque hand of
. Hansen actually had
, which lost a little luster on the
flop. The
on the turn put Hansen back on top and the
on the river sealed the deal with the nut flush. The match between Mike Matusow and Chris Ferguson was the longest of the round. Ferguson had gained an early lead but lost it in a showdown between his pocket fours and Matusow's pocket tens. Ferguson had regained a slight advantage by the time Matusow pushed all in with
. Ferguson called with
. The flop of
gave Ferguson a flush draw, which the
delivered on the turn. This will be Chris Ferguson's third appearance in the NBC Heads-Up quarterfinals.
Quarterfinal Matches
Orel Hershiser vs. Andy Bloch
Jonathan Little vs. Chris Ferguson
Gus Hansen vs. Phil Ivey
Huck Seed vs. David Benyamine
Join PokerNews.com at 11:00 am when the quarterfinal action gets underway.