PokerStars.net EPT Warsaw, Day 1a: Robert Flink Takes Lead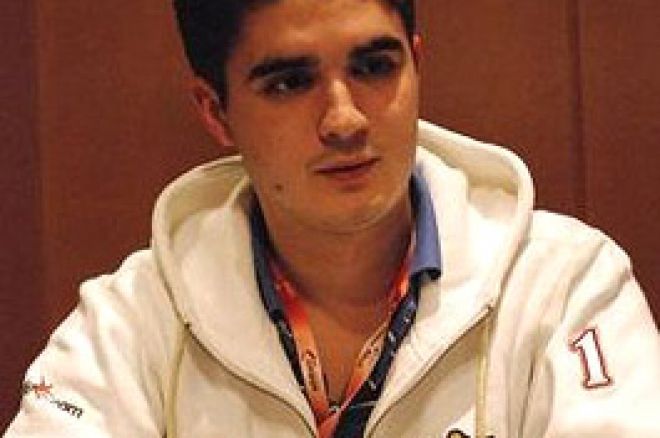 The 2008 PokerStars.net European Poker Tour Polish Open kicked off with 190 players taking the field in Day 1a at the Hyatt Regency Casino in Warsaw, Poland. Notable players on hand included defending champion Peter Jepsen, EPT Baden winner Julian Thew, Gino Alacqua and Team PokerStars members Katja Thater and Dario Minieri.
Thew got off to a rough start, finding himself down to just 700 chips very early on, but he managed to work his stack back up to a top-ten finish on the day. His comeback began when he flopped top pair on a
board holding
. Thew checked his big blind and called a flop bet from the small blind. Thew moved in blind before the turn came down, and the small blind called when the
hit his
hand. The
on the river missed his opponent, and Thew more than doubled up. Later on, Thew got all his chips in the middle with pocket queens again Patric Martensson's A-K and turned a set after Martenssen flopped a pair of kings. Martenssen found himself eliminated as Thew climbed further up the leader board.
Gino Alacqua made a strong showing as he attempted to improve upon his second-place finish at EPT Prague, and Trond Erik Eidsvig came back from a slow start to wrap up Day 1a in strong contention for the title. Joe Serock carried a big stack for most of the day, building a massive advantage through his unrivalled aggression. As the day wore on, Daniel Hofmeister finally decided he'd had enough of Serock, and took a stand in one huge hand. Serock raised preflop and Hofmeister called to see a flop of
. Hofmeister fired first at the flop, and Serock was the only caller. When the
came on the turn, Hofmeister again fired at the pot, and Serock again made the call. The river brought the
, and Serock once again checked to Hofmeister. Hofmeister pushed two stacks of 5,000 chips into the middle, but he made two motions to bet, so it was ruled a string bet. Hofmeister's bet of 5,000 was allowed to stand, and Serock went into the tank for long moments before he finally mucked. Hofmeister tabled
for the stone-cold bluff, and Serock sat steaming for several hands.
Day 1a was not a good day for Team PokerStars, as both Katja Thater and Dario Minieri were eliminated, along with Polish pop music star Michal Wisniewski. More than half the field was eliminated on Day 1a, with 79 players remaining at the end of play. Robert Flink built a sizeable lead late to top the 79 survivors, who will return on Thursday for Day 2 action. The top ten chip stacks looked like this as Day 1a drew to a close:
Robert Flink — 113,300
Anio Alcaraz — 78,000
Alp Okumus — 62,100
Joseph Serock — 55,000
Andreas Torbergsen — 53,000
Daniel Hofmeister — 51,900
Jean Claude Perrot — 50,100
Tyler Netter — 42,600
David Burn — 41,700
Kenneth Hicks Jr. — 41,200