Poker Room Review: Cities of Gold Casino, Sante Fe, NM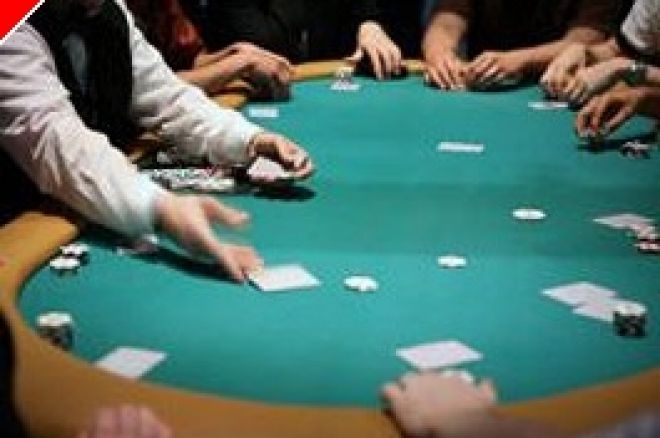 This may be the least apt name for a poker room I have ever encountered. Cities of Gold, in spite of the best efforts of its small staff, is just about the dingiest, least appealing casino and poker room that I have visited. Only the roomlet at the El Cortez and the Player's Club in Seattle come to mind as less appealing.
That's the bad news.
The good news is plentiful.
First, in spite of the depressing surroundings, the staff is friendly, helpful, and knowledgeable. Second, the games are good and the players generally playful. Finally, the room is slated to move to new impressive digs at the end of the summer when the new Buffalo Thunder resort opens.
In most respects the room offers the typical New Mexico poker experience. They have a low rake of 10% to a maximum of $3. They have a $1 drop for the bad beat/high hand jackpot, which stood at $17,000 when I visited. There's no stud. The dealers keep their tips. There's no smoking in the room (and it is enclosed, so the very heavy smoke from the rest of the casino does not enter the room). There are minimal comps offered to players – just 15 points per hour – with 100 points equaling one dollar. So if you play for ten hours you earn yourself the grand total of $1.50 in credit that can be used toward a room or food.
There are some small extras that are available. There are free soft drinks – with a self-service area so you don't even have to tip a waitress (as I said, "small" extras). The snack bar, located in the bingo room, features some very inexpensive though not especially appealing items. An okay-looking BLT is $3. A greasy-looking burger is $2.75. Soft tacos are only $1.25. And the "special" of the day, shrimp cocktails, are only $.99 each (they were the type with tiny little shrimp). They had a big sign announcing that the breakfast burrito was only $.99 – "limit 2". (I had one. It was okay. But I can't imagine anyone ever wanting more than two).
They are the only casino that I have been to with a regular "crazy pineapple" tournament. It was on a Tuesday night, cost $30 including a $5 fee, had no rebuys, and started at 6:30, as do all of their tournaments. There were 20 of us. I finished 11th and had a ball for about 90 minutes. The tourney offered 2,500 in tournament chips and 25/50 blinds to start, escalating every 13 minutes. The players were there to have a good time, sharing their hands from time to time and laughing it up. When it ended, they started their live game of $4/8 hold'em.
I was told that on Wednesday, Friday, Saturday and Sunday they have a no-limit game – this is one of the only places that spreads a $2/5 NL game. It has a fairly large buy-in for the region, from $100 to $400. The word is that the game is wild. I didn't play in it so I can't testify directly. But if they play it anything like they played the crazy pineapple tournament I'd have to agree with the assessment.
The first seven players of the day, starting at 10:00 AM when the room opens, receive an extra $15 from the house when they buy in, provided they stay for three hours. That's a nice promotion I've never seen before. Apparently it gets folks to get to the room even before it opens, to make sure they qualify. Even so, the room seemed to be struggling to maintain enough players for consistent games, so I'd be sure to call before I came up here. The room is about 20 minutes northwest of Santa Fe.
I'd come again for the no-limit game that I missed, and maybe for the inexpensive evening tournaments. They are no-limit events every night but Tuesday when they run the Crazy Pineapple one. I wouldn't be a regular in this place, if only because it was so dark and dingy, but I'm eager to check out the new space at the Buffalo Thunder Resort when it opens later in the year. And I wish the staff well, who clearly are working very hard now with a very limited space.
Cities of Gold Casino Hotel
10-B Cities of Gold Road
Santa Fe, New Mexico 87506
505-455-3313 / 800-455-3313
www.citiesofgold.com