A Successful Night at the Montel Williams MS Foundation Gala and Poker Tournament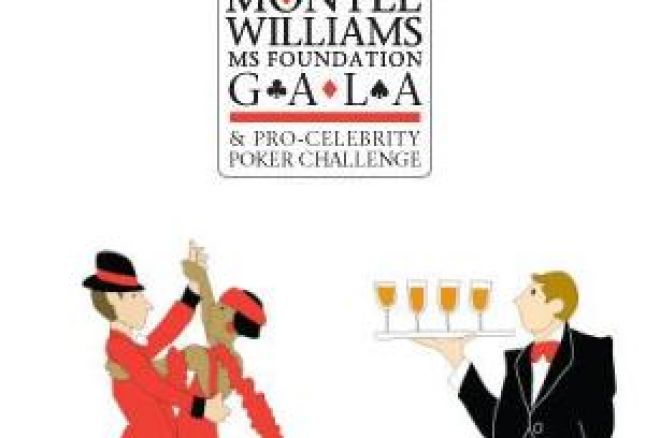 [Editor's note: In lieu of her regular 'Women's Poker Spotlight' column, regular PokerNews contributor Tina Bergstrom brings us a first-person account of the recent Montel Williams MS Foundation Pro-Celebrity Poker Challenge festivites, where she worked as one of the event's organizers.]
When I was invited to be a part of the Montel Williams MS Foundation's Gala and Poker Tournament, I jumped at the chance. My stepdaughter lives with MS every day of her life, so I saw this opportunity to give back to the community through poker. While last week's festivities in New York City were a wild success, Montel Williams' MS Foundation will continue to raise money as it finishes out an online charity auction found at charityfolks.com, with the last bidding day April 2nd.
The gala, held at Cipriani's Restaurant in Manhattan last Thursday evening, was a beautiful evening. The night's emcees, actress Robin Givens and model Emme Aronson, led the gala's attendees throughout the festivities. The night began with a video informational segment that explained multiple sclerosis and how the event's fundraising will be put to use. Attendees were then treated to a full buffet and bar followed by live music and dancing. Truly, the height of the evening was a star-studded charity poker tournament hosted by Montel Williams and Robert Daily.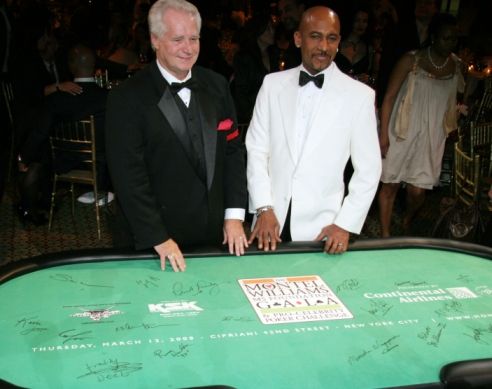 Photo courtesy Nathan Yungerberg, Yungerberg Productions LLC
With dignitaries from all over the world and poker professionals from every corner of the United States, the charity poker tournament was both entertaining and impressive. A Las Vegas tournament staff flew to New York to offer their time and talents, including Dianna Donofrio of Public Relations/Marketing DG Holdings; Kyle Morris of TVPoker.com; Janis Sexton a noted tournament director, Kosta Trigazi, and myself. Poker pros who attended the event were Mary Jones, Karina and Chip Jett, Marsha Waggoner, Barbara Enright, Max Shapiro, Robert Williamson III, Annie Duke, Russ Hamilton, Freddie Deeb, Jamie Gold, Scott Fischman, Victor Ramdin and Susie Isaacs. Victor Ramdin came out on top of the final table, which consisted of four pros and six relatively novice players.
I had a side bet with one of my fellow tournament staffers that three or more ladies would make the final table, and I won that bet! Beth Fischman (sister to Scott), Barbara Enright, a girlfriend of Jamie Gold's named Ashley, and Karina Jett all made the final table. The tournament had a fast structure and a beginning chip stack of 2000, which made this a perfect event for ladies.
Prizes for the final table ranged from a stunningly cut sapphire to buy-ins to the 2008 World Series of Poker and a black diamond necklace. Beautiful door prizes were given away continuously through out the night, along with goodie bags given to every attendee. A donated poker table which was then autographed by Montel Williams and all the pros in attendance sold in a live auction held during the night's festivities along with a autographed felt from the final table during the 2006 WSOP. Jamie Gold told me after the event, "I've been involved with many charity events, and this one outclasses all of them by far!" 100 percent of the proceeds of the event went to the MS Foundation.
Almost eight years ago, Montel Williams went public with his own affliction with MS. He established the Montel Williams MS Foundation, which directs its research for treatments and helps make drugs available to everyone. Montel said, "It is my strongest desire to continue having fund raising events to support the research to finding a cure." The next fundraiser will be June 6th 2008 at the Golden Nugget Casino in Las Vegas. Check in at goldennugget.com/home/casino/the_grand_poker_series/ for additional details on how one can attend and support Montel in his fight for a cure for MS.