WSOP-C Caesars Atlantic City, Day 2: Hicks Holds Lead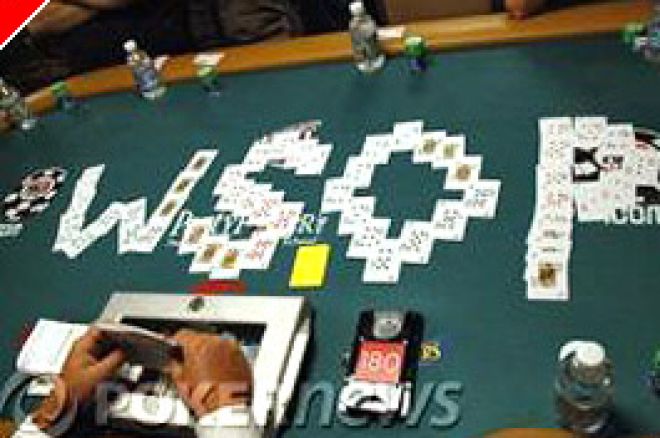 Dan Hicks ended Day Two at Caesars Atlantic City WSOP Circuit event just as he ended Day One, as chip leader. When the final table begins today at 2:00 pm EST, Hicks will be attempting to take this tournament wire-to-wire against eight other players who also have their eyes on the diamond ring and $431,136 first-place prize. The final table for today is as follows:
Dan Hicks — 1,182,000
Eric Haber — 927,000
Soheil Shamseddin — 855,000
Steven Merrifield — 624,000
Sumeet Batra — 579,000
Nicholas Binger — 546,000
Scott Blackman — 391,000
Steven Greenberg — 251,000
Marc Morris — 185,000
Day Two started with 73 players with 27 places to be paid. David "Dr. Fox" Fox was eliminated early in the action when his flopped open-ended straight flush draw failed to crack Pat Madden's pocket aces. Bernard Lee also had an early departure when he ran his A-Q up against pocket kings. Louie Esposito, Matthew Glantz, and Thayer "THAY3R" Rasmussen were also unable to navigate their way to a payday on Day Two.
When poker author and literary agent Sheree Bykofsky finally broke through the bubble to cash in 27th place, she left just one woman standing. In the 2005 WSOP Main Event, Tiffany Williamson posted the best performance for a woman with her 15th-place finish. Williamson would again get that honor with her eventual 17th-place finish here in Atlantic City and her second cash in 2008; Williamson finished 38th this year at the Aussie Millions Championship.
Hevad "RaiNKhan" Khan started Day Two second in chips, but was eliminated by Eric Haber in 14th place. Khan took his A-Q with one heart up against Haber's pocket eights. By the turn, the board read
, giving Khan the remaining hearts, aces, queens and jacks for outs. The river, instead, was the
. Young Phan started the day third in chips, but finished in 13th place, moments after Khan's elimination hand. Phan met his misfortune when he took his A-K up against Sumeet Batra's pocket kings. Joseph Seigel's 10th-place elimination set up today's final table. Seigel reraised his A-6 all in against Steven Merrifield who called with A-K.
"I'm screwed," said Seigel.
"Don't say that. Watch what happens," retorted Merrifield, fully expecting a bad beat six to drop. Seigel's initial assessment was borne out, however, when no six came.
Today's final tablists have a lot of final table experience under their belts. Only Marc Morris and Steven Greenberg are making their final-table debuts. Follow along with the liver reporting at PokerNews.com starting at 2:00 pm EST.
Day Two money finishes follow:
10. Joseph Siegel $16,167
11. Seth Akash $16,167
12. Nick Olivieri $16,167
13. Young Phan $13,473
14. Hevad Khan $13,473
15. Richard Kirsch $13,473
16. Edward Pham $10,778
17. Tiffany Williamson $10,778
18. Mark Roland $10,778
19. Charles Hook $8,083
20. Scott Glazer $8,083
21. Ylon Schwartz $8.083
22. Adrian Velez $8,083
23. Pat Madden $8,083
24. Steve Cho $8,083
25. Allie Prescott $8,083
26. Bryce Carroll-Coe $8,083
27. Sheree Bykofsky $8,083