Book Review: Elkan Allan and Hannah Mackay's 'The Poker Encyclopedia'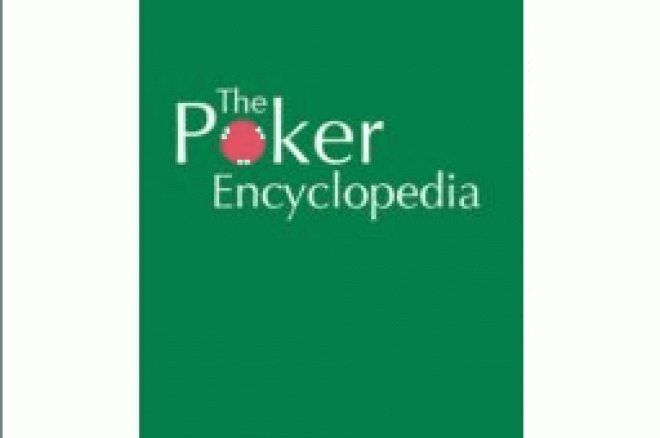 Good poker books don't have to be about strategy, despite the fact that strategy books are by far the largest segment of poker literature. Among the newer non-strategy book examples of this is the late Elkan Allan and Hannah Mackay's The Poker Encyclopedia, which has been released by British publisher Portico Books. The Poker Encyclopedia is, in fact, Allan's last major work, completed for him by Hannah Mackay after Allan's death in 2006 at age 83. The book, which features a somewhat kitschy green-felt cover – evocative of the poker table, of course — still stands as a loving print glossary of the game and is a worthy addition to the library of poker aficionados who share Allan's sense of the history and tradition of poker.
Allan, who maintained a love affair with the game for several decades, worked with Anthony Holden (Big Deal, Bigger Deal) on London's Sunday Times; Holden has contributed a warm, fond preface to the book. Allan had a lengthy career in both print and television far beyond his involvement in poker, though Holden deservedly memorializes him as "a prominent fixture on the British poker scene." While a few modern-day poker fans might remember him from a 2004 appearance on the UK show "Celebrity Poker Club," Allan's television history is far deeper and even more prominent. Among other credits, he was the creator of "Ready, Steady, Go!", which was the first UK pop/rock showcase and was a contemporary of "American Bandstand" in the United States. Among later credits, Allan also played an important role in the creation of PokerNews and contributed a large amount of content to the site in the period preceding his death.
Background aside, The Poker Encyclopedia offers a solid cross-section of poker terminology. Virtually all basic poker terms are included, and the book's strengths really lie where Allan searched deep into history for the origins of specific terms. For instance, poker's origin as a derivative of the French game poque is well-known, but Allan also cited an ancient German card game called pochen, even noting printed references to the game as far back as the 15th century. Card suits and deck variations receive a similar loving, historical look. Did you know that the nine of diamonds was once widely known as the "Curse of Scotland"? In this book you'll learn why.
Allan was well aware that Texas Hold'em was only the latest variant of the game to achieve popularity, and several dozen of the most fascinating entries in the book cover other forms of poker as well. Anything that's ever been offered in a casino – Omaha, stud, draw, badugi and so on – has its basics described, but so do dozens of home games that have never come close to being recognized as an official game. If you've never heard of six-back-to-five, murder, honky tonk, three-legged race or others, you're not alone – and you'll find each of them here. The same holds true for more common home games as well, such as baseball, guts, Black Mariah and the like.
The book also includes among its pages brief biographies on many players who achieved fame by 2006. All WSOP Main Event winners are present, as are many others who've achieved poker fame. It's a treat, though, to see words devoted to such historical card figures as William "Canada Bill" Jones, a legendary gambler of the 19th-century wheelboat era, Herbert O. Yardley, one of the first true poker writers, or Joseph Cowell, an English comic actor who noted in his diary in 1829 (and published it in 1844), a poker-like game played with the then-standard 20-card deck which was based on the older card game brag. Allan cited Cowell's account as likely being the first written description of what would today be recognized as poker.
The Poker Encyclopedia strives to add character to its pages as well. Mixed in with the standard glossary-style entries are longer featurettes devoted to special topics. The great Dandalos-Moss matchup promoted by Benny Binion receives loving attention, as does, from far more recent times, Texas banker Andy Beal's multi-million dollar game against "The Corporation," a group of prominent Vegas poker professionals. More general topics receive the featurette treatment as well, from "Online Poker" to The Cincinnati Kid to "Luck".
The Poker Encyclopedia even sprinkles in a few dozen quotes on aspects from the game from other leading poker names. "Trust everyone," Benny Binion once said, "but always cut the cards." Al Alvarez, Doyle Brunson, Lou Krieger, Steve Badget, Bobby Baldwin… the list goes on, with some of the best lines from each enshrined here. Nor are the quotes necessarily limited to famous poker names. Mary Austin once said, "People would be surprised to learn how much about prayer I learned from playing poker."
Is the book perfect? Of course not. Allan's death brought the new accumulation of material for The Poker Encyclopedia to a halt, and while co-writer Hannah Mackay did a great job of taking over Allan's work and bringing the project to print, there's still a sense of the book being "cut off," as it were, in 2006, at the time of Allan's death. 2006 WSOP winner Jamie Gold receives an entry, but few other poker names of such recent vintage make the cut, nor are online poker stars perhaps fully recognized for their role in reshaping the game in recent years. As with any project of this type, the occasional "Whoops!" sneaks through as well, as in the examination of the Dandalos-Moss matchup where it says the two played hold'em. (Most historical accounts say that the game predominantly played in the famous duel was five-card stud.)
Still, The Poker Encyclopedia deserves a spot on the bookshelf of any serious poker fan. It's not a book for every poker player, but it is an important collection of the game's history – an impressive project, even if by its very nature a perpetually incomplete one. As of the moment, the British edition is the only one on the market, though it is available via the Internet and other major publishing sources.