PokerStars.com EPT San Remo Day 1: Stars Qualifier Nyman Leads Way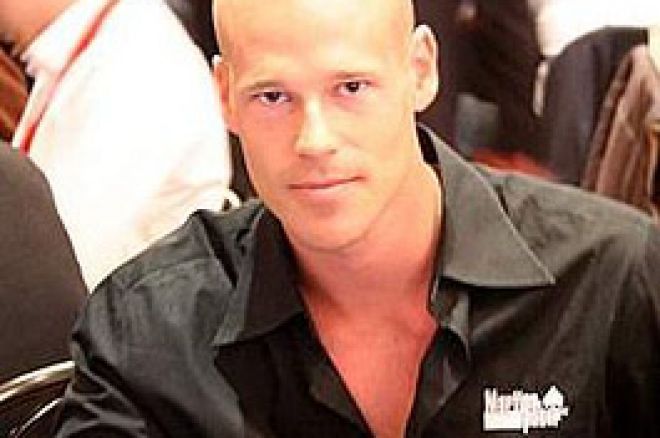 337 players descended upon Italy's Casino San Remo for Day 1a of the PokerStars.com European Poker Tour San Remo Championship, including a plethora of former EPT champions and poker superstars from over 20 nations. Among the champions in the field were Brandon Schaefer, Julian Thew, Mark Teltscher and Pascal Perrault. WSOP bracelet winner Katja Thater's gold shone brightly, but no one in the field sported as much gold as Italian superstar Alberto Tomba The five-time Olympic medalist won three gold medals for his feats on the ski slopes, and he took to the felt to try his hand at a different type of world-class competition. Other notable players on Day 1a included Steve Zolotow, Roland de Wolfe and Thor Hansen.
Patrik Antonius was one of the most recognizable faces in the field, no matter how short his stay. Antonius' Day 1a was cut short when he found himself in three-way action with Stefan Raffay and another player. On a flop of
, all three players checked. The turn brought the
, and Raffay bet out, finding two callers. Antonius pushed all in when the
came on the river, and Raffay thought for a moment before making the call with
. Antonius'
wasn't enough, and he was eliminated. Other early eliminations on Day 1 included Thew and Thater, who ran pocket tens into pocket kings to end her tournament early. Alberto Tomba's quest for more gold also fell short as he was eliminated on Day 1a.
Several past EPT winners made it through Day 1a in their quest for a second championship, among them American Brandon Schaefer. As the evening wore on, Schaefer came from the middle of the pack to finish comfortable after turning a straight in a big pot. Schaefer raised preflop with
and found one caller. Both players checked the flop of
, and Schaefer led out on the
turn. The other player fired when the river brought the
, and Schaefer raised. His opponent called, but then mucked when Schaefer tabled his nut straight. Mark Teltscher picked up a key double-up late on Day 1a when he moved all in over the top of a preflop raiser with pocket sixes. His opponent called with A-10, and Teltscher's sixes held up on a board of
.
Dario Minieri was typically active on Day 1a, as the young member of Team PokerStars rode his customary chip rollercoaster through the early round. Minieri doubled up Rolf Slotboom in one of the last hands of the night when he ran
into Slotboom's
. All the money went in preflop, nothing unexpected occurred, and Slotboom doubled through the young Italian. Thor Hansen also doubled up as play drew to a close on Day 1a when he flopped trips with
on a board of
. Even after the double-up, however, Hansen finished Day 1a with a very short stack.
Team PokerStars member Luca Pagano was among the notable survivors of Day 1a, along with Liz Lieu, Roland de Wolfe, Schaefer and Tino Lechich. The official overnight top ten in chips:
Ville Nyman 107,100
Henrik Brockmann 100,100
Yung Hwang 96,000
Hakan Sahl 93,700
Loic Perret 72,700
Anthony Spinella 71,600
Eero Kekäläinen 70,000
Roberto Masullo 66,200
Isaac Baron 62,700
Dag Palovic 59,200