PokerStars.com EPT Monte Carlo Day 4: Chorny Leads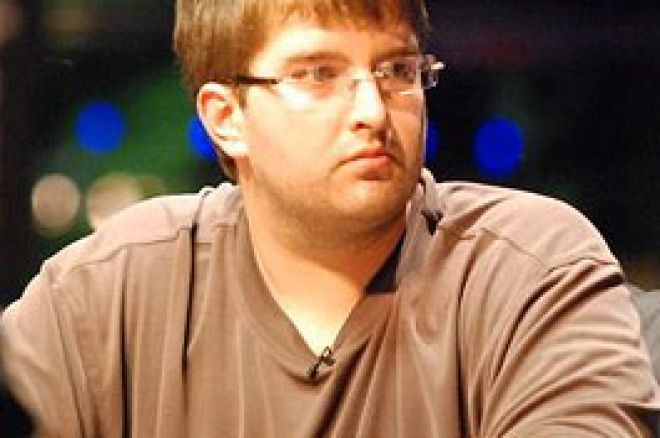 Glen Chorny will be chip leader, when Day 5's "almost" final table begins. Twelve hours after announcing "shuffle up and deal," the PokerStars.com EPT Grand Final in Monte Carlo called it a night, without reaching their eight person final table. Ten players still will convene tomorrow at 1:00 pm local time, two hours earlier than scheduled.
Glen "DrC" Chorny has had a pretty sweet year so far; winning a World Poker Open pot limit Omaha event and finishing 13th in PokerStars EPT Caribbean Adventure. But whatever happens tomorrow, Chorny's is guaranteed to take home more than those two events combined. Antonio Esfandiari, who started Day 4 as chip leader, will also return for Day 5.
2005 WSOP Champion Joe Hachem started Day 4 as one of the shorter stacks, but wasted no time doubling up with his pocket queens vs. Mostafa Belkhayate' s pocket jacks. Freddy Deeb, who also started the day on the chip-challenged side, had no such luck with his pocket jacks encounter. Deeb, winner of the 2007 WSOP HORSE event, took his
up against Thomas Boekhoff's jacks, but no help came for Deeb and he was eliminated in 30th place. 2007 WSOP Championship final table participant Raymond Rayme was another short stack that failed to find traction in the early going. Rayme was eliminated in 27th place when he ran his pocket queens into Miara David's pocket aces with a predictable result.
Yesterday, Claudio and Luca Pagano became the first father and son duo to cash in the same EPT event. Father Claudio was eliminated 22nd today when he pushed his
all in on a board of
only to get called by Denes Kalo's
. The river was a moot
, leaving Luca to play on. In fact, Luca Pagano played on so well that he'll be coming back for Day 5.
Johnny Lodden started Day 4 fourth in chips, but towards the middle of the day Lodden lost two large all in pre-flop coin flips to go out in 17th place. In both instances Lodden had the better end of the flip against the same player, T6 Poker's Henrik Gwinner. Lodden had pocket jacks vs Gwinner's suited K-Q and had pocket eights against Gwinners suited A-J.
Chorney's ascension to the top of the leader board was aided by Oyvind Riisen's elimination. All the money went in on the flop of
. Oyvind had the nut flush draw with
, while Chorny had the hand to beat with
. No help came for Riisin who finished in 15th place.
Throughout the day, Joe Hachem was doing his best impersonation of the short-stacked Energizer Bunny; it seemed like he would go on forever. Unfortunately for Hachem, he was the Day 4's last elimination, coming only minutes before the end of play. All the money went in on the flop of
. Isaac Baron had Hachem dominated; Baron's
vs. Hachem's
. A
on the turn gave Hachem an open ended straight draw, but the
river was not one of Hachem's outs. Team PokerStars Joe Hachem finished in 11th place, taking home $159,943.
Join the PokerNews reporting team for Day 5 action, beginning at 1:00 pm local time.
Players and Official Chip Counts for Day 5:
Glen Chorny - 3,370,000
Isaac 'westmenloAA' Baron - 2,365,000
Michael Martin - 1,579,000
Maxime Villemure - 1,220,000
Denes Kalo - 957,000
Antonio Esfandiari - 735,000
Luca Pagano - 705,000
Valeriy Ilikyan - 650,000
Stig Top Rasmussen - 590,000
Henrik Gwinner - 466,000